Stevie Farrell's focus is firmly on Queen's Park as Stranraer finally get their season underway again.
The Blues have not played since a thrilling 3-2 win over Kelty Hearts in the Scottish Cup back on January 9.
Since then, envious glances have been made towards the leagues above, with the Blues unable to build on their impressive recent form.
The manager said: "I know it is nine weeks later from the run that we have been on but we've been looking at the Queen's Park game and that is all we have thought about.
"That's what we have been preparing for in the last two weeks.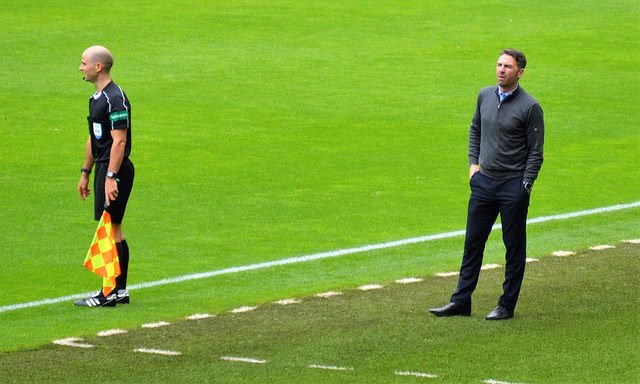 "We are going into that game trying to keep that run going.
"Although that run was nine weeks ago, it is still that run and we are determined to keep it going as long as we can."
The manager has added Ally Taylor to his squad for the closing months of the campaign.
Signed on loan from Kilmarnock, he will go straight into tomorrow's squad.
Farrell felt it was important to add both quality and quantity to his team and said: "Ally is a young player and he has got a fantastic attitude.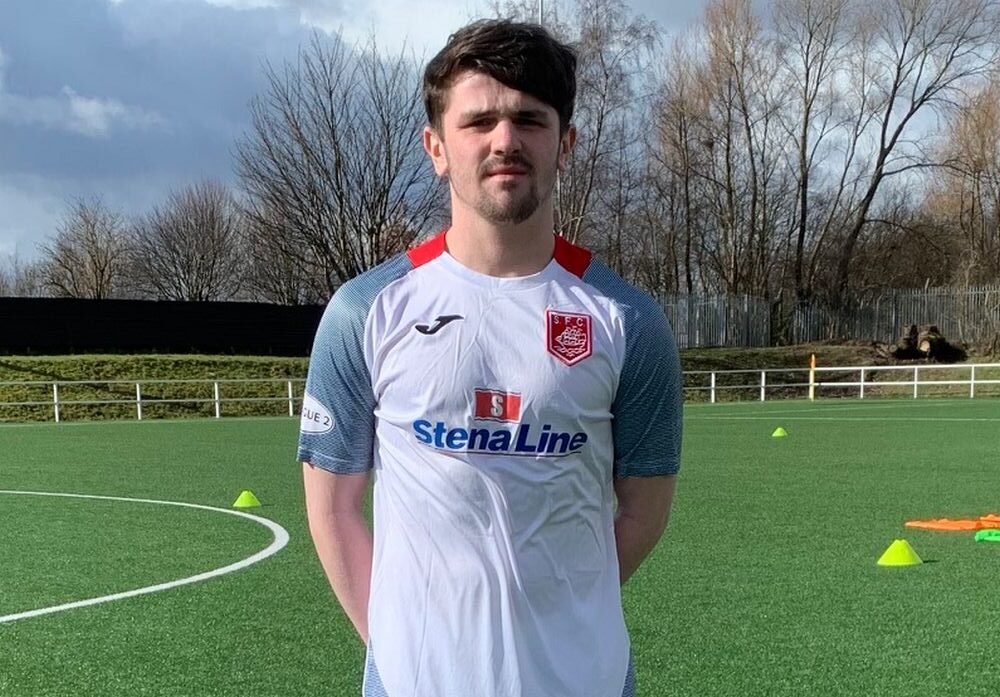 "He has fit in with the group like a glove and I mean that.
"The lad has been well received and he seems to be really enjoying it."
Only Josh Walker will miss tomorrow's contest as the midfielder recovers from ankle ligament damage.
The extended break has actually benefited the former Kilmarnock man though, with Farrell hoping he would be back within a matter of weeks.
Walker's return will also be of use during the hectic close to the campaign.
Squad rotation might be more common in the top flight but Farrell stressed it would also be happening in the lower leagues.
He said: "Squad rotation is not a distinct possibility – it's a fact.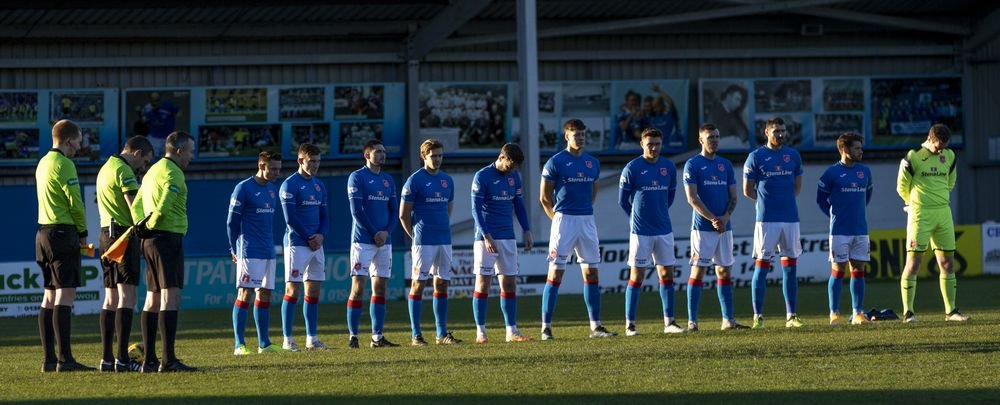 "Players will think they are able play three games a week – Saturday, Tuesday and Saturday – and then go again but they can't.
"They think they can and they actually believe they can but the harsh reality is that they can't.
"If you did their stats, analysis and did it scientifically, then you would see a drop.
"You would see a drop between the first Saturday and the next.
"We are mindful of that and we will make sure that we use the full squad to keep things as fresh we possibly can."
Last meeting
Stranraer 0-1 Queen's Park
31 October 2020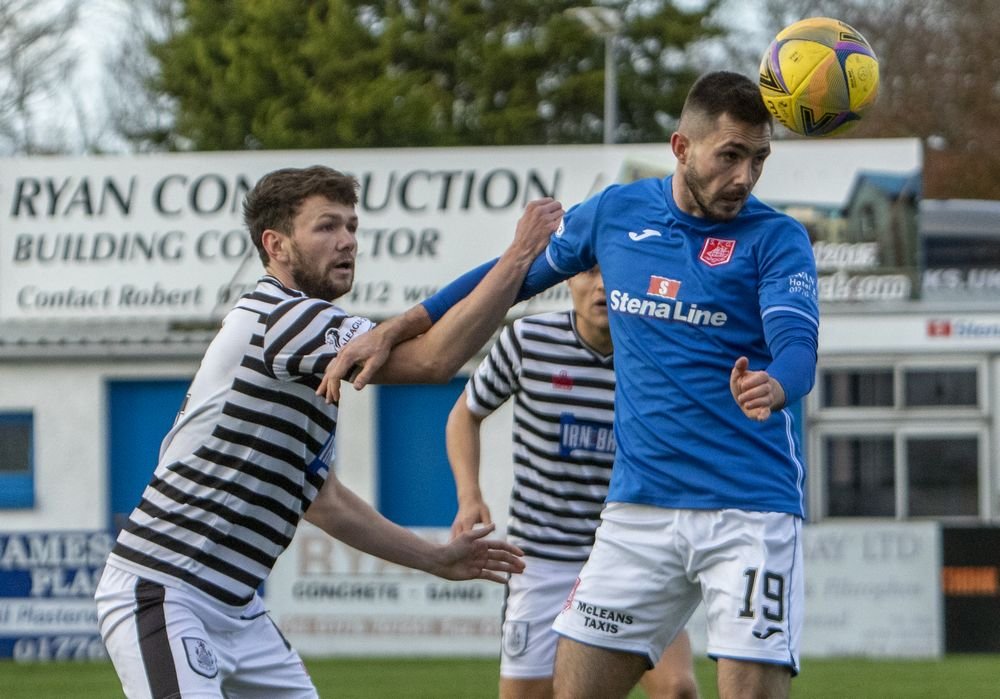 A late strike from substitute Ross MacLean gave Queen's Park all three points at Stair Park on Halloween.
It was a very tight contest, with neither team creating much in the first half. However, Stranraer could have broken the deadlock when Tom Orr found himself clean through on goal. Goalkeeper Willie Muir was equal to the shot and would again deny Orr after the interval.
The only goal of the game would come three minutes from the end when Greg Fleming pushed Craig Slater's shot away. Unfortunately for Stranraer, it landed at the feet of MacLean, who had time to cut inside and score.
Stranraer: Fleming, Robertson, Burns, Devitt, Hamill, McManus (Cummins 88), Stirling, Millar, Paton (A Trialist 78), Duffy (Hilton 73), Orr.
Not used: McIntyre, B Trialist and Walker.
Queen's Park: Muir, Doyle, Robson, Kilday, Grant, Longridge (Morrison 90), Galt (Quitongo 72), Gillespie, Baynham, McHugh (MacLean 72), Slater.
Not used: McGlinchey, Paterson, Lyon and Bell.
Last five meetings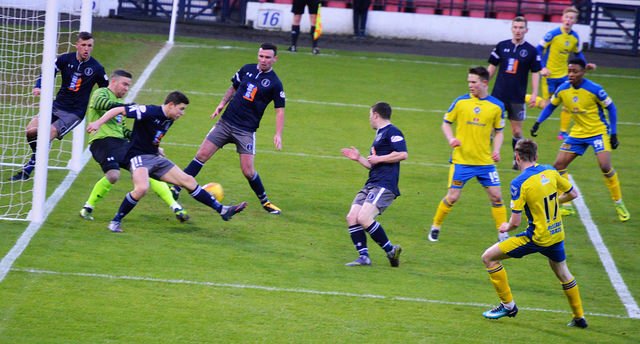 Stranraer 0 Queen's Park 1 (MacLean) at Stair Park on October 31, 2020
Stranraer 2 Queen's Park 3 (Robertson and Agnew (Pen); Keena x2 and Burns) at Stair Park on March 17, 2018
Queen's Park 2 Stranraer 2 (Donnelly and Cummins (Pen); Beith and Turner) at Hampden Park on January 6, 2018
Stranraer 3 Queen's Park 0 (Anderson, Bell and Wallace) at Stair Park on November 4, 2017
Queen's Park 2 Stranraer 2 (Brady and OG; Wallace and Anderson) at Hampden Park on August 26, 2017
Last five games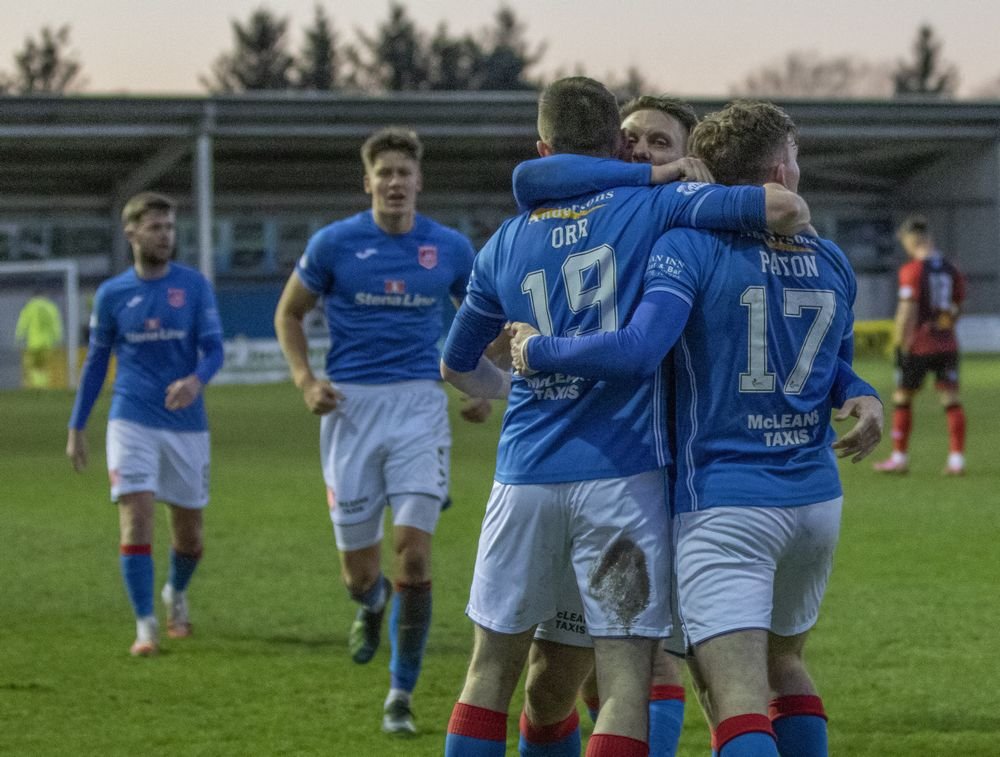 Stranraer
WIN v Kelty Hearts (A): 2-3 (Orr, Robertson and Paton (Pen))
WIN v Annan Athletic (H): 2-0 (Orr and Paton (Pen))
WIN v Spartans (H): 5-0 (Duffy, Paton Cummins and Yates x2)
WIN v Albion Rovers (H): 4-0 (Paton, Orr, Duffy and Elliott)
DRAW v Stenhousemuir (A): 2-2 (Cummins and Paton (Pen))
Queen's Park
LOSS v Queen of the South (H): 0-3
WIN v Dundonald Bluebell (A): 1-3 (Quitongo, Murray and Longridge)
WIN v Annan Athletic (A): 1-2 (McHugh and Slater)
DRAW v Edinburgh City (H): 3-3 (MacLean, McHugh (Pen) and Baynham)
WIN v Cowdenbeath (H): 3-0 (Grant, Gillespie and Murray)
Last time out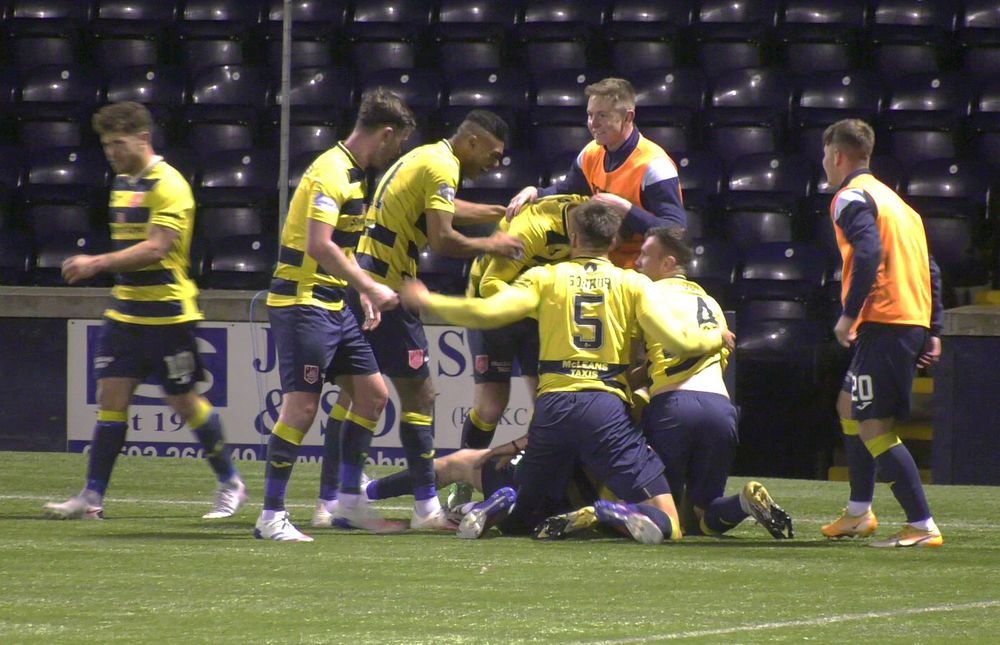 Stranraer
Lineup v Kelty Hearts: Fleming, Robertson, Cummins, Sonkur, McManus (Hilton 89), Gallagher, Stirling, Millar, Duffy (Victoria 74), Paton, Orr.
Not used: Burns, Devitt, Yates, Elliott and Walker.
Queen's Park
Lineup v Queen of the South: Muir, Robson, Kilday, Grant, Doyle, MacLean (Quitongo 58), Gillespie (Baynham 78), Carroll, Longridge (Galt 58), McHugh, Murray.
Not used: Morrison, Gillies, Paterson and Herraghty.
Referee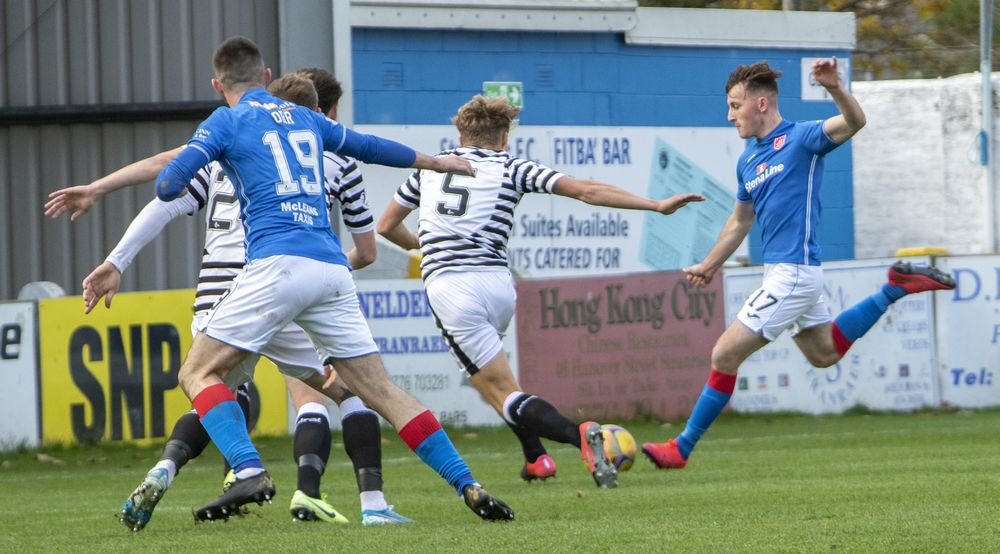 Duncan Williams should be familiar to both sides as he was the man in the middle for the first meeting between the two teams this season.
Ross MacLean scored the late winner and the striker was also booked by the man in the middle. Also shown a yellow card back at the end of October was his team-mate Craig Slater and Stranraer's Darryl Duffy and Thomas Orr.
He was also in Glasgow in February last year when the Spiders were 1-0 winners over Cowdenbeath, thanks to Slater's early goal.
Photos: Bill McCandlish
Coverage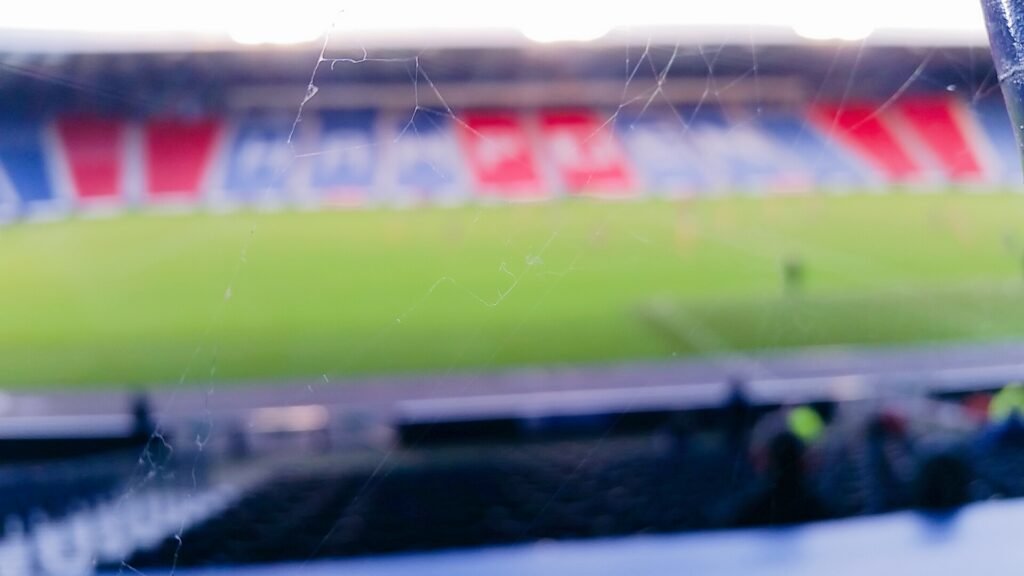 Saturday's game against the Spiders will be streamed live by the home club, priced at £10.
We hope you enjoy the game.