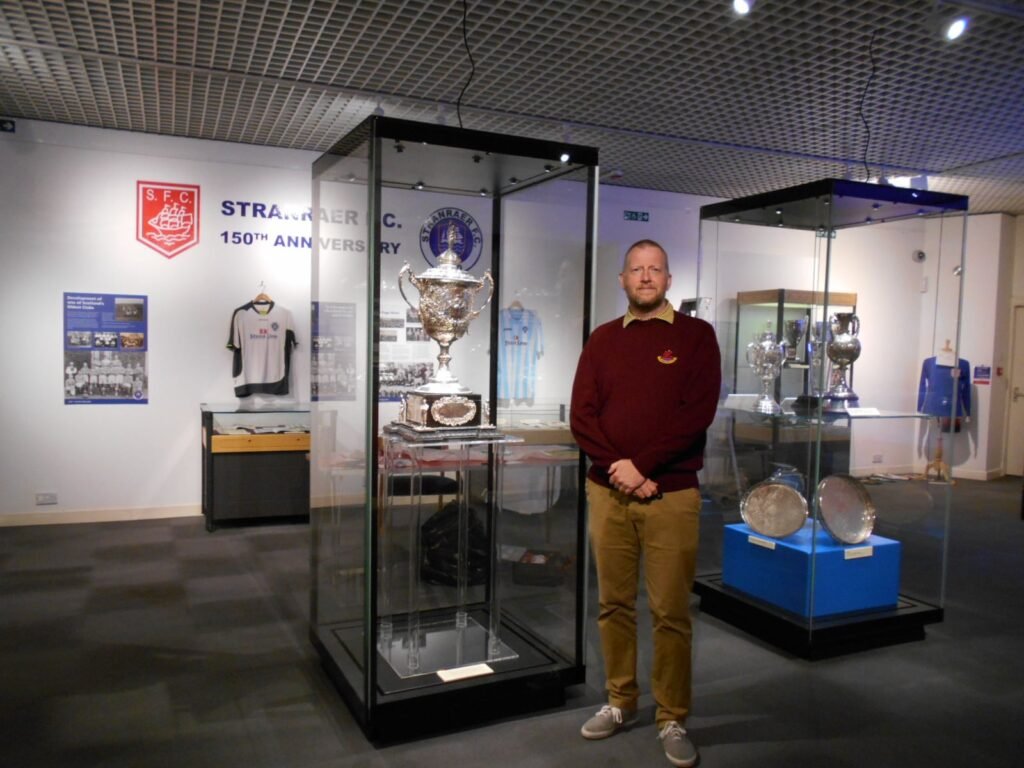 All at Stair Park were devastated to learn about the untimely death of Shaun Niven at the age of 52.
Having acted as vice chairman for several years, Shaun was appointed chairman in summer 2021, helping to steady the ship during a time of significant change at the club.
Such was his talent, knowledge and influence, any attempt to convey the sheer amount of work Shaun did for Stranraer Football Club over the years would barely scratch the surface.
As match secretary, Shaun was an expert in the rules and regulations which every club is required to adhere to, keeping his colleagues informed and helping the club to make the right decisions, both at boardroom level and on the pitch.
Many of the players who signed for Stranraer over the years were registered by Shaun, who liaised with the governing bodies, attending meetings and representing the club in key votes and consultations.
Shaun's statistical knowledge and meticulous memory was second to none, and he could be called upon for all manner of facts and trivia – not limited to Stranraer FC, or even football. This was often demonstrated during his impressive displays of intellectual prowess in the Glasgow-based Stranraer FC Supporters' quiz.
A labour of love, the award-winning Stranraer match programme 'Beyond the Bandstand' was compiled by Shaun and continuously improved over many years before its hiatus in summer 2021.
Supporters will be familiar with Shaun's eBay store, which acted as a treasure trove of match programmes, rare teamwear and match-worn jerseys, and served as a valuable additional source of income to the club.
During the pandemic-hit 2020/21 season, Shaun combined his roles as vice chairman and deputy kitman with broadcast duties on our Stranraer FC LIVE streaming service. His highly professional, well-researched and unbiased commentary led to praise from Stranraer fans and opposition supporters alike.
Shaun acted as a great support to the media team at Stranraer, arranging – and sometimes conducting – interviews, sorting credentials for away trips and relaying information. His honest and forthright updates on the 'It's No Easy' podcast provided clarity and transparency around the decisions being taken at the club.
He was a kind, approachable man, and a good friend to our staff, players, officials and supporters alike.
Many clubs have commented on the warm welcome they received when visiting Stair Park. Others have noted Shaun's 'ground collecting' adventures, with over 500 football grounds visited as of the new year, and many good friends made along the way.
We hope this collection of tributes will bring comfort to those who knew and loved Shaun.
Organisations
Condolences from all at the West of Scotland Football League. Our thoughts are with everyone at Stranraer and with Shauns family and friends at this sad time 💜

— West of Scotland Football League 🏴󠁧󠁢󠁳󠁣󠁴󠁿 (@OfficialWoSFL) January 18, 2022
Sorry to hear this. Shaun was always a great help through the years.

Condolences from everyone at SNS.

— SNS Group (@snsgroup) January 18, 2022
Clubs
Shaun was a brilliant guy – he just "got" Scottish football and what it meant to so many. An incredibly helpful and approachable man. A real, sad loss.

Condolences from all at Livingston Football Club at this incredibly sad time.

— Livingston FC (@LiviFCOfficial) January 18, 2022
Heartfelt thoughts and condolences from all at Galabank to both Sean's family and everyone associated with Stranraer FC🖤💛⚽️

— Annan Athletic FC (@AnnanAthleticFC) January 18, 2022
A tribute from #DAFC Chairman Ross McArthur.

➡️ https://t.co/ADramubdm4

— Dunfermline Athletic (@officialdafc) January 18, 2022
We are very sad and shocked to hear this tragic news.

Condolences from everyone at Forfar Athletic to Shaun's family and friends and to everyone associated with Stranraer.

— Forfar Athletic (@ForfarAthletic) January 18, 2022
Condolences from all of us at Accies. Shaun was a popular figure throughout Scottish football and dedicated to his duties at Stranraer. RIP

— Hamilton Accies FC (@acciesfc) January 18, 2022
The thoughts of everyone at Brora Rangers are with all at the club and Shaun's friends and family. A true gentleman to deal with in both of our Scottish Cup ties in recent years.

— Brora Rangers (@brorarangers) January 18, 2022
There are just no words. Everyone at Gayfield send their love, thoughts and condolences at this very tragic time to Shaun's family and loved ones and to his extended family who are Stranraer FC. Gone far too soon. Rest in Peace Shaun.

— Arbroath FC (@ArbroathFC) January 18, 2022
We are shocked and saddened to learn of the passing of Stranraer chairman Shaun Niven. https://t.co/xhNubQTiwI pic.twitter.com/9nSpfSZwzX

— Airdrieonians FC (@AirdrieoniansFC) January 18, 2022
Everyone at Cove Rangers FC sends their condolences to the friends, family and colleagues of @StranraerFC chairman Shaun Niven following his sudden passing.

— Cove Rangers FC (@CoveRangersFC) January 18, 2022
Everyone associated with the club would like to pass on our condolences to all at Stranraer following the untimely passing of Chairman, Shaun Niven.

Our thoughts are with Shaun's family and friends at this difficult time.

— St Cuthbert Wanderers FC (@StCuthberts1879) January 18, 2022
Sincere condolences to Shaun's family and everyone at Stranraer FC, from Dalbeattie Star FC.

— Dalbeattie Star Football Club (@dalbeattiestar) January 18, 2022
Such tragic news to hear this morning.

Shaun was very much loved across the league and Scottish football.

Sending our thoughts and love to Shaun's family, friends and everyone at Stranraer FC during this difficult time.

— Stenhousemuir FC (@StenhousemuirFC) January 18, 2022
We are all very shocked & saddened to hear this. Condolences from everyone at East Fife 💛🖤

— East Fife FC (@EastFifeFC) January 18, 2022
Sincere condolences to Shaun's family, friends and to all at Stair Park at this sad time.

— Bonnyrigg Rose Athletic (@BonnyriggRose) January 18, 2022
Sincere condolences from the Board, staff and all at Raith Rovers FC at this sad time.

— RRFC Official (@RaithRovers) January 18, 2022
Such terrible news. The thoughts and condolences from everyone at Threave Rovers FC go to Shaun's family and friends as well as everyone at Stranraer FC.

— Threave Rovers FC (@ThreaveRoversFC) January 18, 2022
Our thoughts are with Shaun's family and everyone @StranraerFC. A true football person and always someone we enjoyed meeting ❤️

— East Stirlingshire FC (@TheShireFC) January 18, 2022
The thoughts of everyone at Central Park are with Shaun's family, friends and all those involved with Stranraer FC.

💙

— Cowdenbeath FC (@CowdenbeathFC) January 19, 2022
All of us at Edinburgh City are shocked by the news. Please pass on our deepest condolences to Shauns family and those at the club.

— Edinburgh City FC (@EdinburghCityFC) January 18, 2022
Everyone at Albion Rovers would like to pass on their thoughts to Shaun's family & friends at this sad time.

— Albion Rovers FC (@albionrovers) January 18, 2022
Such tragic news, thoroughly enjoyed Shaun's company and football chat whenever our clubs met.
Sincere condolences to everyone at Stranraer and Shaun's family and friends.

— Kelty Hearts FC (@KeltyHeartsFC) January 18, 2022
The thoughts and condolences of all of your Dutch football mates at FC Twente to Shaun's family and everyone involved at @StranraerFC

— FC Twente (@fctwente) January 18, 2022
We are so sorry to hear this.

Everyone at Queen of the South sends our love and thoughts to Shaun's family and friends and everyone at Stranraer FC.

— Queen of the South (@OfficialQosFC) January 18, 2022
Players and staff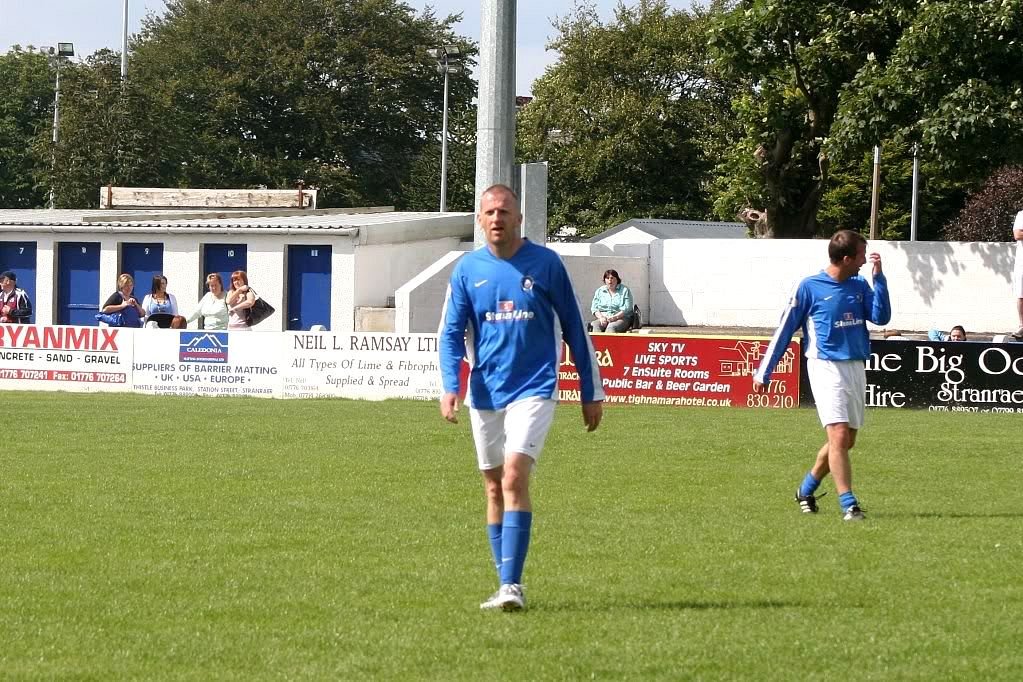 Absolutely devastated to hear the news of Shaun's passing! A proper football man and absolute gentleman who couldn't do enough for me in my time at the club. Spent many a coach journey talking football and Will be sorely missed my many. Thoughts go out to Shaun's family! RIP 💙

— cameron belford (@cambelford) January 18, 2022
Devastating 😭😭😭 Great guy who I loved at Stranraer. Thoughts with his family ❤️

— Michael Moore (@Moore9_Michael) January 18, 2022
A brilliant guy, mr stranraer !! Total football man who will be missed by so many people at stranraer and in the lower leagues of scottish football 😞

— s p a r k y (@mdocherty88) January 18, 2022
So so sad. A proper gentleman. Thoughts with his family

— Robert Jones (@RobertJones_95) January 18, 2022
What an amazing man he was! So sad 💙

— MaxCurrie (@currie_max) January 18, 2022
Absolutely gutted to read this. Shaun was great guy. Thoughts are with his family

— Steven Noble (@snoble1988) January 18, 2022
Rest in Peace and God Bless to you Shaun. You have left behind nothing but good and happy memories for a lot of people..🙏

— Steve Farrell (@SteveFaz15) January 18, 2022
I never heard Shaun speak bad of anyone! Win, lose or draw he stood by us all. We have some great memories with Shaun and he will be sadly missed!! 💔 🔵⚪️ ⚽️ RIP Mr Chairman.

— Frank McKeown (@FrankoBaresi86) January 18, 2022
Devastating news. Condolences to Shaun's family. Absolute gentleman 😔

— Sean Winter (@1987Seanw) January 18, 2022
Devasted to hear this. RIP Shaun. You will be missed by so many ❤️

— Scott Agnew (@ScottAgnew10) January 18, 2022
Rest easy Shaun, great guy and done so much for the club! Thoughts go out to the family 💙💙

— Cami (@CamiElliott1999) January 18, 2022
Gutted and shocked to be reading this. Shaun was always such a friendly and warm person to speak to and was always welcoming anytime I visited Stair park. Condolences to his family and everyone connected to the club.

— Brown Ferguson (@brownaferguson) January 18, 2022
Gutted to receive the phone call this morning. Shaun was a terrific guy, always enjoyed being in his company and our chats during my time at Stranraer. A man who will be greatly missed by so many 🔵⚪️

— Wullie Gibson (@WullieGibson) January 18, 2022
Media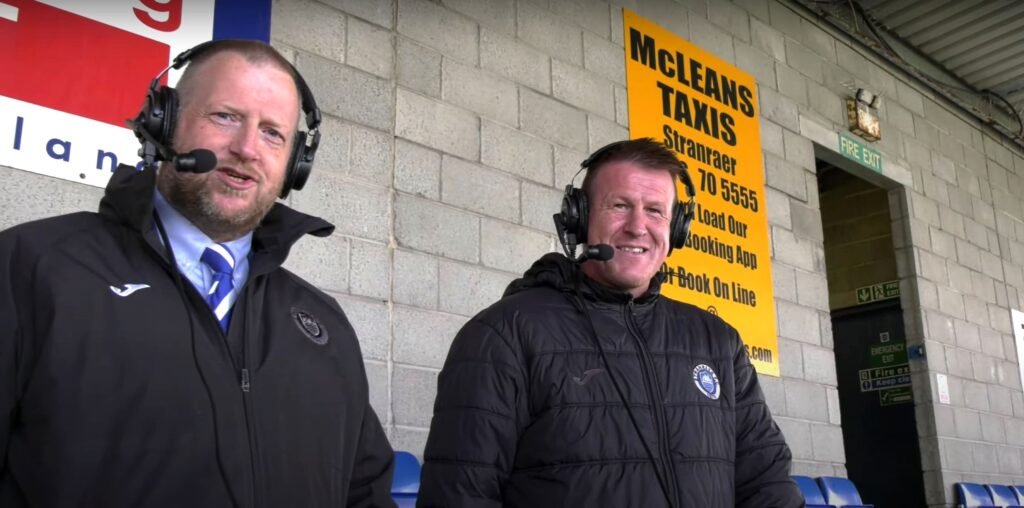 Really awful news. Chatting to Shaun was always one of my highlights of attending Stair Park. Desperately sad. Thoughts with his family and everyone at the club 💙

— David Mackay (@DaveFeatures) January 18, 2022
Dreadful news to start the day. Shaun was a massive ambassador for @StranraerFC and a huge enthusiast for football everywhere. A lovely and very helpful guy. Thoughts are with his family.

— it's no easy! (@itsnoeasy1) January 18, 2022
Supporters
Life just won't be the same without Shaun running about on match days😪

— Brian Martin (@BrianMa060769) January 18, 2022
Stunned! A lovely guy who I was proud to call a friend! This is a huge loss to all his family and friends, to Stranraer FC in particular, and Scottish football in general. R.I.P my friend

— Mike McLean (@stairmike79) January 18, 2022
Terribly sad news. Shaun was one of the good guys, who always put SFC.first. Condolences to all Shaun's family. RIP Mr Chairman 💙⚽️

— David Paterson (@pogovenga1870) January 18, 2022
Very sad news coming out of Stranraer, sleep tight Shaun https://t.co/zNYZYe7Fcg

— Tom Buchanan (@tompro66) January 18, 2022
Other tributes
News articles
From the archive