One man who feels he has a point to prove in 2023 is George O'Connor.
The goalkeeper played five games for Stranraer during 2022 and could get his chance between the sticks in the absence of Luke Scullion.
Twenty-year-old Scullion suffered a serious injury against Bonnyrigg Rose two days before Christmas and will spend time on the sidelines.
That allowed O'Connor to come off the bench for the final 15 minutes at New Dundas Park.
He said: "You always need to prepare like you are going to play.
"The night before I prepare the same, eat the same, to give myself the best chance.
"It was tough to come on in freezing conditions, it was Baltic that night.
"I got a couple of volleys before coming on and I had my eye in already.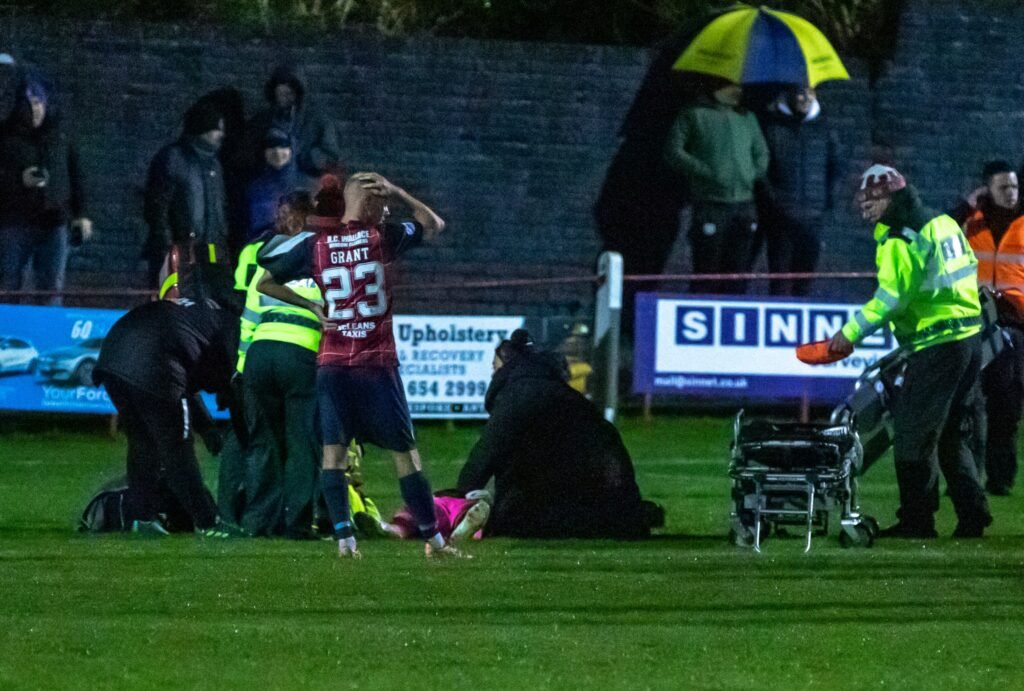 "In a weird way, I was buzzing to come on for the penalty.
"I thought 'this is brilliant, I can go on and save the penalty' – it would be a dream.
"Obviously, I dived the right way but the boy has put it in the top corner.
"I want to be playing and I want to prove myself.
"I don't know the manager's plans but hopefully I get a chance."
O'Connor played against Dundee, Stirling Albion, Dumbarton and Albion Rovers before his substitute appearance in Midlothian.
The 18-year-old conceded he was his own biggest critic but was determined to make the most of his chance after a challenging couple of years.
The former Kilmarnock youngster suffered a stress fracture in his back in September 2020 and was unable to play until the summer of 2021.
Released by the Rugby Park club, he is now hoping to get a run in the team and show what he is capable of.
He said: "I don't think I have done as well as I could have.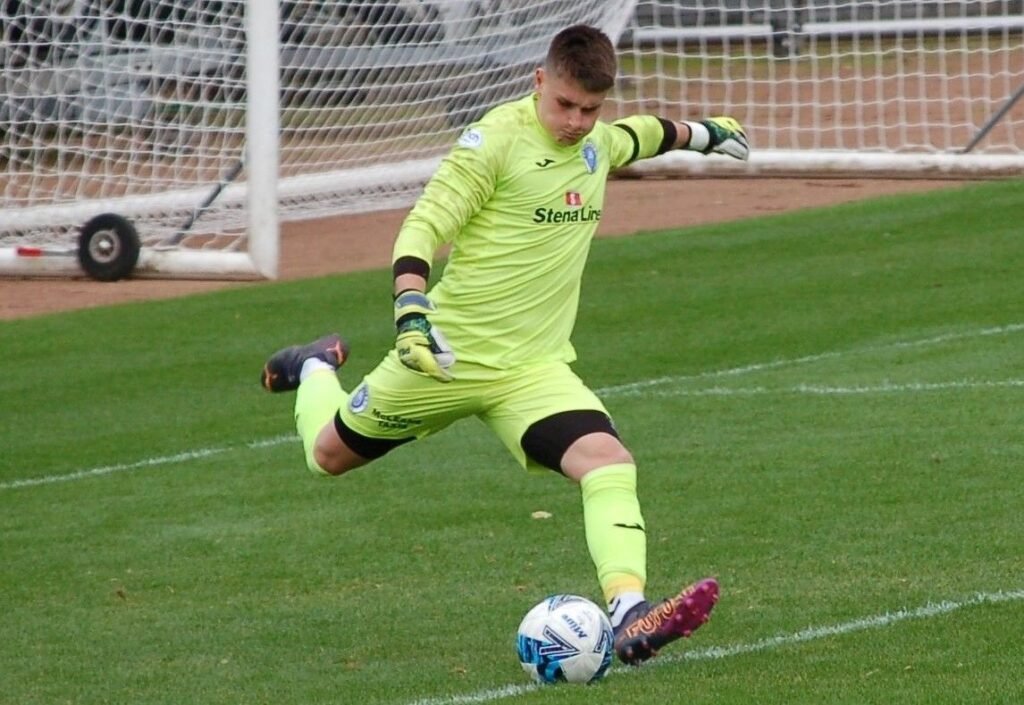 "I have made quite a lot of silly mistakes and that comes from not having a run of games.
"Even last year, I was injured for most of the year.
"Once I get a run of games and into the routine of playing, I will start to perform a lot better."
Stranraer begin the New Year with a trip to Ochilview to face Stenhousemuir.
The Blues' away form in the second half of 2022 has been well documented and many involved with the club will be hoping for a change of fortune over the next 12 months.
O'Connor was unable to put his finger on the reason for their travel sickness but was confident a win would help turn it around.
He said: "I believe that one win just takes a lot of weight off everybody's shoulders.
"The league is so tight.
"If you lose two or three games, you can end up bottom of the league.
"We need to make sure we take every point as it comes and don't switch off.
"If you get three good results you are right up there."
Last meeting
Stranraer 3-2 Stenhousemuir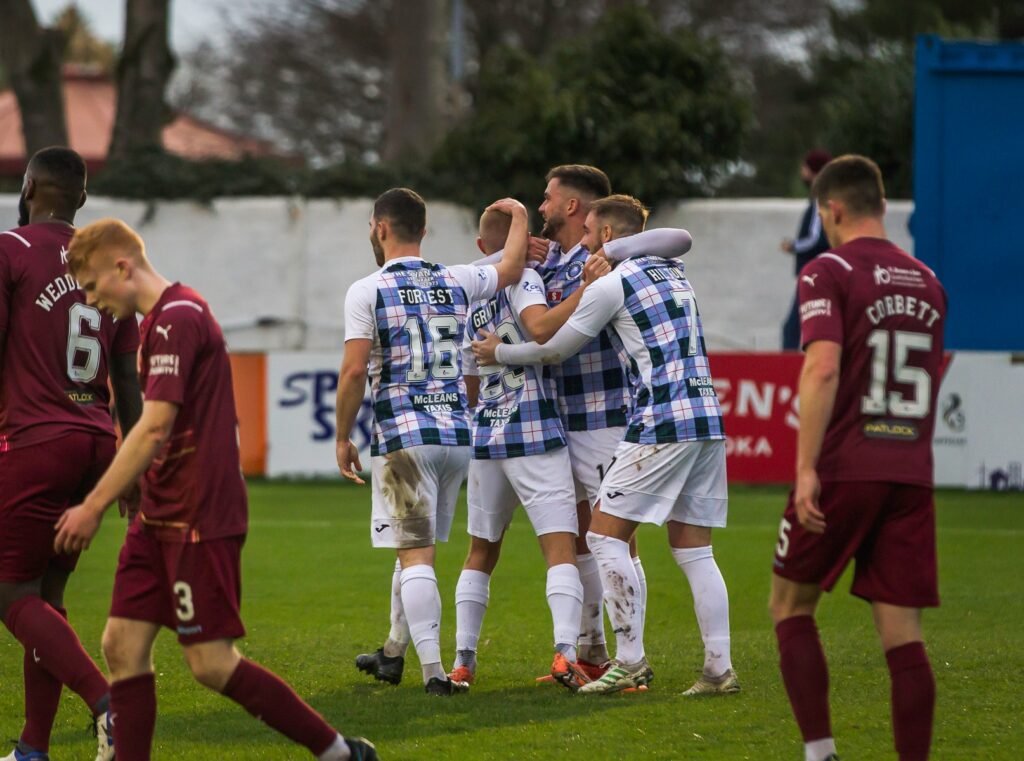 Ten-man Stranraer held on to extend their impressive home record in November.
James Hilton scored a spectacular opener from 40 yards before Matty Grant poked the ball beyond former Blue Connor Brennan.
Just when Stranraer fans might have thought they were on course for an easy three points, a familiar face pulled one back for the visitors.
Matty Yates made it 2-1 and momentum seemed firmly in favour of Stenhousemuir when Kyle Girvan was sent off. However, within two minutes, captain Grant Gallagher had scored from close range.
Another former Blue Tom Orr reduced the deficit again but Stranraer took the win.
Stranraer: Scullion, Robertson, Girvan, Ross, Gallagher, Hawkshaw (Brady 83), Forrest, McLean, Grant (Watt 75), Hilton (Ellis 83), Kouider-Aissa.
Not used: Dunn, Eze, Walker and O'Connor.
Stenhousemuir: Brennan, Yeats (Orr 68), Crighton, Miller, Corbett, Wedderburn (Walker 62), Forbes (A Brown 80), Philp, O'Reilly, Sewell, Yates.
Not used: L Brown, Anderson, Joseph and Cantley.
Last five meetings
Stranraer 3 Stenhousemuir 2 (Hilton, Grant and Gallagher; Yates and Orr) at Stair Park on November 12, 2022
Stenhousemuir 3 Stranraer 1 (Sewell, Jamieson and Crighton; Hilton) at Ochilview on September 3, 2022
Stenhousemuir 1 Stranraer 3 (Brown; Ross and Hilton x2) at Ochilview on April 23, 2022
Stranraer 1 Stenhousemuir 1 (Duffy; Orr) at Stair Park on February 19, 2022
Stenhousemuir 1 Stranraer 4 (Orr; Robertson, Brady, Sonkur and Muir (Pen)) at Ochilview on December 4, 2021
Last five games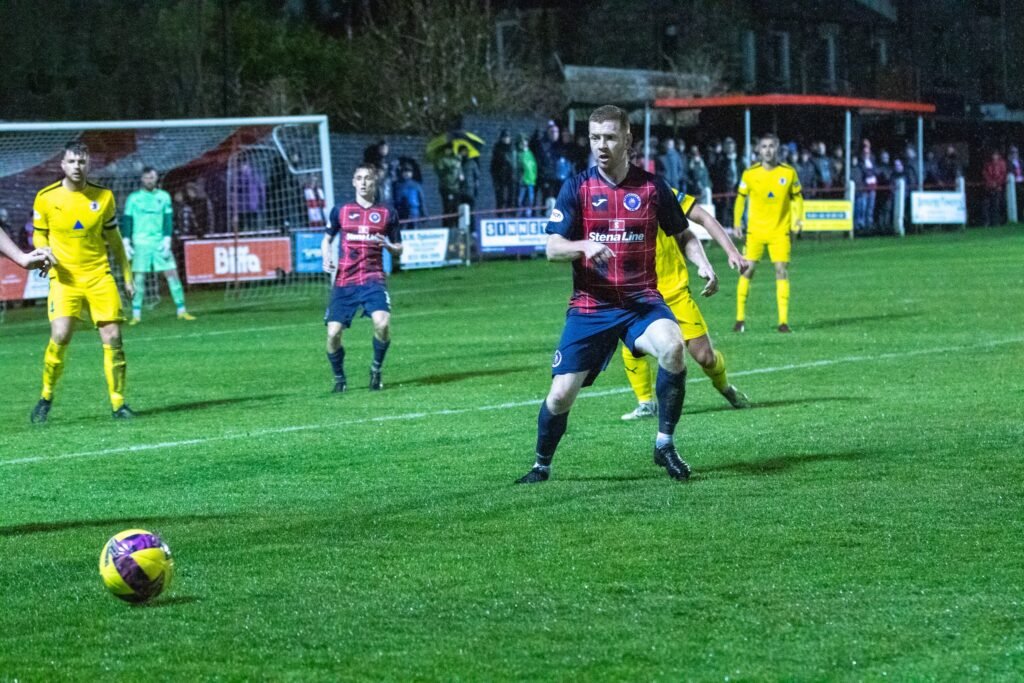 Stranraer
LOSS v Bonnyrigg Rose (A): 3-2 (Walker and Watt)
WIN v Stirling Albion (H): 3-1 (Forrest, McIntosh and Gallagher)
DRAW v Annan Athletic (H): 1-1 (Hawkshaw)
LOSS v Albion Rovers (A): 1-0
WIN v Stenhousemuir (H): 3-2 (Hilton, Grant and Gallagher)
Stenhousemuir
LOSS v Stirling Albion (A): 3-1 (Sewell)
LOSS v Forfar Athletic (H): 1-2 (Yeats)
LOSS v Elgin City (A): 2-1 (Sewell)
WIN v Formartine United (A): 1-3 (Own goal, Brown and Yates)
DRAW v Bonnyrigg Rose (H): 1-1 (Brown (Pen))
Last time out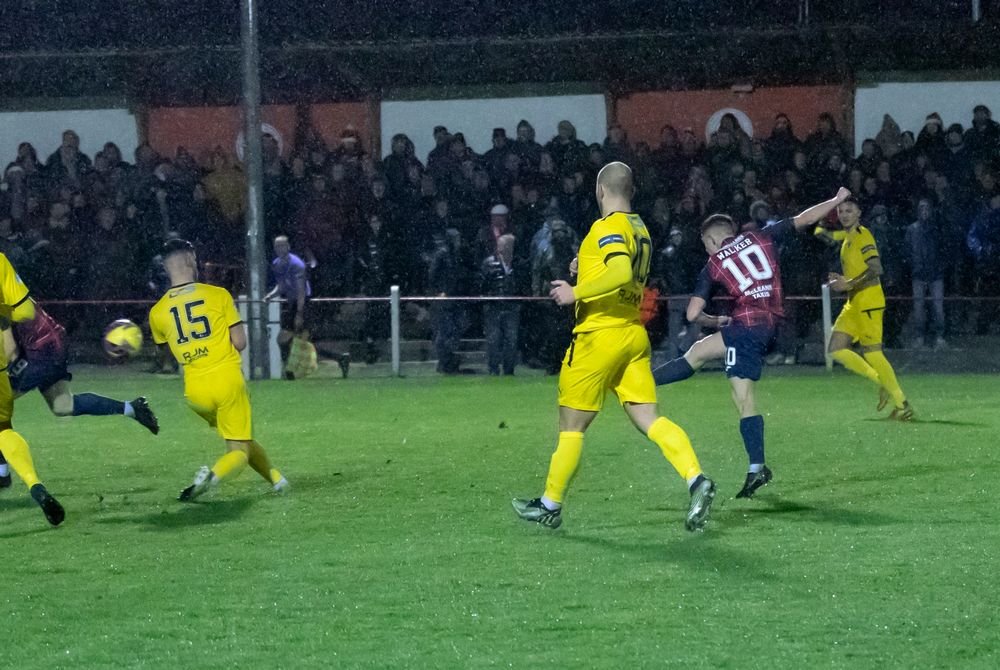 Stranraer
Lineup v Bonnyrigg Rose: Scullion (O'Connor 82), Robertson, Girvan, Ross, Gallagher, Forrest (Grant 54), Watt, McIntosh, Eze (Hilton 54), Malcolm (Kouider-Aissa 89), Walker.
Not used: Ellis, Brady and McLean.
Stenhousemuir
Lineup v Stirling Albion: Cantley, Corbett, Miller, Jamieson, Walker, Philp (Anderson 70), Wedderburn, Sewell, Yates (Brown 64), O'Reilly, Orr (Joseph 64).
Not used: Higgins, Forbes and Brennan.
Five facts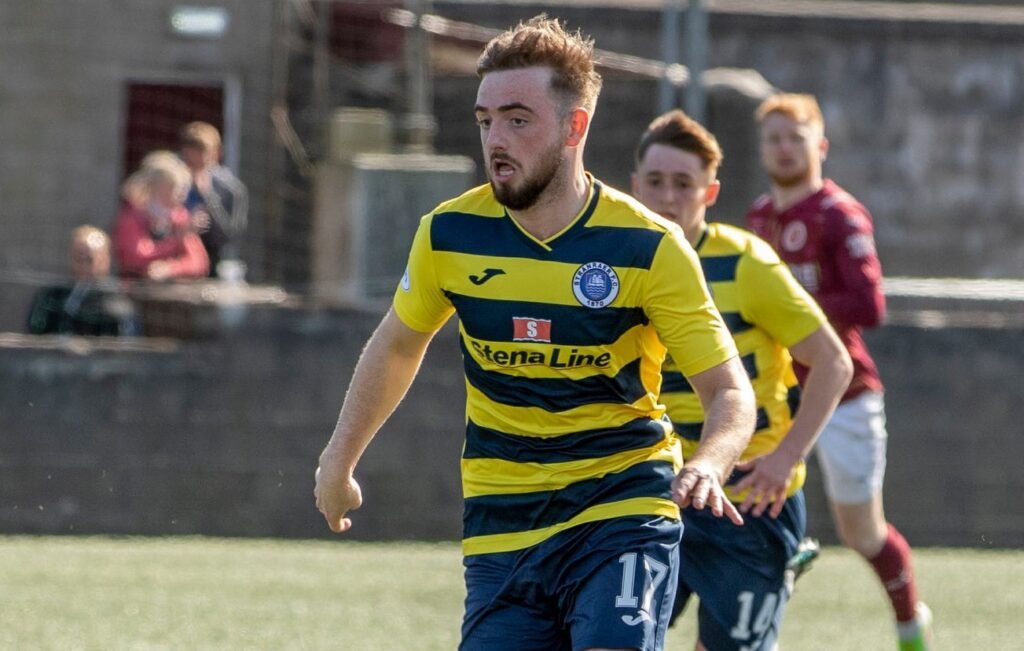 1. One man who Stenhousemuir will have to be wary of is James Hilton. The frontman has scored in each of his last four appearances for Stranraer against the Warriors dating back to April 2021.
2. Stranraer fans need to cast their minds back to 2015 for the last time they began the year with three points away from home. The Blues had finished 2014 with a 2-0 defeat at home to Stenhousemuir – Tom Walsh and Colin McMenamin scoring – but bounced back at Somerset Park. Craig Malcolm scored five minutes before the break and Jamie Longworth wrapped up the victory 16 minutes from time.
3. A happy 34th birthday to former Stranraer frontman Stuart McColm. The local striker was a useful attacking weapon for the Blues and made more than 120 appearances for the club and chipped in with more than 15 goals. His last came in a 3-1 defeat at home to Berwick Rangers in March 2012. The Stair Park side that day was: Mitchell, Taggart, Noble, McGregor (Shepherd 75), Kane, Aitken (Cochrane 78), Stirling, McColm, Winter, Malcolm, Grehan (Moore 70). Not used: Agnew and Marshall.
4. Stranraer and Stenhousemuir have been regular foes over the years. Since the millennium, Stranraer have won 10 times at Ochilview, with a further 10 ending in draws. Stenhousemuir have won seven of the games, including the latest in September last year.
5. Stenhousemuir's last home win came on October 22 last year when they defeated East Fife. Adam Corbett scored after just three minutes but the lead was cancelled out moments later through Jack Healy. The winner came before the break as Matty Yates found the target.
Photos: Bill McCandlish, MadMac Photography