The desire to win from Stranraer will be equal to that of Stenhousemuir – despite, on paper, the Blues having nothing to play for.
That was the attitude of Sam Ellis, who could be featuring in his penultimate Stranraer squad tomorrow (Saturday).
Defeat to Kelty Hearts last weekend – along with the results involving Edinburgh City and Stenhousemuir – ended lingering hopes of the Blues reaching the play-offs.
The Warriors still have the chance to finish in the top four and will be looking to keep the pressure on the capital club.
However, Ellis, on loan from St Mirren, was quick to stress that Stranraer would be just as hungry for the three points.
He said: "You want to finish the season as high as you can.
"The play-offs are not really in our reach but you still want to finish as high as possible.
"We will be treating the game like we would any other game.
"We go out there with a winning mentality and doing our best to get another win.
"It's a game of football.
"Whether it is a pre-season friendly or a cup final, you go out with the same mentality to try to win the game.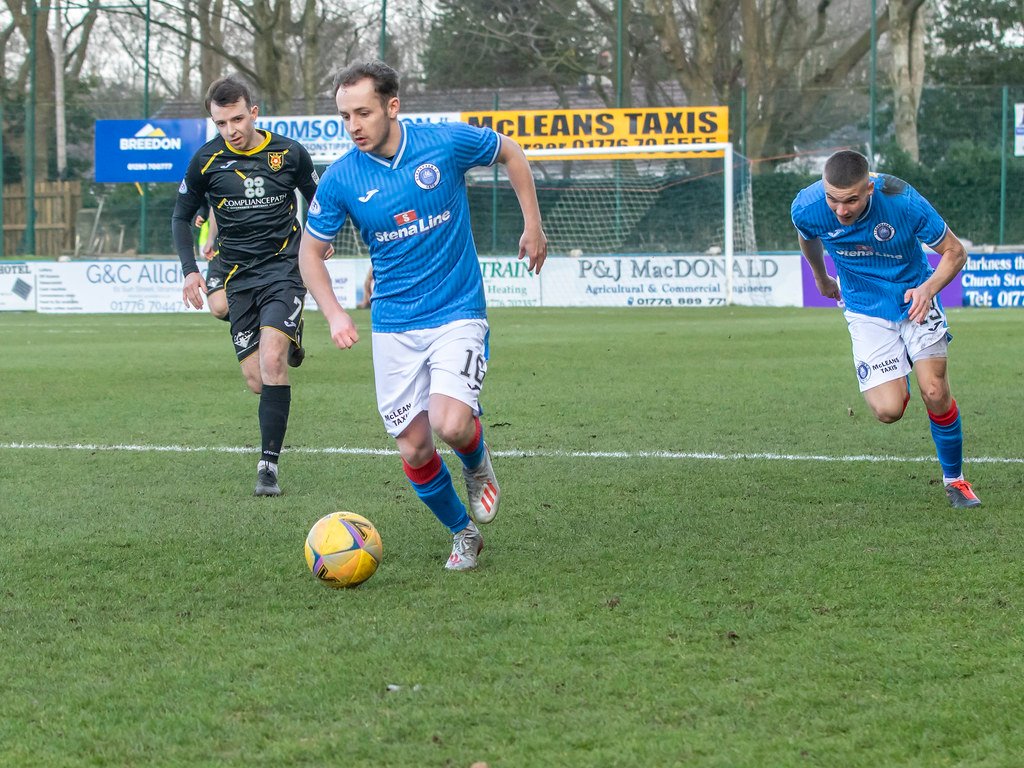 "We remember we are here to win, we are not here to do anything less."
In theory, Jamie Hamill's team could finish anywhere between sixth and ninth in the League Two table.
Ellis was keen for the team to finish as high up the standings and as close to the play-offs as possible.
After tomorrow's trip to Ochilview, the Blues finished the campaign with a home tie against Elgin City.
The full-back said: "It's all about finishing as high as we can.
"If we are sitting anywhere below sixth with the squad that we have got, then it is a season where we could have done better.
"Obviously, we were looking to push for the play-offs but now that's gone and we need to look at what is the highest we can finish."
Whatever the results over the next two weekends, it has been a memorable season for Ellis.
The 19-year-old will return to his parent club having featured in 18 games for the Stair Park side.
Two of those appearances have come against Stenhousemuir – a victory and a draw.
He said: "I've loved every minute of it.
"It's a great club, I've loved being here and I have loved playing and coming to Stair Park every second week.
"It has been a great first taste of first team football for me."
Last meeting
Stranraer 1-1 Stenhousemuir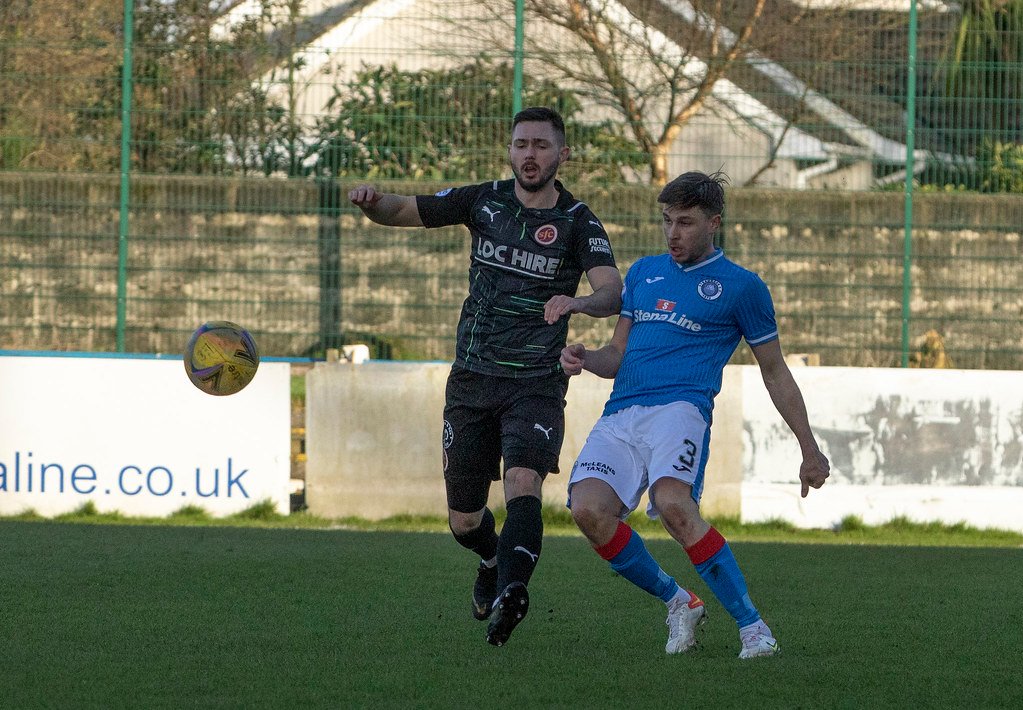 A second half equaliser from former Stranraer man Tom Orr ensured the spoils were shared at Stair Park.
The Blues got off to the perfect start when they took the lead through Darryl Duffy. Dean Hawkshaw found the frontman with a clever corner and Duffy swept the ball home.
Stranraer would go on to create plenty of chances but were made to pay for not doubling their lead. Robert Thomson's run pushed the home defence back and the ball was slotted through to Orr who scored.
Stranraer: Scullion, Robertson, Burns, Ellis, Ross, McIntosh, Brady (Woods 65), Gallagher, Hawkshaw (Mullen 83), Yates, Duffy (Watson 65).
Not used: Smith, Walker and Downie.
Stenhousemuir: Urminsky, Yeats, Crighton, Corbett, Jamieson, Wedderburn, O'Reilly, Anderson (Christie 46), Miller, Orr (Lyon 81), Thomson.
Not used: Forbes, Hughes, Brown, Graham, Moreland and Wilson.
Last five meetings
Stranraer 1 Stenhousemuir 1 (Duffy; Orr) at Stair Park on February 19, 2022
Stenhousemuir 1 Stranraer 4 (Orr; Robertson, Brady, Sonkur and Muir (Pen)) at Ochilview on December 4, 2021
Stranraer 2 Stenhousemuir 0 (Yates and Watson) at Stair Park on September 18, 2021
Stranraer 4 Stenhousemuir 0 (Hilton, Orr and Paton x2) at Stair Park on April 15, 2021
Stenhousemuir 2 Stranraer 2 (Biabi and Graham; Cummins and Paton (Pen)) at Ochilview on December 12, 2020
Last five games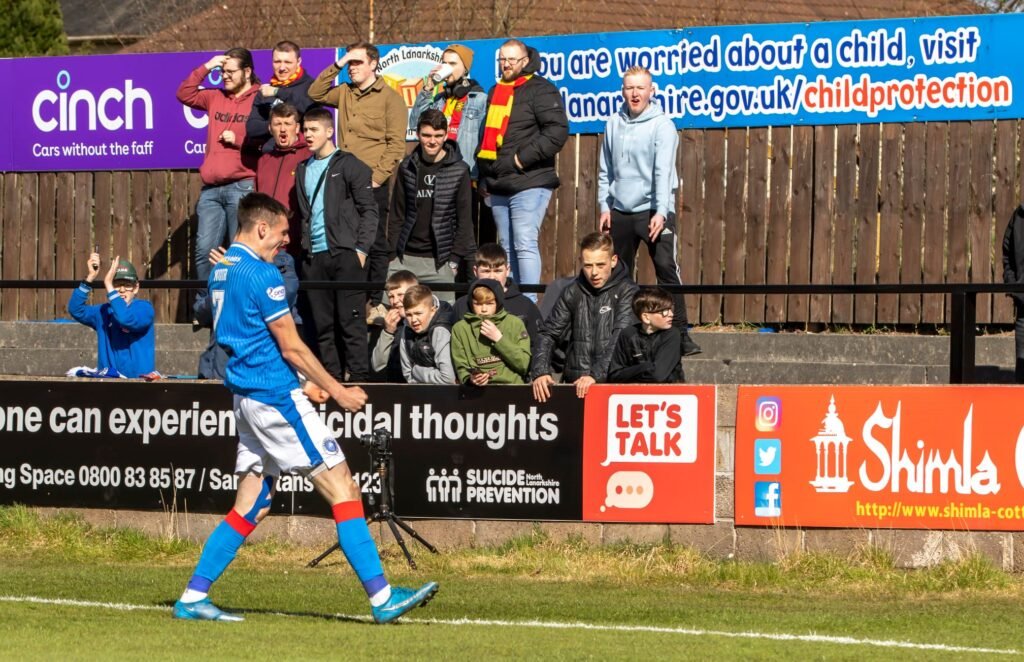 Stranraer
LOSS v Kelty Hearts (H): 0-3
WIN v Albion Rovers (A): 0-5 (Yates, Muir, Sonkur, Ross and Woods)
LOSS v Forfar Athletic (H): 0-2
LOSS v Stirling Albion (A): 1-0
WIN v Edinburgh City (A): 1-2 (Ross and Burns)
Stenhousemuir
WIN v Albion Rovers (H): 4-1 (Corbett, O'Reilly, Thomson and Brown)
WIN v Elgin City (A): 0-2 (Corbett and Miller)
LOSS v Annan Athletic (H): 0-1
LOSS v Kelty Hearts (A): 1-0
DRAW v Cowdenbeath (A): 1-1 (Christie)
Last time out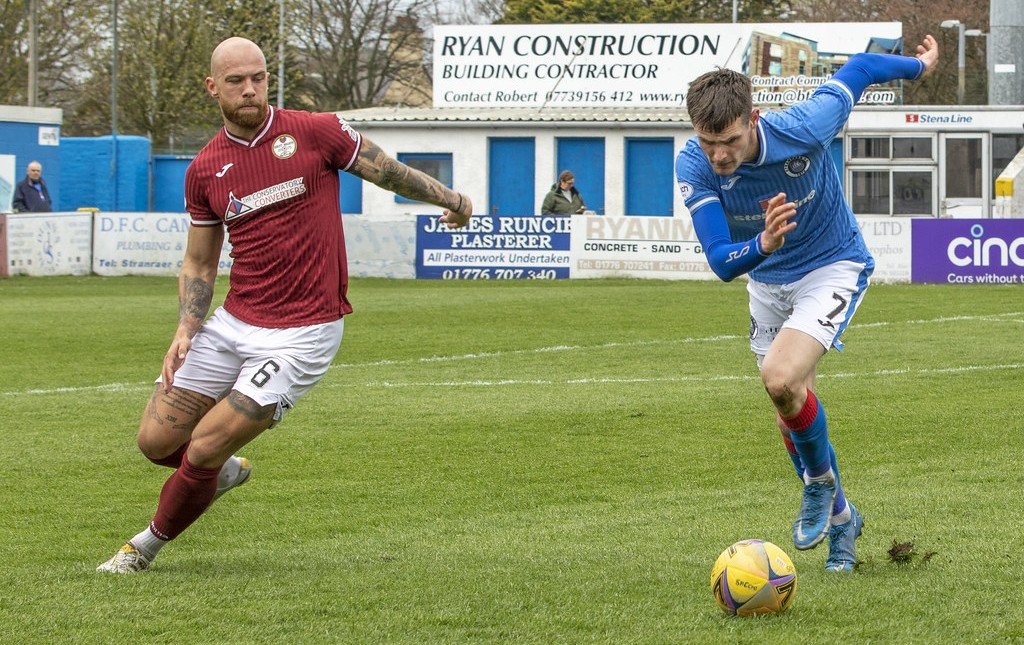 Stranraer v Kelty Hearts: Scullion, Robertson (Brady 84), Burns, Sonkur, Ross, McIntosh, Gallagher (Smith 84), Hilton (Woods 66), Muir (Mullen 87), Walker (Watson 66), Yates.
Not used: Ellis and Downie.
Stenhousemuir v Albion Rovers: Urminsky, Yeats, Crighton, Corbett, Jamieson, Wedderburn, Brown, O'Reilly, Miller, Thomson (Orr 76), Christie (Graham 81).
Not used: Tapping, R Lyon, Forbes, J Lyon, Anderson, Moreland and Wilson.
Five facts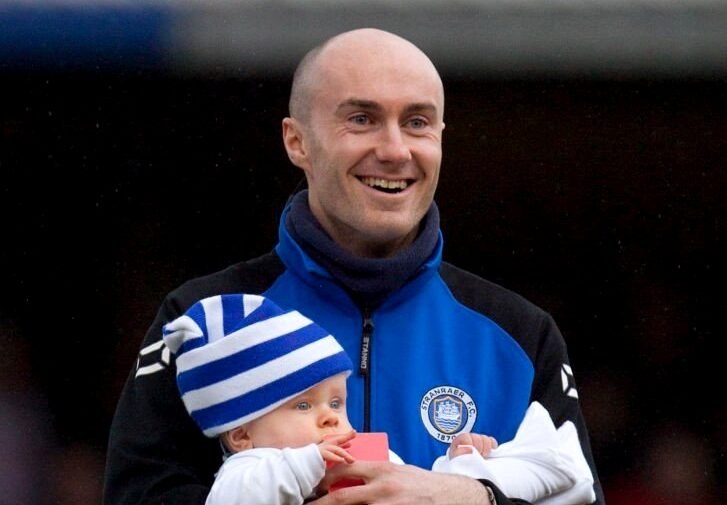 1. Each of the Stenhousemuir management team enjoyed success with Stranraer. Manager Stephen Swift and assistants Frazer Wright and Michael Moore were with the Blues when the club won the Third Division – now League Two.
2. Play-off chasing Stenhousemuir last defeated Stranraer at Ochilview in January 2017. The only goal of the game was scored by future and now former Blue Kieran Millar. It also proved to be Brian Reid's last game as Stranraer boss. The visiting team that day was: Belford, Robertson, Dick, Barron, Neill, Pettigrew (Whittaker 70), Agnew, Wilson, Turner (Thomson 63), Malcolm, Nuttall (McGuigan 63). Not used: Morena, Maley and Currie.
3. Twice in the last 10 visits to Ochilview, Stranraer have scored five goals. The first was on Boxing Day 2015 when Craig Malcolm scored a treble, alongside strikes from Jamie Longworth and Sam McCloskey, in a 5-1 win. In the very next meeting, Stranraer were 5-0 winners. Willie Gibson, Kyle Turner and Christian Nadé scored, with Malcolm this time scoring a double.
4. Former Stranraer striker Tom Orr has scored both of Stenhousemuir's goals against the Blues this term.
5. The Blues have played eight games away from home in 2022. On those occasions, Jamie Hamill's men have won four and lost four.