Craig Ross believes Stranraer's biggest tests are yet to come after playing three Championship sides.
The Blues have suffered defeats to Queen's Park, Hamilton and Dundee in the opening rounds of fixtures in the Premier Sports Cup.
Tomorrow (Tuesday) brings a trip to Forfar and the first time this season that Stranraer will face a team from their own league.
The Loons had the upper hand over Stranraer last season and reached the play-offs.
Ross said: "Forfar will be the biggest test for us and the most important test.
"They are a team at our own level.
"They will want to try to win the league and will definitely be up there.
"We want to see how far we have come from last season.
"We did not pick up many points against them but have them on Tuesday and the second league game so we will be looking to go there and make an impact."
Ross missed the first two games of the season after being sent off in a pre-season friendly with Falkirk.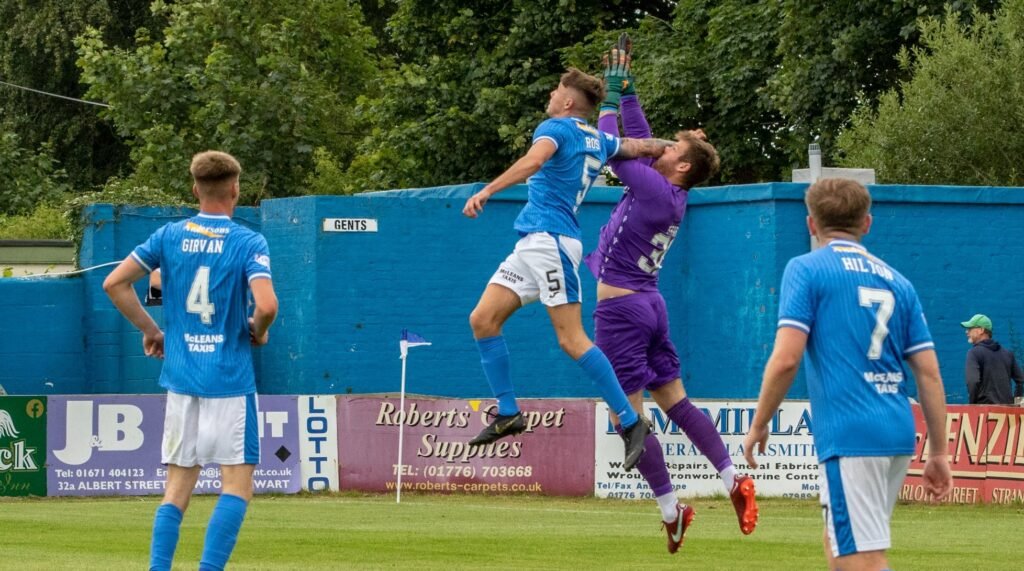 Stranraer conceded 10 goals over the two games with Queen's Park and Hamilton and set out to frustrate their visitors Dundee on Saturday.
Ross, back from suspension, said: "We went in with a game plan to sit in, frustrate Dundee and try to hit them on the counter-attack.
"We conceded the goals we did in the two games prior and wanted to be more solid defensively.
"To be fair, I thought we mostly did that throughout the game but two set pieces and we lost one where the boy cut inside.
"It was three frustrating goals to lose."
The 20-year-old is now in his second season with Stranraer having made the move from Rugby Park at the beginning of last term.
His debut campaign proved an impressive one and saw him leave the end of season awards ceremony with a number of accolades.
The former Kilmarnock youngster added: "Getting the awards at the end of the season was a massive confidence booster.
"Just getting reassurance that people at Stranraer rate me.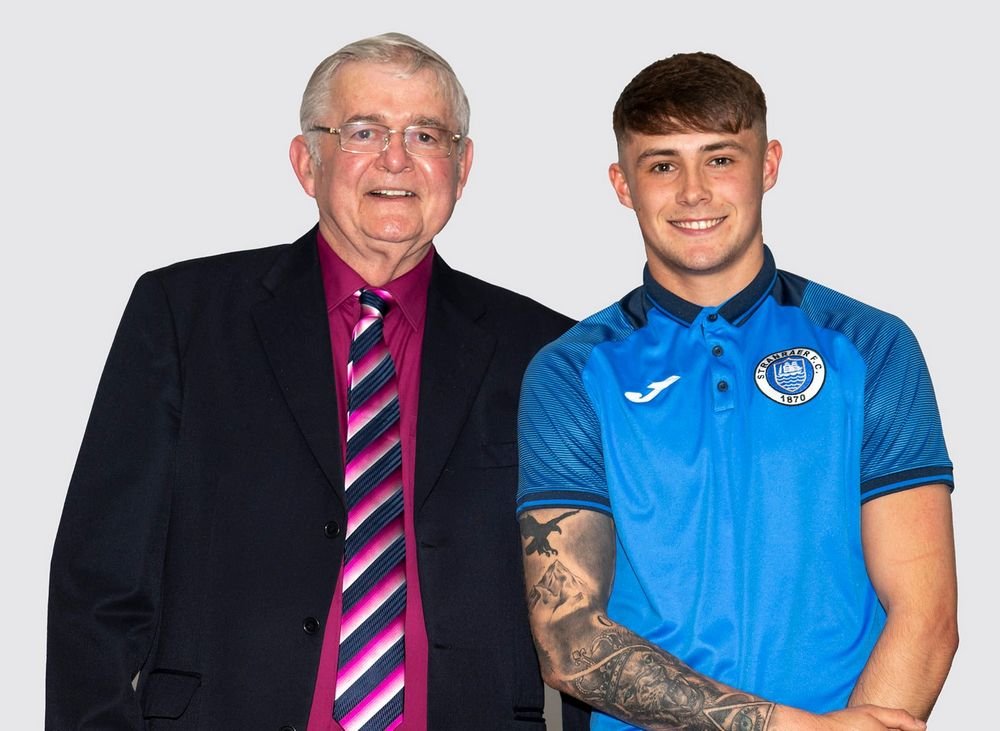 "I was really thankful for that and honoured to be honest.
"A big part of staying here was that people here rate me and trust me.
"I was wanting to stay another year and enjoy my football here."
The defender has also been strutting his stuff off the field but revealed he was not planning to hang up the boots and concentrate on a full time career behind the microphone… yet.
Ross joined Brian Martin on commentary duty for the opening day contest at Stair Park and enjoyed the occasion.
He said: "I really enjoyed it!
"I enjoyed it more than I thought but it is never nice not being able to play and help the team.
"It was a good laugh on commentary and slaughtering the boys though – I enjoyed it!"
Last meeting
Stranraer 0-2 Forfar Athletic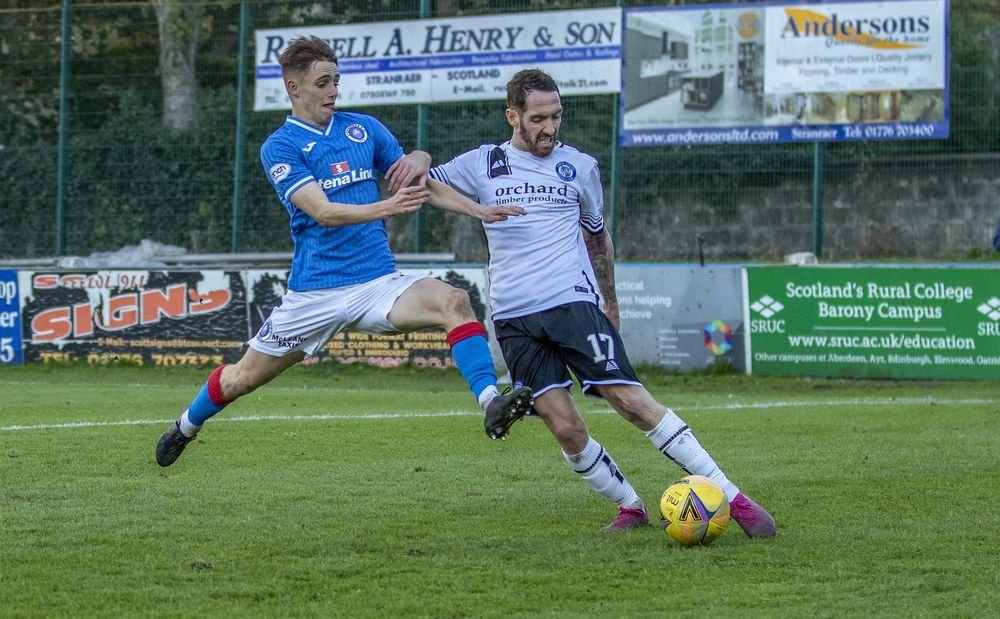 Two goals in the final 10 minutes meant Forfar took 10 points out of a possible 12 against Stranraer last season.
Tommy Muir came close for Stranraer in the first half but failed to generate any real power in his header, which was held by Marc McCallum.
However, deep into the second half and a poor touch from Anton Brady allowed Forfar to take the lead. Craig Slater kept his cool from the edge of the box to fire home.
Minutes later, Stefan McCluskey made it 2-0 when the Stranraer defence was caught napping.
Stranraer: Scullion, Burns, Sonkur, Ross, McIntosh, Brady (Mullen 85), Gallagher, Woods (Yates 68), Hawkshaw, Muir, Watson (Walker 79).
Not used: Robertson, Ellis, Hilton, Smith and Baker.
Forfar Athletic: McCallum, Meechan, Whyte, Munro, Strachan, Slater, Warnock (Anderson 68), Harkins (Thomas 89), Aitken, McCluskey (Moore 89), Shepherd (Thomson 81).
Not used: Fisher and Sanderson.
Last five meetings
Stranraer 0 Forfar Athletic 2 (Slater and McCluskey) at Stair Park on April 2, 2022
Forfar Athletic 3 Stranraer 2 (Shepherd (Pen x2) and G Anderson; Walker and Muir) at Station Park on January 8, 2022
Stranraer 2 Forfar Athletic 3 (Muir and Walker; Aitken (Pen), Thomson and Ness) at Stair Park on October 30, 2021
Forfar Athletic 1 Stranraer 1 (Slater; Duffy) at Station Park on August 28, 2021
Forfar Athletic 1 Stranraer 1 (Whyte; Stevenson) at Station Park on February 15, 2020
Last five games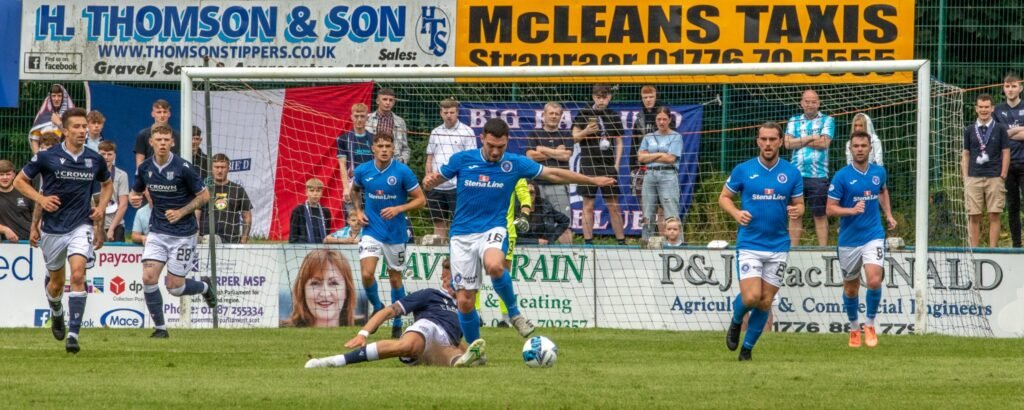 Stranraer
LOSS v Dundee (H): 0-3
LOSS v Hamilton Academical (A): 5-2 (Woods (Pen x2))
LOSS v Queen's Park (H): 2-5 (Robertson and McLean)
WIN v Elgin City (H): 2-0 (Yates and Ellis (Pen))
WIN v Stenhousemuir (A): 1-3 (Ross and Hilton x2)
Forfar Athletic
LOSS v Hamilton Academical (H): 0-3
LOSS v Queen's Park (A): 4-1 (McCluskey)
DRAW v Annan Athletic (H): 1-1 (McCluskey)
LOSS v Annan Athletic (A): 1-0
DRAW v Stenhousemuir (H): 0-0
Last time out
Stranraer
Lineup v Dundee: O'Connor, Robertson, Ellis, Girvan, Ross, Hilton, Gallagher, Woods, Forrest (Walker 81), McLean (Brady 61), Watt.
Not used: Dunn, Duffy and Scullion.
Forfar Athletic
Lineup v Hamilton Academical: McCallum, Nditi, Hussain, Munro, Brindley, Hutton (Hanratty 58), Thomson (Jack 58), Slater, Moore, McCluskey (Abed 78), Armour (Aitken 66).
Not used: Irvine, Harkins and Sanderson.
Five facts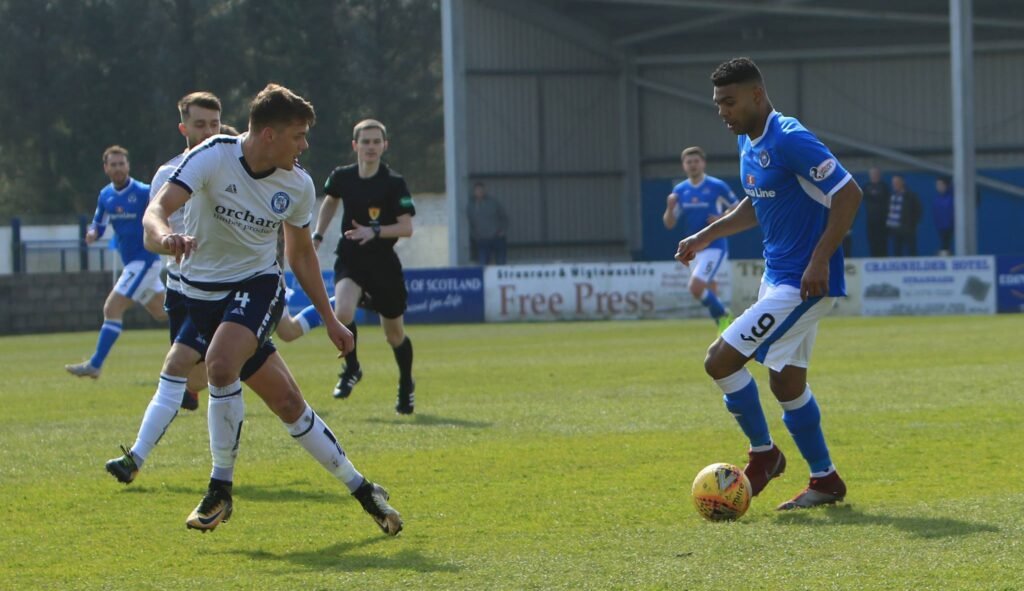 1. Forfar Athletic have avoided defeat in the last seven meetings with Stranraer. The last win for the Blues came in April 2019 when Joao Victoria scored in the first minute. Gary Irvine, now player/manager with Forfar, scored an equaliser before Connor McManus found the winner.
2. Stranraer fans will have to cast their minds back to September 2015 for the last time the Blues won at Station Park. Mark McGuigan opened the scoring and a Chris Aitken penalty doubled the advantage. Michael Travis pulled one back but the visitors held on for the victory.
3. Michael Mullen remains the last Stranraer player to score a hat-trick for Stranraer against Forfar Athletic. That came in 2007 when Mullen, a second half substitute, scored four goals in just 14 minutes. The frontman broke the deadlock on 74 minutes and with a minute to play it was 4-0. Kevin Moon pulled one back for the visitors.
4. It has been more than a decade since the two clubs played in a cup competition. It took a replay to separate Stranraer and Forfar after the first contest ended 1-1 at Stair Park. Grant Gallagher was sent off early in the contest and Chris Templeman had the visitors 1-0 up until the last minute when Frank McKeown popped up with a header. The replay proved more straight forward for Forfar, with goals from Greg Ross, Templeman and Graham Gibson giving them the victory. The Stranraer team in the replay was: Mitchell, Taggart, MacGregor, McKeown, Noble, Winter (McColm), Stirling, Kane, Shepherd (Moore), Malcolm, Grehan. Not used: Cochrane, Agnew and Marshall.
5. Robert Jones only scored three goals for Stranraer during his six months with the Blues. Two of them came against Forfar at Stair Park, with the visitors running out 4-2 winners.
How to watch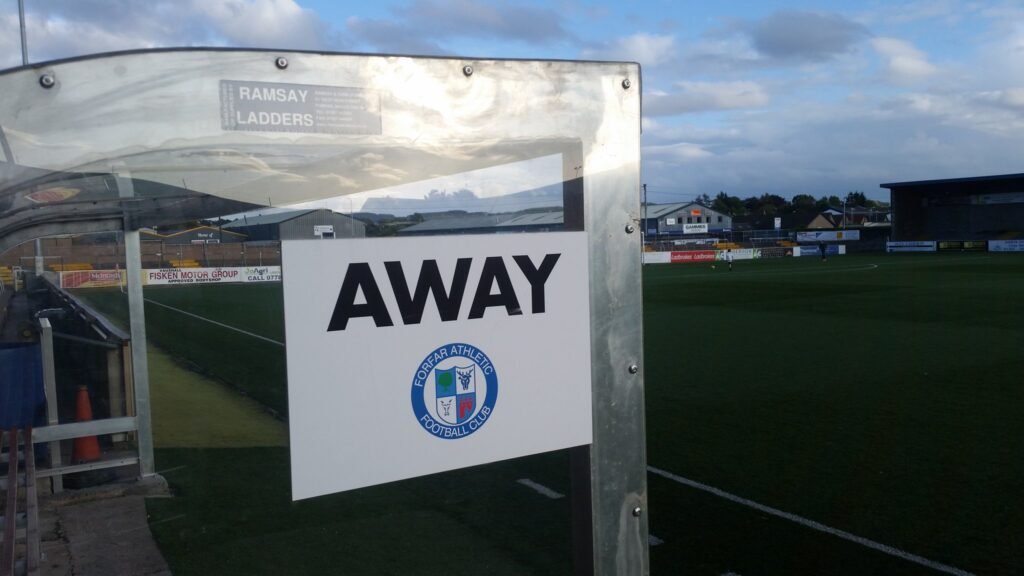 Admission at Station Park is on a 'pay at the gate' basis.
Prices can be found on Forfar's website or our social media pages prior to the match.
Forfar have also indicated on Twitter that they will be streaming Tuesday night's game live via their Pixellot streaming service.