He has only played 176 minutes this season but Matty Grant is hoping Stranraer fans will see him again soon.
A serious knee injury has hampered the midfielder's bid to stake a claim for a place in Scott Agnew's team.
He has not featured since the 3-0 defeat to Greenock Morton in mid-July but is hoping he could start running again next week.
Grant said: "I got my results back on Tuesday.
"Basically, I have got a grade one tear in my MCL and bruising to my patella.
"In the past, I have torn my MCL three times and this is the fourth time.
"I got a scan and there were doubts it might have been something else.
"There is relief now we know what it is."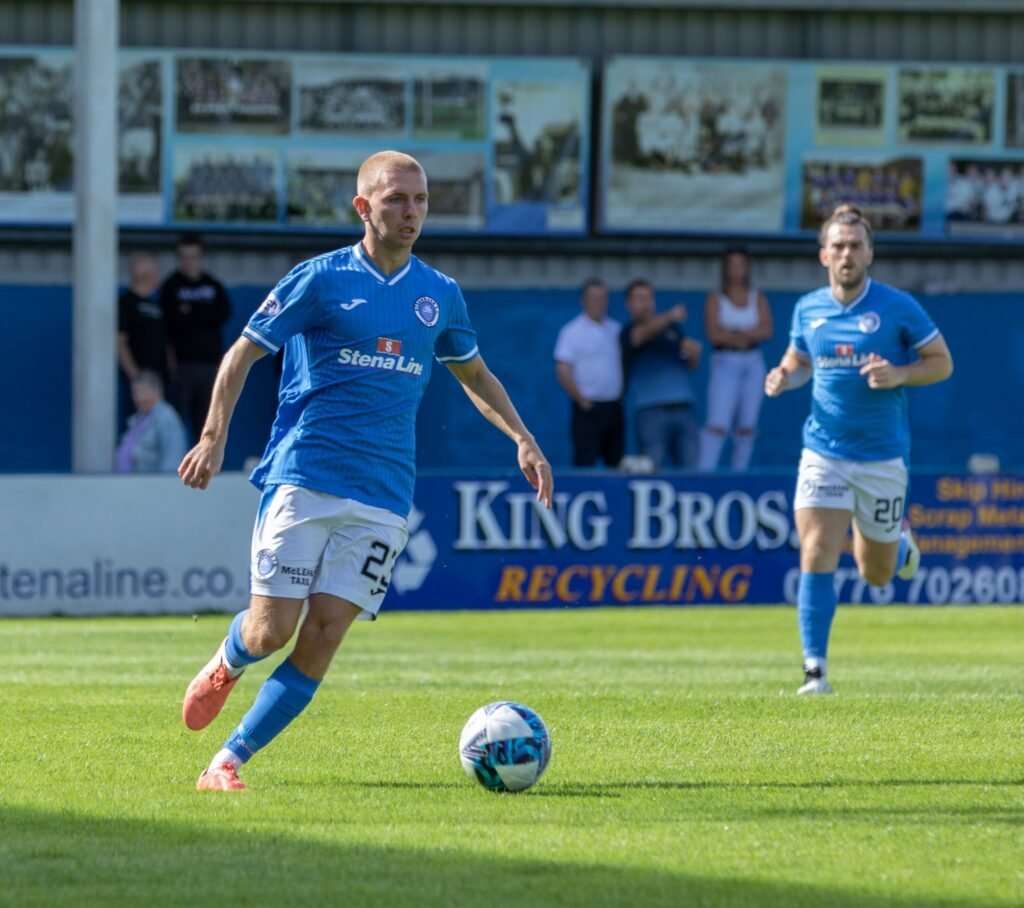 The former Pollok man suffered his injury in training during a clash with Tom Orr.
Grant has been joined on the sidelines by Dean Hawkshaw and Grant Gallagher for a number of weeks.
The trio were then joined by defender Kyle Girvan but Grant was hopeful that all four could get back running in the coming weeks.
A further appointment with a specialist in November will give a further indication of the route Grant must take on the road to recovery.
For now, Grant will be cheering on his team-mates from the sidelines.
Unfortunately, that might not be the case tomorrow at Dumbarton as he struggles with illness.
Speaking today, he said: "I have gone out to work and came home to bed for the last three days.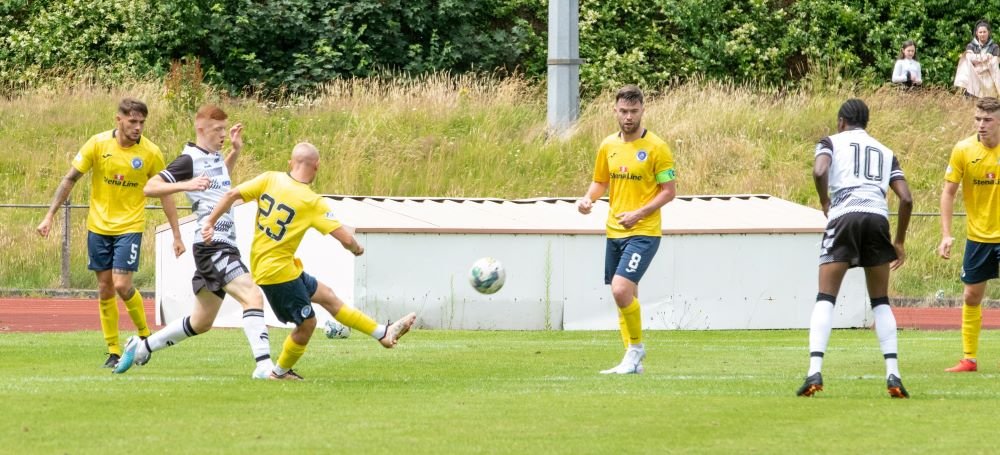 "I was off today and I have not left the house.
"I am hoping it clears up for next week and I can get back out running.
"It is murder and I am sick of sitting in the house."
Stranraer make the trip to The Dumbarton Football Stadium looking to bounce back from two disappointing defeats.
Seven goals conceded and none scored over the two games against Stenhousemuir and Forfar Athletic came after the Blues successfully picked up points in each of the opening five games.
Grant, who works as a window cleaner, stressed the team were working hard in training in a bid to get back to picking up points.
He said: "You cannot just sit and dwell on getting beat for too long.
"You are playing the following week or sometimes Saturday and Tuesday.
"You just need to get on with it.
"Leagues are not won until February or March and there is plenty of time for us to kick on."
Last meeting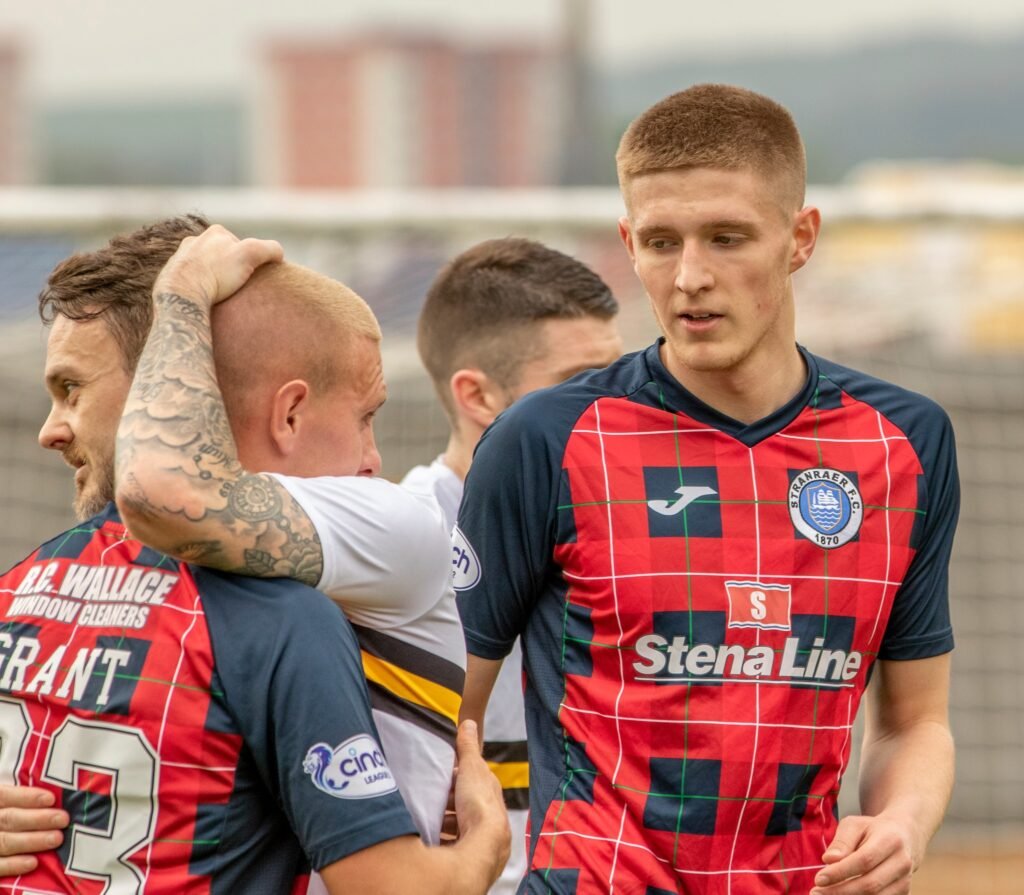 The curtain came down on the 2022/23 season as Stranraer travelled to The Dumbarton Football Stadium.
Safety had been assured while Dumbarton had a play-off challenge to contest as well.
Craig Ross had already looped a header onto the roof of the net before Stranraer took the lead. The corner in came back off the far post and the unfortunate Peter Grant could not adjust his feet quickly enough as the ball bounced off of him and into the net.
The lead lasted just three minutes as Edin Lynch powered home a header from a corner at the opposite end of the pitch.
In the second half, Luke Scullion made a great save to deny Ally Love before Ross slid the ball to safety from barely a yard out.
The game would also prove notable as the last time Craig Malcolm pulled on a Stranraer shirt, replacing James Hilton – also in his final game for the club – for the remaining 29 minutes.
Dumbarton: Broun, Lynch, Lynas, Grant (Buchanan 46), Wylde (MacLean 71), Carswell (Blair 61), McKee, Vata, Love, McLean (Byrne 61), Gray (McNiff 46).
Not used: Orsi, Wilson and Long.
Stranraer: Scullion (O'Connor 82), Robertson, Ross, Ecrepont, Watt, McIntosh, Brady (Mitchell 82), Walker, Hawkshaw (Forrest 71), Grant, Hilton (Malcolm 61).
Not used: None.
Last five meetings
Dumbarton 1 Stranraer 1 (Lynch; Own goal) at The Dumbarton Football Stadium on May 6, 2023
Stranraer 0 Dumbarton 2 (MacLean and Buchanan) at Stair Park on March 4, 2023
Dumbarton 2 Stranraer 0 (Buchanan and Garrity) at The Dumbarton Football Stadium on November 5, 2022
Stranraer 3 Dumbarton 2 (Hilton, Grant and Woods (Pen); McNiff and McKee (Pen)) at Stair Park on September 20, 2022
Dumbarton 1 Stranraer 0 (Wilson) at The Dumbarton Football Stadium on May 11, 2021
Last five games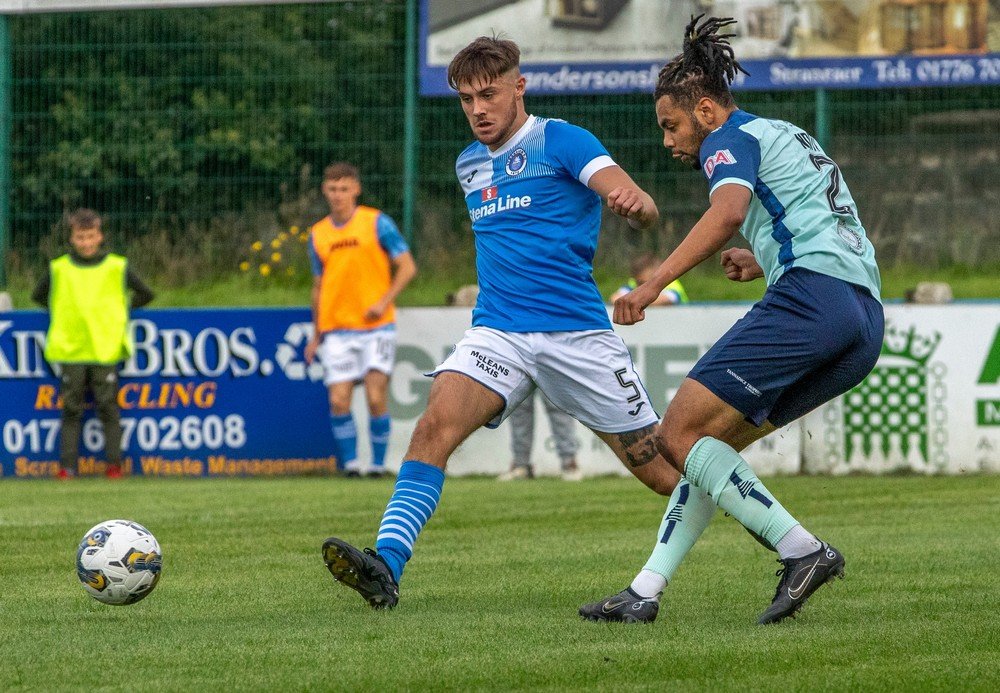 Stranraer
LOSS v Forfar Athletic (H): 2-0
LOSS v Stenhousemuir (A): 5-0
WIN v Peterhead (H): 2-1 (Orr and Fleming)
WIN v Clyde (H): 1-0 (O McDonald)
DRAW v Bonnyrigg Rose (A): 1-1 (Lang)
Dumbarton
LOSS v Peterhead (H): 0-1
LOSS v Elgin City (A): 2-0
LOSS v Kelty Hearts (H): 1-3 (Ruth)
WIN v East Fife (H): 1-0 (Crighton)
WIN v Stenhousemuir (A): 2-4 (Crighton, MacLean x2 and Hilton)
Last time out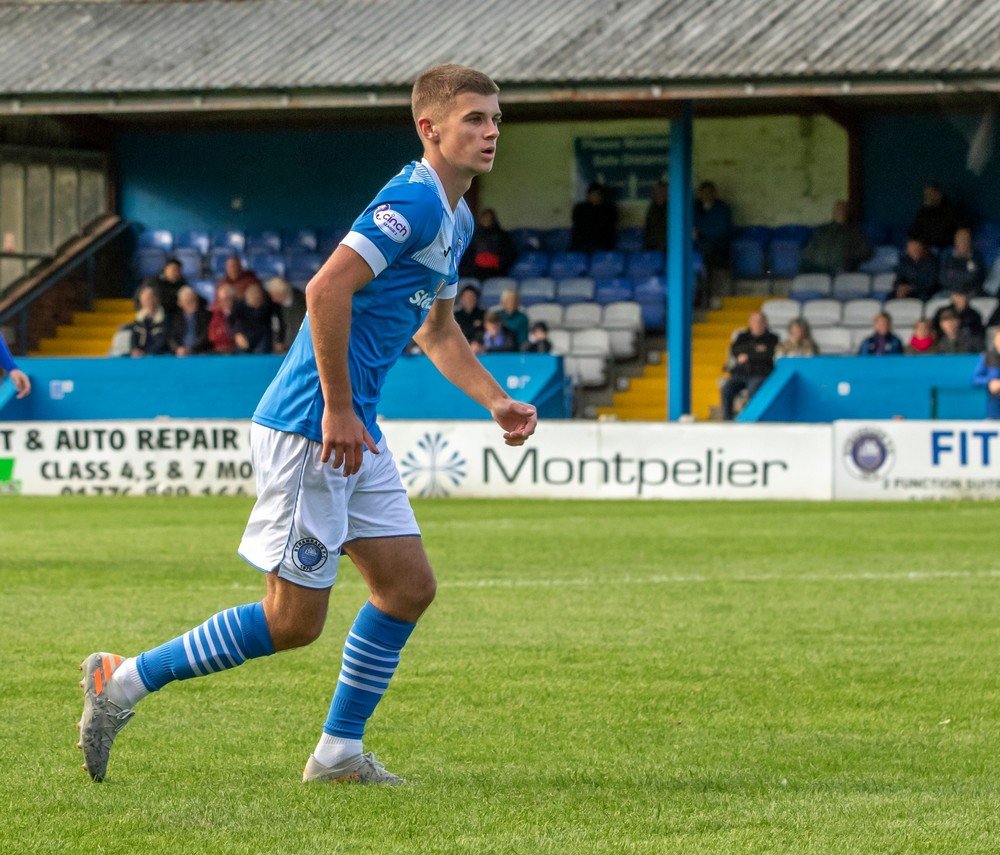 Stranraer v Forfar Athletic: M McDonald, Robertson, Williamson, Ross, McIntosh, Armour (O McDonald 82), Dolan, Forrest, Fleming (Strachan 78), Orr (Walker 61), Lang.
Not used: Hughes and Budinauckas.
Dumbarton v Peterhead: Long, Durnan, Shiels, Crighton, Malcolm, Orsi (T Wallace 73), Wilson (Gray 65), Pignatiello, Young (Lynas 22), Byrne (MacLean 66), Ruth (Hilton 73).
Not used: Blair, Vata, R Wallace and Broun.
Five facts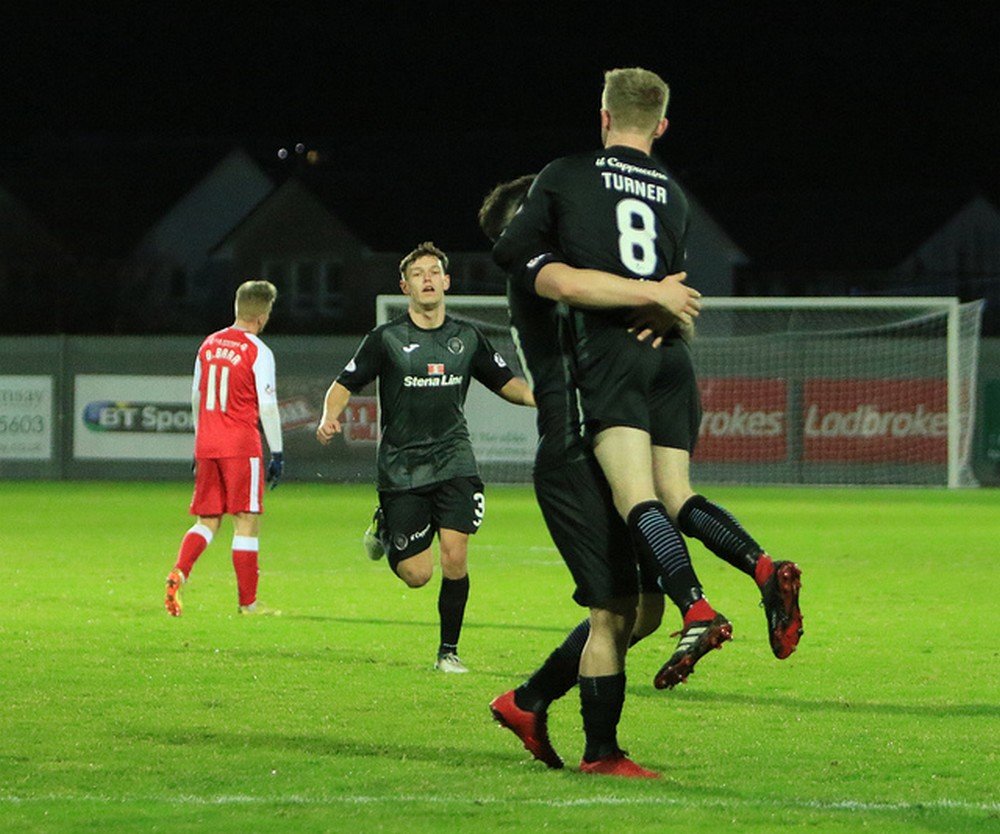 1. Stranraer have not won at The Dumbarton Football Stadium on their last six visits. The last time they picked up three points was thanks to an early Christmas present from Kyle Turner on December 22, 2018.
2. Sunday marks the 26th birthday of former Stranraer goalkeeper Lyle Avci. The shotstopper swapped Ayr United for Stair Park in 2018 and made five appearances. Since then, he has gone on to star for Annan, BSC Glasgow, Darvel and is now at East Kilbride.
3. Stranraer's first visit to The Dumbarton Football Stadium came in November 2002. The home side were 3-0 winners that day with a couple of familiar faces among the goals. Paddy Flannery scored before Gary McCutcheon and Steven Bonar found the net in the final 20 minutes. The visiting team that day was: Hillcoat, Wingate (Fallon 75), Wright (McLaren 66), Sharp, Gaughan, Jenkins, Curran, Aitken, Finlayson, Harty, Moore. Not used: Hodge, Scott and McCulloch.
4. There will likely be a few familiar faces among the home line-up tomorrow (Saturday). Mark Durnan, David Wilson, Carlo Pignatiello, Tony Wallace, Ryan Wallace and James Hilton have all pulled on a Stranraer shirt. Between them, they made more than 170 appearances.
5. A late, late strike from Danny Stoney ensured Stranraer picked up a point the last time they played on September 30. That was away to Forfar Athletic, who had led from the fourth minute thanks to a Josh Peters strike. Stoney levelled things up in stoppage time.
Photos: Bill McCandlish