With fewer than 40 senior games under his belt and a birthday of January 2002, it might be stretching it to say Luke Scullion is one of the older members of the Stranraer squad.
Recalled to the first team last weekend as the Blues took on Elgin City, Scullion is hoping he can keep the even younger George O'Connor out of the team once again.
Scullion, who joined the club from Partick Thistle, was brought back into the team after recovering from an injury in training ahead of the Stirling Albion game last month.
He said: "It has been good having George as competition.
"Obviously, George is a wee bit younger than me but he has done well.
"He is a good goalkeeper as well so he will keep pushing me all the way.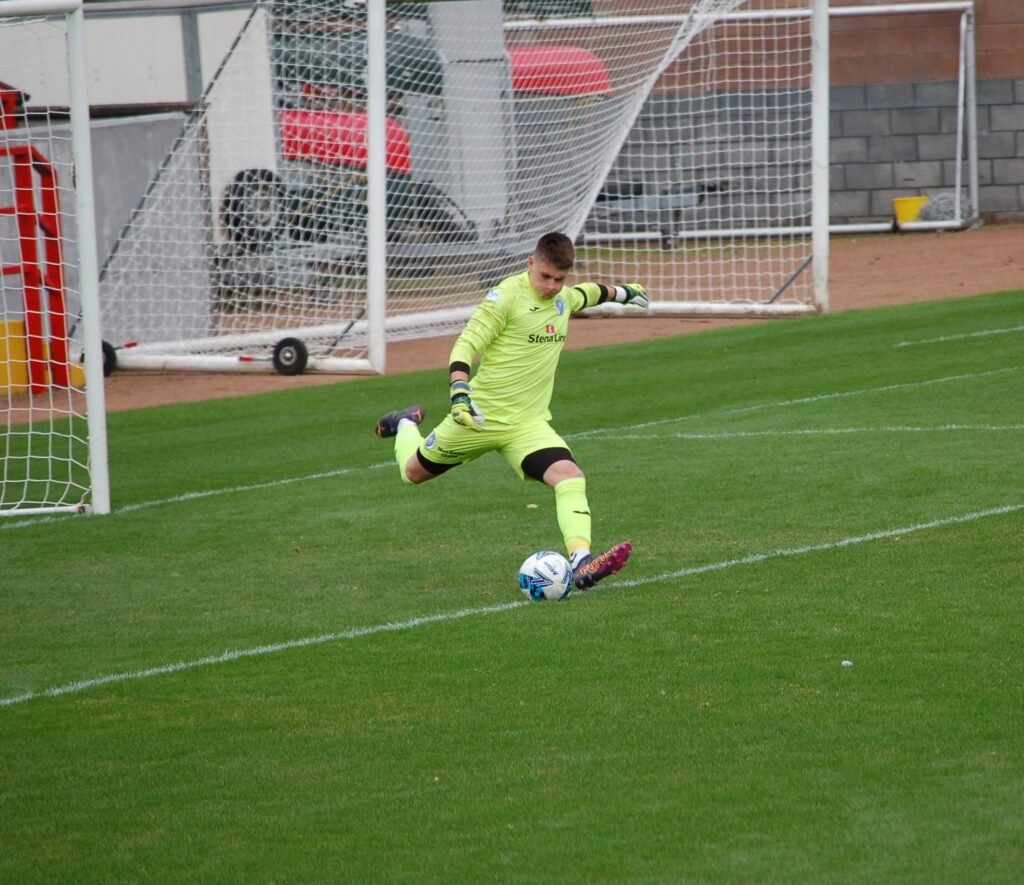 "It's not like me to say I'm old but when George is 18 it is hard not to!"
The return to the team did not go to plan though as the long-travelled visitors picked up a 3-2 win.
That included a first half penalty, awarded when Kane Hester tumbled in the box under a challenge from 20-year-old Scullion.
The goalkeeper was certain in his view that the referee had got the decision wrong.
He said: "It's not a penalty, he's dived.
"The boy said at the edge of the box that he has dived.
"The linesman even said he did not think there was contact but the referee has still made his decision.
"It's hard to take but we just need to move on from it.
"There's not much you can do when he has made his decision.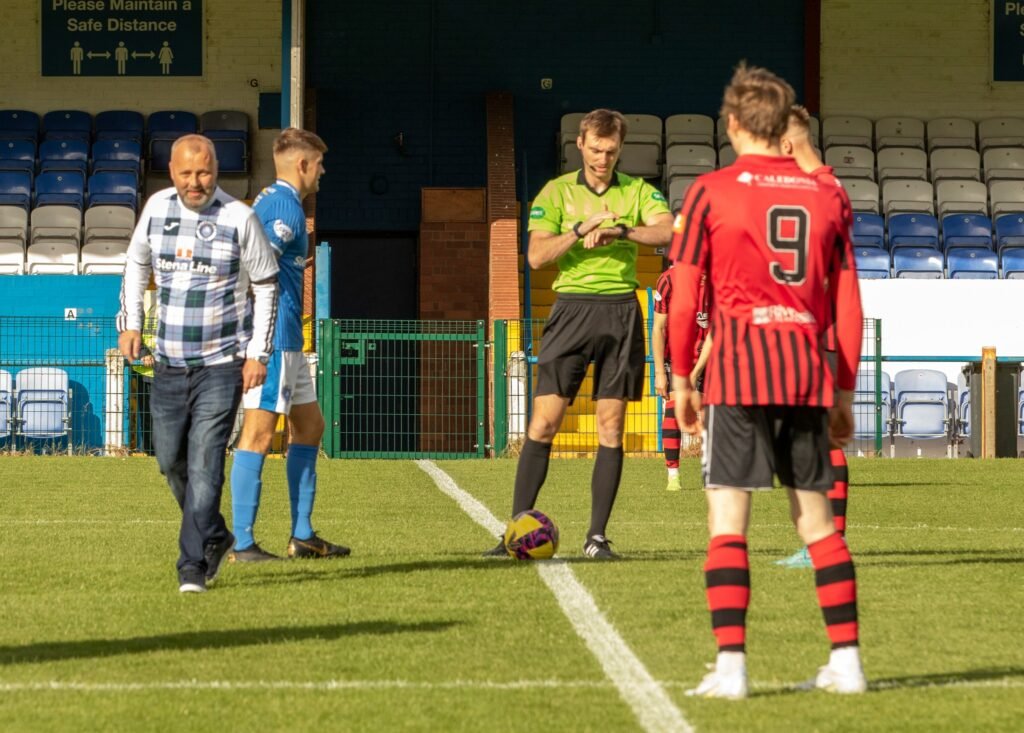 "He's not going to change his mind once he has made it so you just need to get up and get on with the game."
The unbeaten start to the league at home has now come to an end and Stranraer need to target getting their first three points on the road since a 3-1 triumph at Ochilview in April.
Scullion was between the sticks on that occasion and was confident the Blues could return to form and retake their place in the play-off spots.
He said: "We are doing well.
"We probably should have picked up more points than we have but we will kick on again and pick up some more points on the road next week at Annan."
Last meeting
Stranraer 1-0 Annan Athletic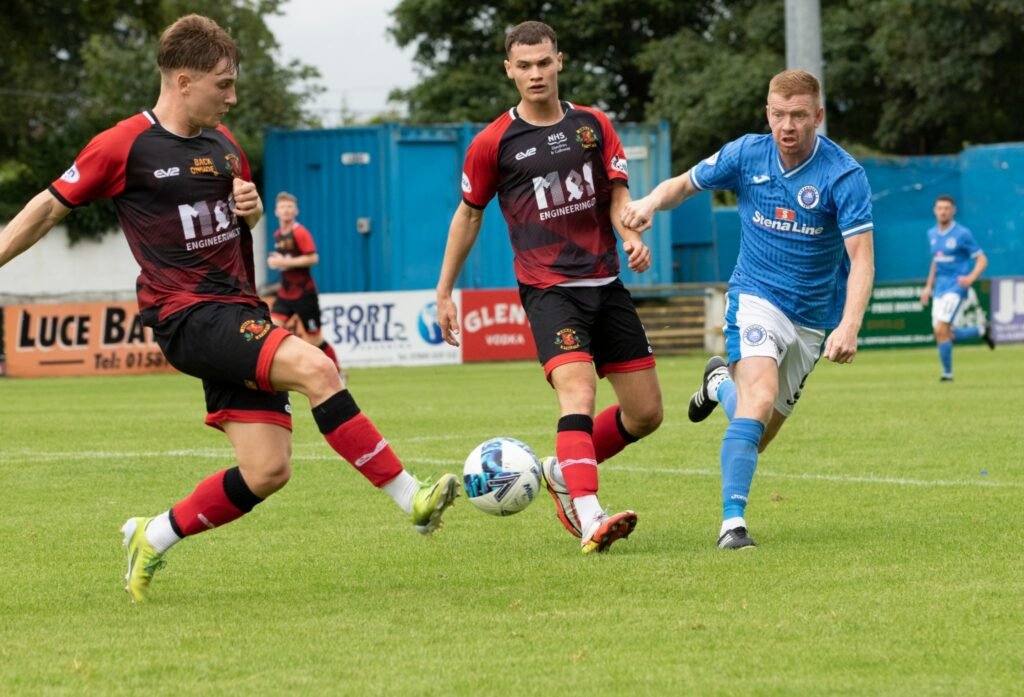 A first half penalty from Paul Woods gave an impressive Stranraer all three points on the opening day of the league season.
Craig Malcolm had already called former Stranraer goalkeeper Greg Fleming into action with a looping header before the Blues found a breakthrough. Woods won the spot kick himself after a typical lung-bursting run into the box was ended by Scott Hooper.
The midfielder sent Fleming the wrong way and it almost got even better for the home side as Hooper nearly nodded into his own net before the break. Malcolm also struck the post after the interval as Stranraer dominated the game.
The best opportunity for the visitors fell to Dominic Docherty but his deflected drive flew wide.
Stranraer: Scullion, Ellis, Girvan, Ross, Watt, Brady, Hilton (Walker 88), Woods, Forrest, McLean, Malcolm.
Not used: Robertson, Dunn and O'Connor.
Annan Athletic: Fleming, Barnes, Williamson, Hooper, Hunter, Kilsby (Muir 60), Galloway (Luissint 73), Docherty, Johnston (Wallace 27), Smith, Goss.
Not used: Lowdon, Steele, Swinglehurst and Mitchell.
Last five meetings
Stranraer 1 Annan Athletic 0 (Woods (Pen)) at Stair Park on July 30, 2022
Annan Athletic 4 Stranraer 1 (Wallace, Barnes, Garrity and Clark; Hawkshaw) at Galabank on March 5, 2022
Stranraer 1 Annan Athletic 1 (Watson; Goss) at Stair Park on January 2, 2022
Annan Athletic 2 Stranraer 2 (A Smith and Moxon; R Smith and Woods) at Galabank on November 6, 2021
Stranraer 0 Annan Athletic 3 (Johnston, Smith and Moxon) at Stair Park on August 7, 2021
Last five games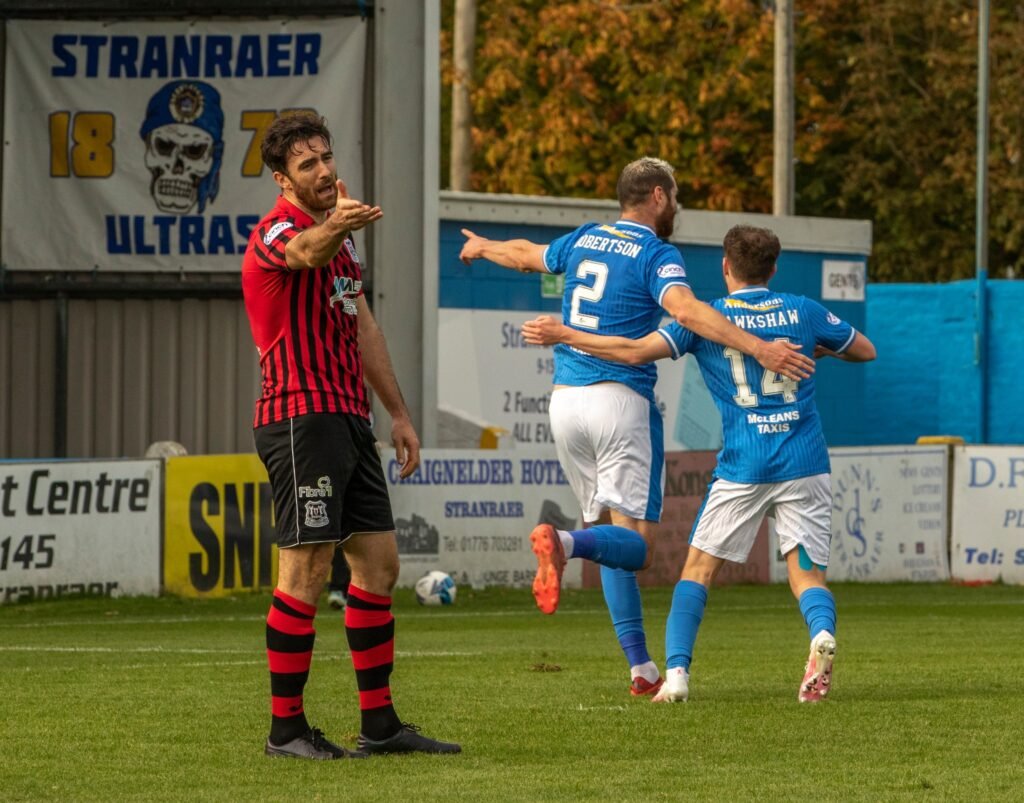 Stranraer
LOSS v Elgin City (H): 2-3 (Woods (Pen) and Hawkshaw)
WIN v Albion Rovers (H): 2-1 (Robertson and Kouider-Aissa)
WIN v Dumbarton (H): 3-2 (Hilton, Grant and Woods (Pen))
LOSS v Stirling Albion (A): 4-1 (Duffy)
LOSS v Stenhousemuir (A): 3-1 (Hilton)
Annan Athletic
LOSS v Bonnyrigg Rose (A): 2-0
DRAW v Stenhousemuir (A): 2-2 (Goss x2)
LOSS v Elgin City (A): 5-1 (Muir)
LOSS v Kelty Hearts (H): 1-2 (Goss (Pen))
DRAW v East Fife (H): 2-2 (Goss x2)
Last time out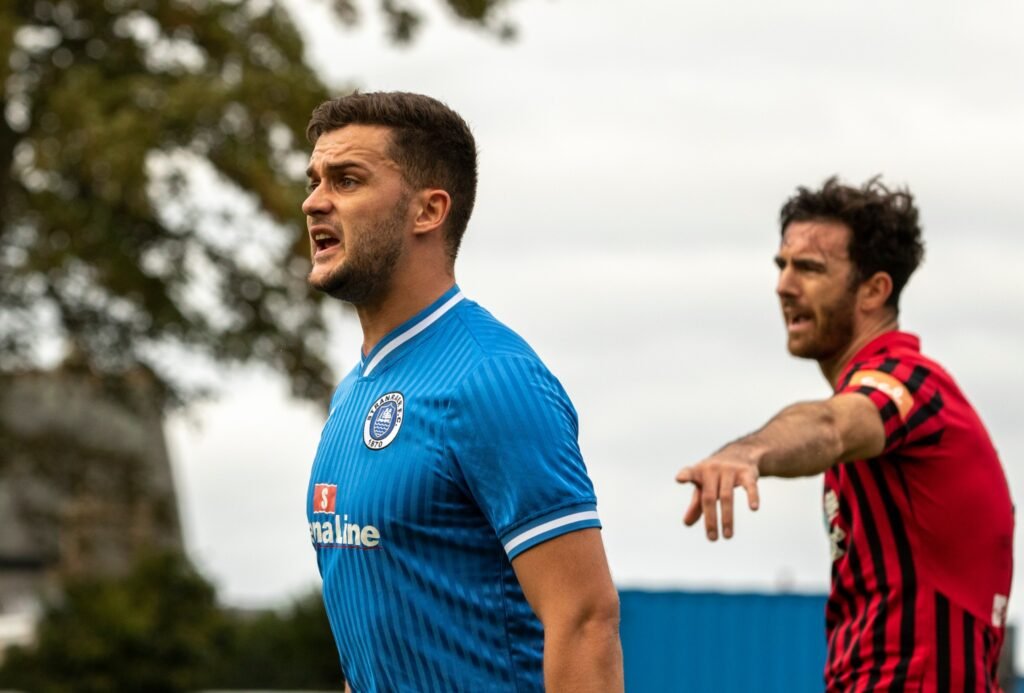 Stranraer
Lineup v Elgin City: Scullion, Robertson, Girvan, Ross, Watt (Ellis 50), McIntosh, Hilton (Kouider-Aissa 60), Woods, Hawkshaw (Malcolm 78), Eze (Brady 60), Grant (McLean 60).
Not used: Dunn, Walker, Forrest and O'Connor.
Annan Athletic
Lineup v Bonnyrigg Rose: Fleming, Steele, Lowdon, Hooper, Lyon, Kilsby, Wallace, Luissint (Docherty 70), Hunter (Barnes 77), Galloway (McCartney 71), Goss.
Not used: Williamson, McMenamin and Mitchell.
Five facts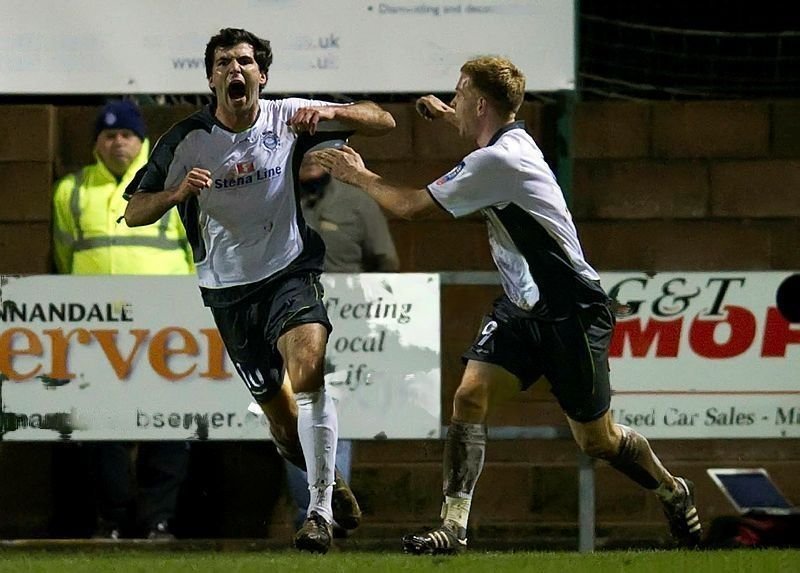 1. Stranraer have kept one clean sheet this season and that came on the opening day of the league campaign against Annan Athletic. The club's last away clean sheet came towards the end of last season when the Blues were 5-0 winners at Cliftonhill.
2. Annan's record at Galabank against Stranraer in recent years is pretty impressive. The Blues have not won in the west of Dumfries and Galloway in the league since the 2011/12 season. On that occasion, goals from Stuart McColm, Martin Grehan and Stephen Stirling sealed a 3-0 win in December 2011 before Chris Aitken, Frank McKeown and Craig Malcolm scored in a 3-1 win in March 2012. Steven Swinglehurst had opened the scoring for the hosts. The starting line up on the last victory was: Mitchell, Taggart, Noble, McGregor, McKeown, Aitken, Stirling, Borris (Shepherd 77), Winter, Malcolm (McColm 88), Grehan (Moore 81). Not used: Kane and Marshall.
3. Both of Annan's wins in the league this campaign have come at Galabank. Peter Murphy's men bounced back from opening day defeat to Stranraer by beating Stenhousemuir 2-1 and then, last month, they beat Forfar by the same scoreline.
4. Ross Smith, who turns 19 today (Friday), scored his only goal for Stranraer at Galabank last season.
5. The red card for Craig Ross last weekend against Elgin City has taken the club's number of dismissals for the season to six – double the number from last season.