Please note: Following a 9am pitch inspection at Cliftonhill, Saturday's game against Albion Rovers has been postponed due to a frozen playing surface.
Jonny Ngandu is ready to embrace the challenge and help Stranraer end the season in memorable fashion.
The on-loan Hamilton man suffered his first defeat in a blue shirt last weekend as league leaders Dumbarton stopped Stranraer from making it three games unbeaten.
Despite the defeat, Ngandu was looking at the positives and was already counting down to facing Albion Rovers on Saturday.
He said: "For me, I just love playing games.
"Whether it is playing Premiership, Championship or League Two – I just enjoy playing games because it is a challenge.
"Today, I was playing against six-foot defenders and it was a challenge.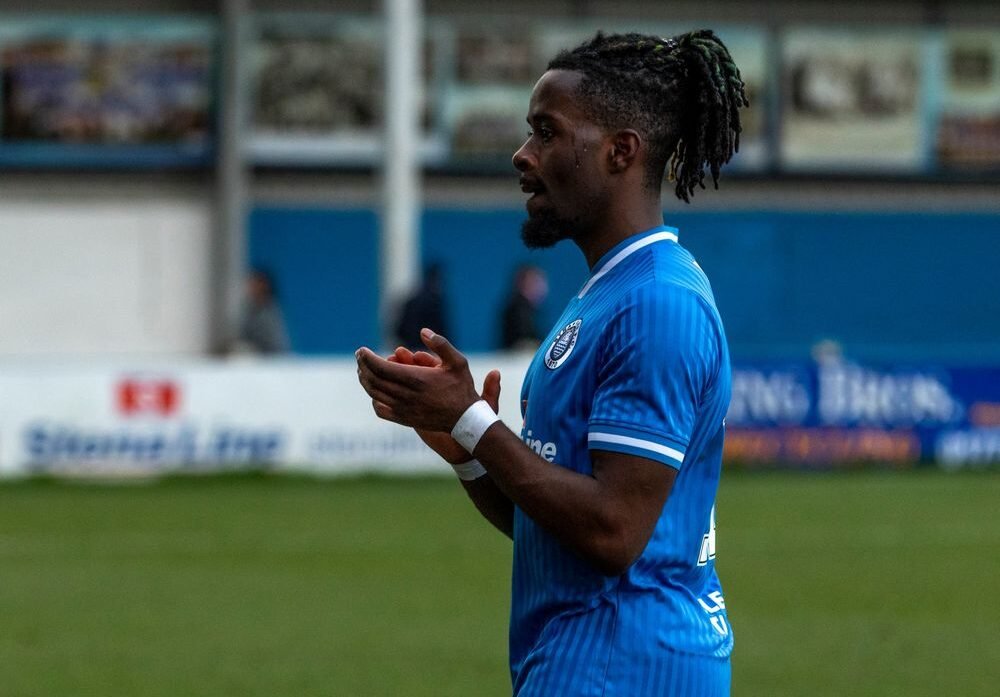 "It is one to take and learn from."
Stranraer come into the final quarter of the campaign with a five point advantage over the Coatbridge side and Bonnyrigg Rose.
At the other end, there is the same gap between Jamie Hamill's side and Annan Athletic in the final play-off place.
Ngandu said: "It is another big game.
"There are nine games left now and we have just got to keep pushing.
"Hopefully we can get more points and results.
"You cannot get too carried away and you have got to take each game as it comes.
"Last week, if we think we are going to keep winning, that is how you get carried away and you lose games.
"We think about the next game but we do not get too carried away.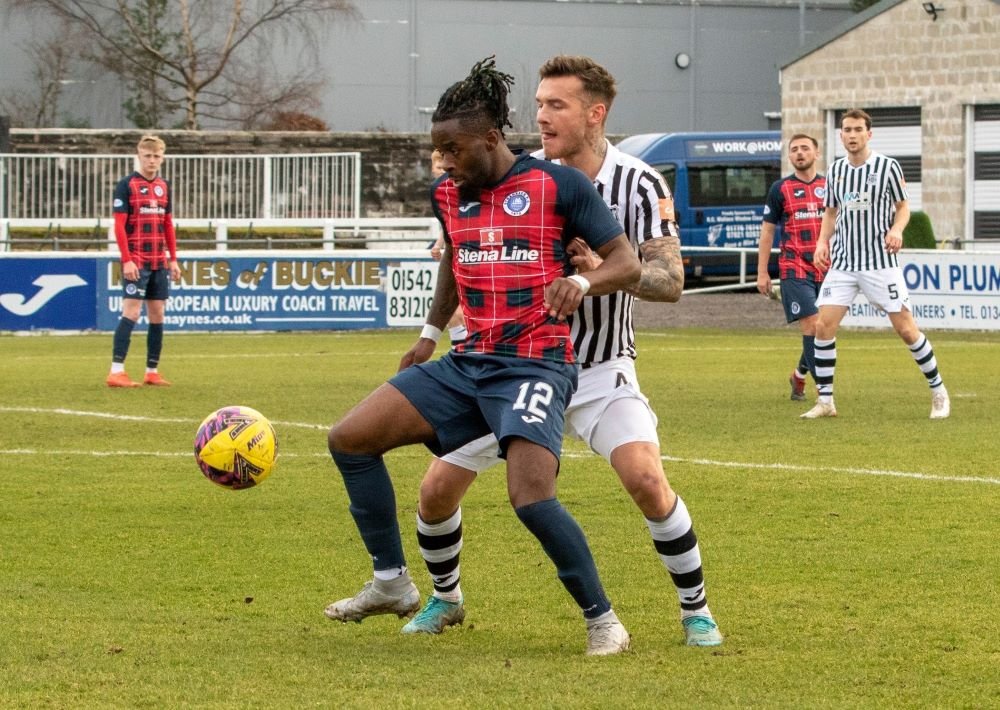 "You cannot get too low as well and that is important."
This weekend's trip to Cliftonhill comes after Dumbarton picked up three points as they look for an immediate return to League One.
A first half goal from Ross MacLean was followed by a second half header from Gregor Buchanan.
That came despite Stranraer creating chances in the first half, including Luke Watt striking the crossbar.
Ngandu said: "I didn't think there was anything in the game apart from the two set pieces where they scored.
"From 20 minutes in the game, we were well in the game.
"We hit the crossbar and I had a shot as well.
"Aaron Brown missed a good chance, which I think, if he scored, maybe the game would have been different.
"It is just those little margins.
"The gaffer was saying it is those thin lines."
The 21-year-old moved to Scotland at the beginning of the season after swapping Coventry City for Hamilton Academical.
He clocked up 14 appearances for John Rankin's side before making the switch to the Blues.
The attacker said: "Today was my third game for Stranraer and it was frustrating not to get the win but I am enjoying playing week in week out.
"The gaffer trusts me and I am enjoying it.
"The boys are great and it is just frustrating that we did not win today.
"It has messed up my weekend a bit!"
Last meeting
Stranraer 0-4 Albion Rovers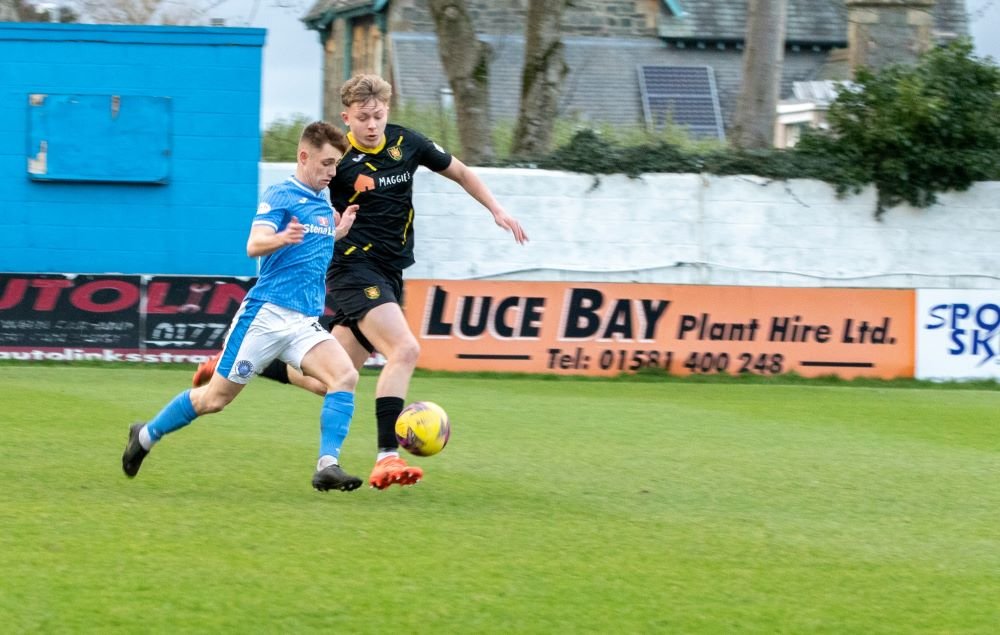 Arguably, the low point of Stranraer's season came almost two months ago.
Albion Rovers took the lead just before half time when Charlie Reilly slotted home from the penalty spot after going down under a challenge from Kyle Girvan.
Stranraer needed to come out firing after the half time interval but were blown away with three quickfire goals. Joe Bevan fired home through a crowd of players after a corner and Reilly then teed up Callum Wilson for an easy tap in.
It was game over moments later when Wilson returned the favour and Reilly scored again.
Stranraer: O'Connor, Robertson (Eze 68), Ellis, Girvan, Gallagher (Brady 62), Ross, Forrest (McIntosh 62), Watt (Duffy 62), Hilton, C Malcolm, Walker.
Not used: Downie.
Albion Rovers: Leighfield, Fernie, Sonkur, E Wilson, Graham, B Malcolm, Fleming (Duncan 80), Leslie (Kidd 80), Reilly (McCall 86), C Wilson (Roberts 80), Bevan (Dolan 86).
Not used: Smith.
Last five meetings
Stranraer 0 Albion Rovers 4 (Reilly x2 (Pen x1), Bevan and C Wilson) at Stair Park on January 14, 2023
Albion Rovers 1 Stranraer 0 (C Wilson) at Cliftonhill Stadium on November 19, 2022
Stranraer 2 Albion Rovers 1 (Robertson and Kouider-Aissa; Reilly) at Stair Park on October 1, 2022
Albion Rovers 0 Stranraer 5 (Yates, Muir, Sonkur, Ross and Woods) at Cliftonhill Stadium on April 9, 2022
Stranraer 0 Albion Rovers 0 at Stair Park on February 26, 2022
Last five games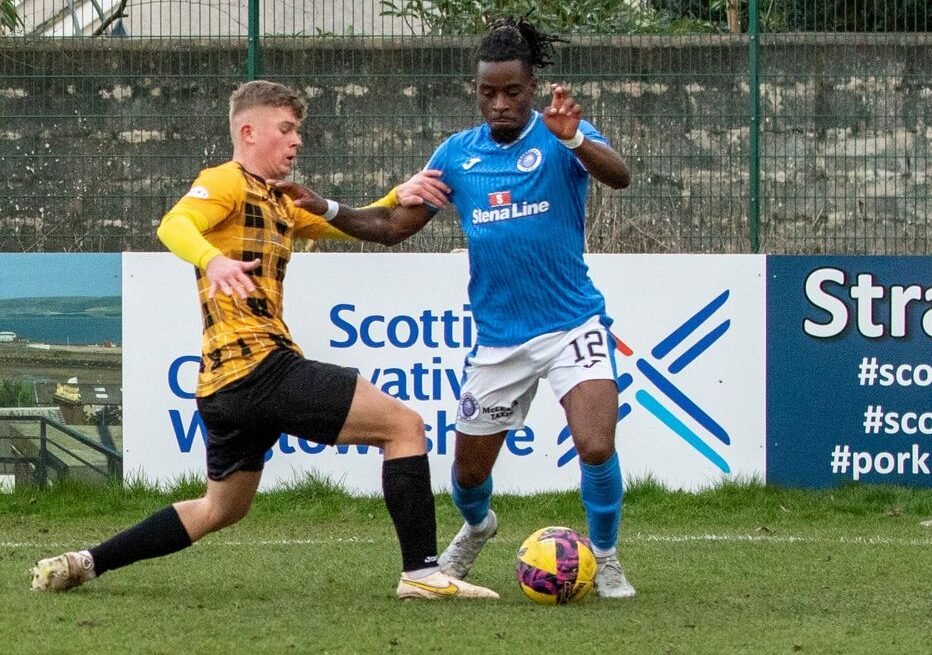 Stranraer
LOSS v Dumbarton (H): 0-2
WIN v East Fife (H): 2-0 (Grant and Hilton)
WIN v Elgin City (A): 0-1 (Robertson)
LOSS v Bonnyrigg Rose (H): 0-1
LOSS v Forfar Athletic (A): 2-1 (Malcolm)
Albion Rovers
LOSS v Stirling Albion (A): 3-2 (Reilly x2)
LOSS v Annan Athletic (H): 0-2
WIN v Elgin City (H): 3-0 (Reilly x2 (Pen x1) and Sonkur)
LOSS v Stenhousemuir (A): 2-0
LOSS v East Fife (H): 0-1
Last time out
Stranraer
Lineup v Dumbarton: Connelly, Robertson, Brady, Gallagher, McIntosh, Ross, Brown (Forrest 71), Watt, Grant (Walker 64), Hilton (Duffy 46), Ngandu.
Not used: Girvan, Ecrepont and O'Connor.
Albion Rovers
Lineup v Stirling Albion: Leighfield, Fernie, Fagan, McCall (McCullock 49), Graham, Malcolm, Fleming, Leslie, Reilly, Wilson, Mutale (Dolan 49).
Not used: Duncan, Cairney-Smith, McCarthur, Bevan and Smith.
Five facts
1. It is more than a decade since the last goalless draw at Cliftonhill involving Stranraer. That came on May 1, 2010. The Stranraer team was: David Mitchell, Glen Mitchell, Sharp, Henderson, Noble, Agnew, Nicoll, Cawley, Danny Mitchell, Moore, Montgomerie (One 46). Not used: McManus, Wright, McInnes and Marshall.
2. Former Stranraer defender Morgyn Neill celebrates his 27th birthday on Friday. He initially joined on loan from Livingston before making a permanent switch. Over 18 months, he made a total of 55 appearances and scored twice – against former employers Livingston and in a 1-0 away to Alloa Athletic.
3. Albion Rovers have won more games away from home than at home this season. Brian Reid's men have won eight games this season and just three have come in Coatbridge. They defeated Bonnyrigg Rose 2-1 in October, Stranraer 1-0 in November, and Elgin City last month.
4. The last time Stranraer failed to win at least one game at Cliftonhill in a season came in 2016/17. Albion Rovers won 3-2 in November (future Scotland striker Ross Stewart scored alongside Ryan Wallace scored for the hosts while Willie Gibson and Joe Nuttall scored for Stranraer) and 3-0 in April (Paul Willis, Wallace and a Morgyn Neill own goal).
5. Stranraer begin the final quarter of the league season on 32 points. In quarter one, they took 12 points, 11 points in quarter two and nine points in quarter three.
Photos: Bill McCandlish