Birthday boy Dylan Forrest is hoping three points are the perfect present on Saturday.
The midfielder, who joined the club in the summer, turns 21 and wants a victory to mark the big day.
Albion Rovers and Stranraer have shared a victory apiece in the opening two meetings this season.
Forrest, who spoke to the club website the day after the 2-1 defeat to Stenhousemuir last weekend, stressed how important three points were to him.
He said: "Last night, I was meant to be going out and catching up with some friends.
"My head was scrambled with losing the game and it is the polar opposite when you win.
"You can enjoy your weekend but you start to analyse everything when you get beat.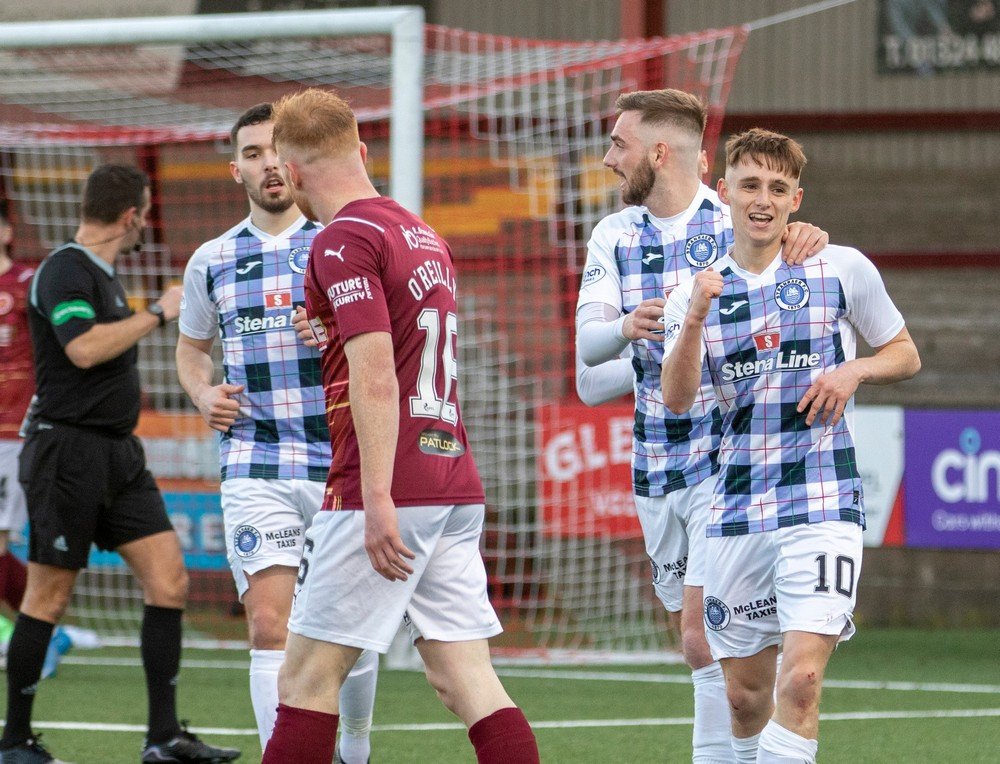 "You try not to get too high when you win and too down when you lose."
Stranraer's home form has been vital this campaign as they look to reach the play-offs for the first time since 2021.
All six of the club's wins have come in Dumfries and Galloway, with just two points on the road.
The midfielder, who spent time with Cumbernauld Colts after leaving Hamilton Academicals last season, said: "We are up there at the top with our home record in the league.
"If we could pick up eight, nine, ten points away then we would be sitting in a much better place.
"All we can do is work on that."
Charlie Reilly had opened the scoring at Stair Park in October before the game was turned around.
Scott Robertson quickly equalised and Salim Kouider-Aissa stepped off the bench to notch a debut winner in the second half.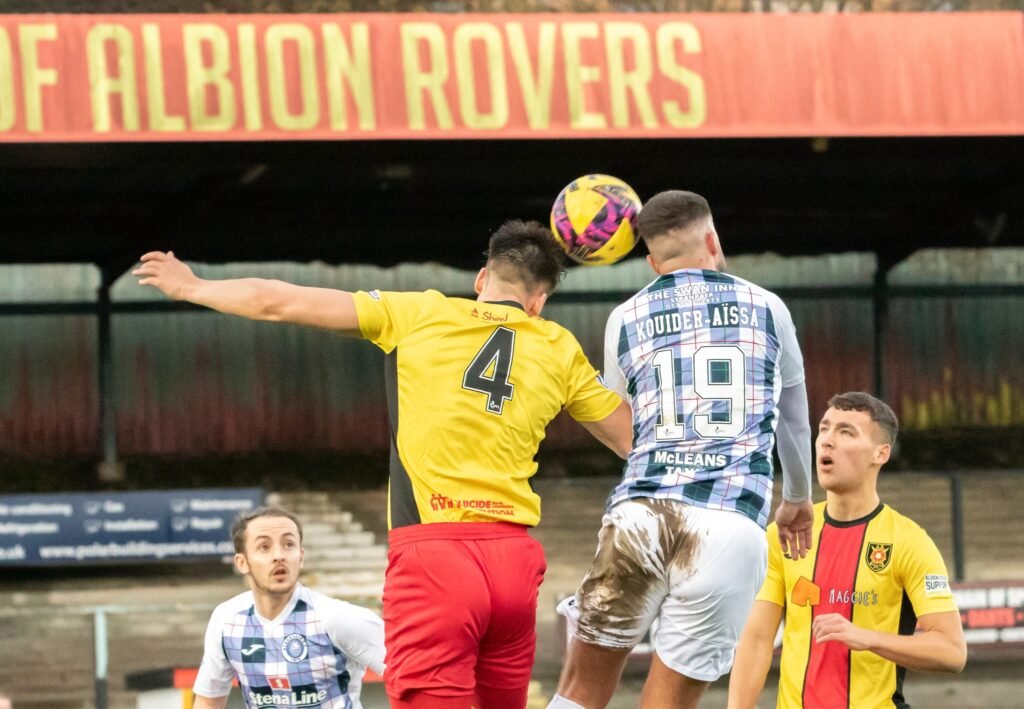 Just three points separate the two clubs in the table and victory for the visitors could allow them to move above them in the standings.
In contrast, a win for the hosts could see them edge closer to a spot in the top four.
Forrest said: "You look at Albion Rovers and they were bottom of the table a couple of weeks ago.
"They beat Bonnyrigg 4-0 and it shows, in this league, anybody can beat anybody.
"We have won one game, they have won one game and we fancy ourselves at home.
"Then, we can start looking up the table again."
Last meeting
Albion Rovers 1-0 Stranraer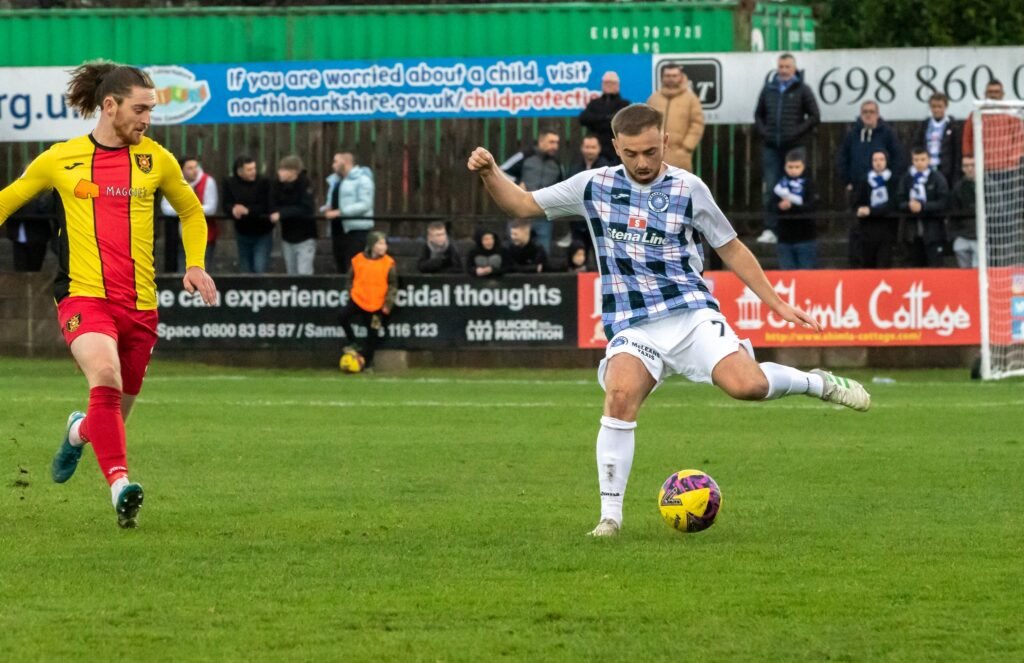 A second half strike from Callum Wilson gave Albion Rovers all three points at Cliftonhill in November.
Stranraer should have broken the deadlock when James Hilton was clean through on goal. However, goalkeeper Jack Leighfield stood tall and made the block with an outstretched boot.
Then, when the Blues did beat the goalkeeper, Dean Hawkshaw's header bounced down off the bar and was cleared to safety.
After the break, Blair Malcolm was denied by the post but the hosts retained possession and Wilson curled home the only goal.
Late on, Dylan Forrest was penalised for a tackle in the box but Luke Scullion saved Charlie Reilly's spot kick.
Albion Rovers: Leighfield, Fernie, Sonkur, E Wilson, Graham, B Malcolm, Fleming, Leslie, C Wilson, Roberts (Dolan 77), Reilly.
Not used: Duncan, Fagan, McCarthur, Testa, Wright and Smith.
Stranraer: Scullion, Robertson, Ross, Gallagher, Hawkshaw (Ellis 64), Forrest (Brady 81), McLean (Walker 64), McIntosh, Grant (Watt 82), Hilton, Kouider-Aissa (C Malcolm 74).
Not used: Dunn, Eze and O'Connor.
Last five meetings
Albion Rovers 1 Stranraer 0 (C Wilson) at Cliftonhill on November 19, 2022
Stranraer 2 Albion Rovers 1 (Robertson and Kouider-Aissa; Reilly) at Stair Park on October 1, 2022
Albion Rovers 0 Stranraer 5 (Yates, Muir, Sonkur, Ross and Woods) at Cliftonhill on April 9, 2022
Stranraer 0 Albion Rovers 0 at Stair Park on February 26, 2022
Albion Rovers 3 Stranraer 2 (Reilly, Dolan and L Wilson; Woods and Muir) at Cliftonhill on December 26, 2021
Last five games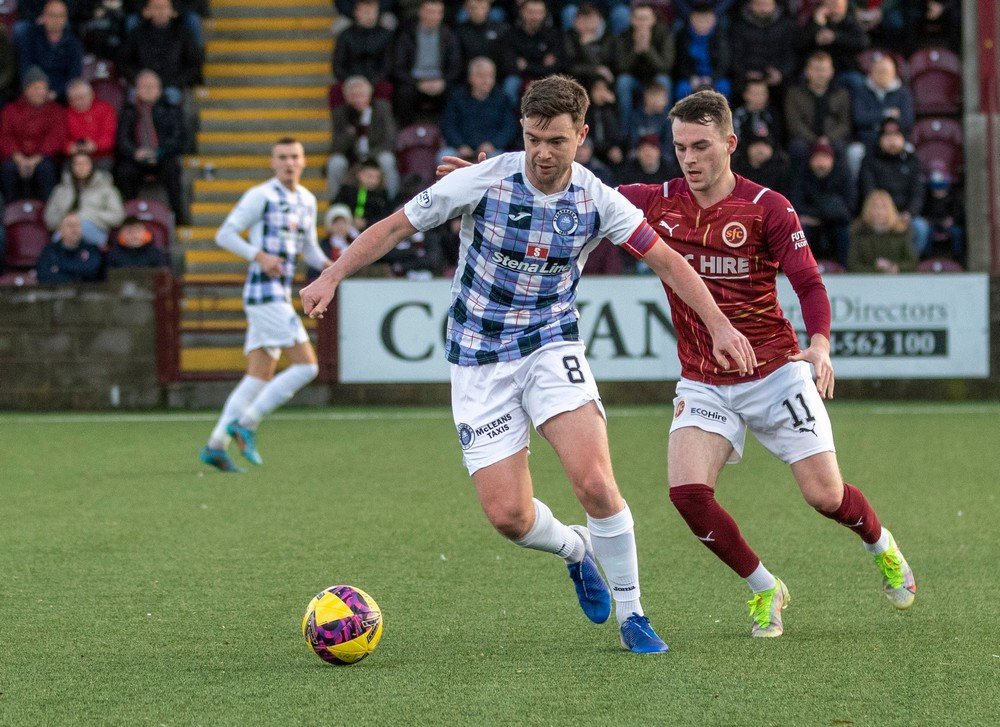 Stranraer
LOSS v Stenhousemuir (A): 2-1 (Walker)
LOSS v Bonnyrigg Rose (A): 3-2 (Walker and Watt)
WIN v Stirling Albion (H): 3-1 (Forrest, McIntosh and Gallagher)
DRAW v Annan Athletic (H): 1-1 (Hawkshaw)
LOSS v Albion Rovers (A): 1-0
Albion Rovers
WIN v Bonnyrigg Rose (A): 0-4 (Reilly x2 (Pen x1), J Leslie and Graham)
LOSS v Dumbarton (H): 0-1
LOSS v Annan Athletic (A): 5-1 (Fleming)
LOSS v Forfar Athletic (A): 1-0
LOSS v Stirling University (H): 0-1 (Stirling University won in extra time)
Last time out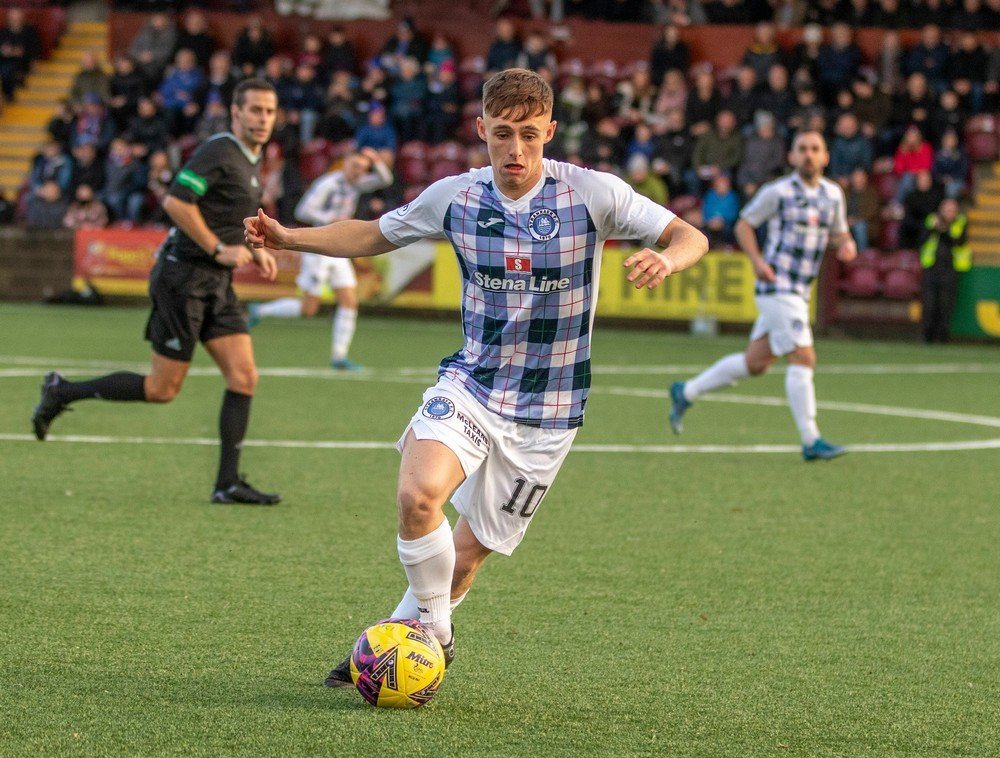 Stranraer
Lineup v Stenhousemuir: O'Connor, Robertson, Ellis, Girvan, Ross, Brady (Grant 60), Gallagher, Forrest (C Malcolm 69), McIntosh, Hilton, Walker (Watt 83).
Not used: Eze and Duffy.
Albion Rovers
Lineup v Bonnyrigg Rose: Leighfield, Fernie, Sonkur, E Wilson, Graham, Malcolm (McCall 89), Fleming (Duncan 89), J Leslie (Kidd 89), C Wilson (Roberts 81), Reilly, Bevan (Dolan 89).
Not used: Smith
Five facts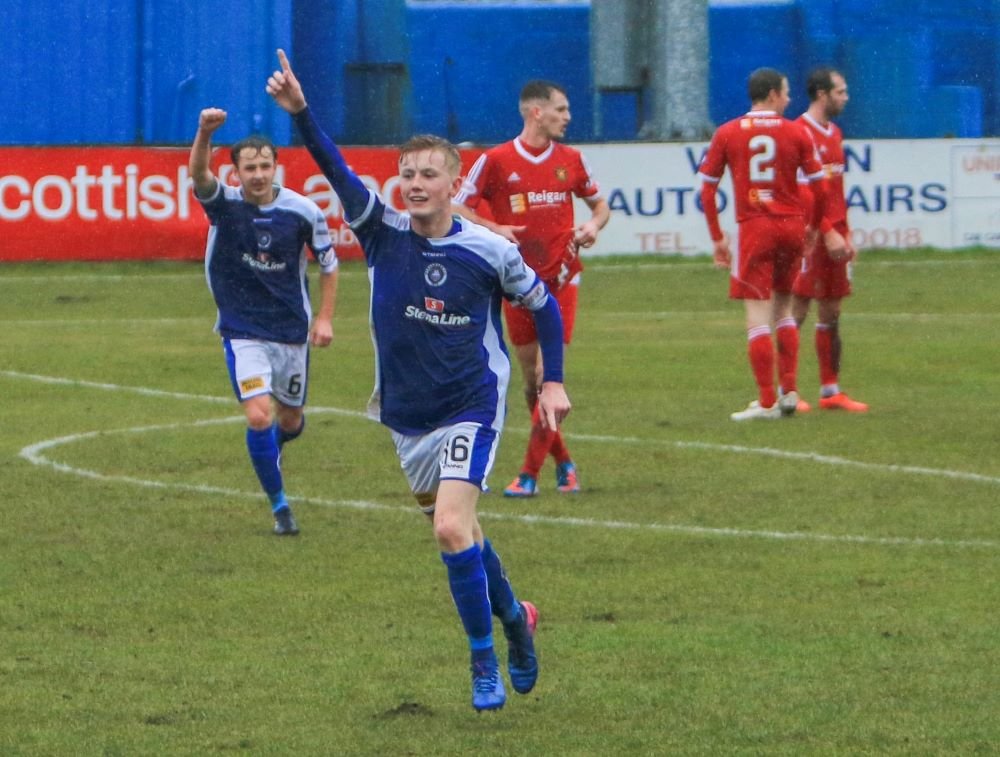 1. Dylan Forrest is not the only one celebrating a birthday on Saturday. Former Stranraer and Albion Rovers defender Neil Armour turns 56. Armour also played in China, Hong Kong and the United States of America before hanging up his boots.
2. The last time Stranraer played a match on January 14 was six years ago and proved to be the last game of Brian Reid's time in charge of the Blues. Future Stranraer midfielder Kieran Millar scored the only goal of the game at Ochilview. The Stranraer team that day was: Belford, Robertson, Dick, Barron, Neill, Pettigrew (Whittaker 70), Agnew, Wilson, Turner (Thomson 63), Malcolm, Nuttall (McGuigan 63). Not used: Morena, Maley and Currie.
3. In the last ten league meetings between Stranraer and Albion Rovers at Stair Park, the home side have won on five occasions. Four matches have finished with a share of the spoils and the Coatbridge team has won once. The last three points for Albion Rovers came in March 2018. A quickfire Kyle Turner double had the Blues 2-0 up at the break before Gary Fisher, Kane Hester and Craig McLeish turned the game round.
4. The home form has been key for the Blues this term. In the last five games, they have taken 10 points from a possible 15.
5. Midfielder Anton Brady will make his 50th appearance for Stranraer if he features on Saturday. Signed from East Kilbride, the 28-year-old made his debut against Edinburgh City in September 2021. He has scored twice for the club, away to Stenhousemuir and Elgin City.
Admission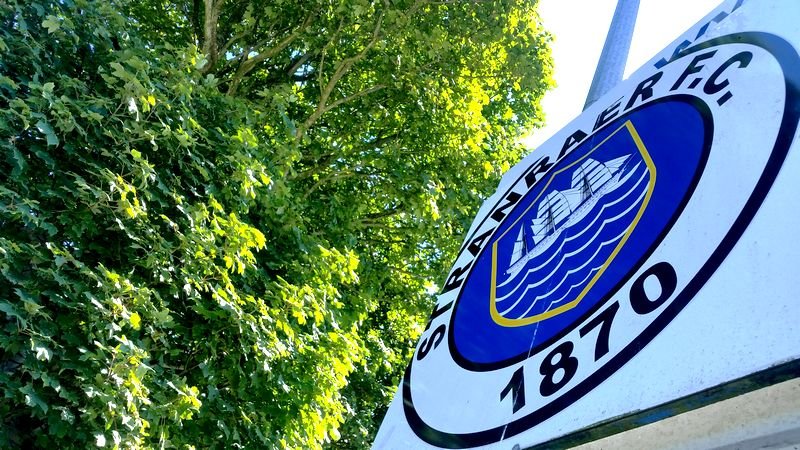 Entry for home league games this season is on a 'pay at the gate' basis.
Pricing is as follows:
Adult – £15
Concession – £10
12 to 16 Years Old – £5
Under 12 – FREE
Photos: Bill McCandlish