Scott Robertson is calling on his team-mates to match their performance from the weekend's game with Stirling Albion when they travel to Coatbridge on Tuesday evening.
Stranraer head to Albion Rovers boosted by a 1-1 draw with the title-chasing Binos.
Meanwhile, their hosts will also be in confident mood as they smashed table-topping Dumbarton 5-1.
The player/coach said: "They have all been hard games against Albion Rovers this season.
"We have shown today that we are as good as anybody in the league.
"Stirling are sitting second top, a point off top, with a game in hand.
"We have beaten them already, we have beaten Dumbarton – it is game on as far as I am concerned.
"We will go on Tuesday and see what happens.
"If we turn in a performance like today then I am not worried about us."
Robertson scored Stranraer's leveller on Saturday by getting on the end of Josh Walker's cross midway through the second half.
The hosts then had a chance to make it six points out of six against Stirling at Stair Park when they were awarded a penalty with time running out.
Walker stepped up to take the spot kick but Blair Currie was equal to it.
Robertson was keen to look at the positives though and said: "It's definitely a point gained.
"It does not take away from the fact that it is gutting that we have only got a point but we have played second top of the league, who have not lost in five, and we 100 per cent should have won.
"I don't think you can be negative about it; it is a big positive.
"I thought we were good in the first half and very good in the second half.
"It is hard not to feel a wee bit down that you have got a point, to be honest, but, when everybody sits down and thinks about, it is definitely a positive point as opposed to points dropped."
Robertson's goal proved a turning point during the second half.
The Blues had the upper hand going into the final stages as they pushed to get their noses in front.
The midfielder was confident that his side could have gone on to take all three points and felt the second half flew by.
He said: "I could not believe it was full time when the referee blew his whistle.
"I thought the first half for some reason seemed quite long but the second half, I could not believe when he blew for full time.
"I thought there was still 10-15 minutes to go.
"That probably shows how good we were playing and obviously you enjoy the game when you are playing well.
"I genuinely could not believe it when he blew for full time, I thought there was another 10-15 minutes to go and we would keep going and get a goal."
Last meeting
Stranraer 0-4 Albion Rovers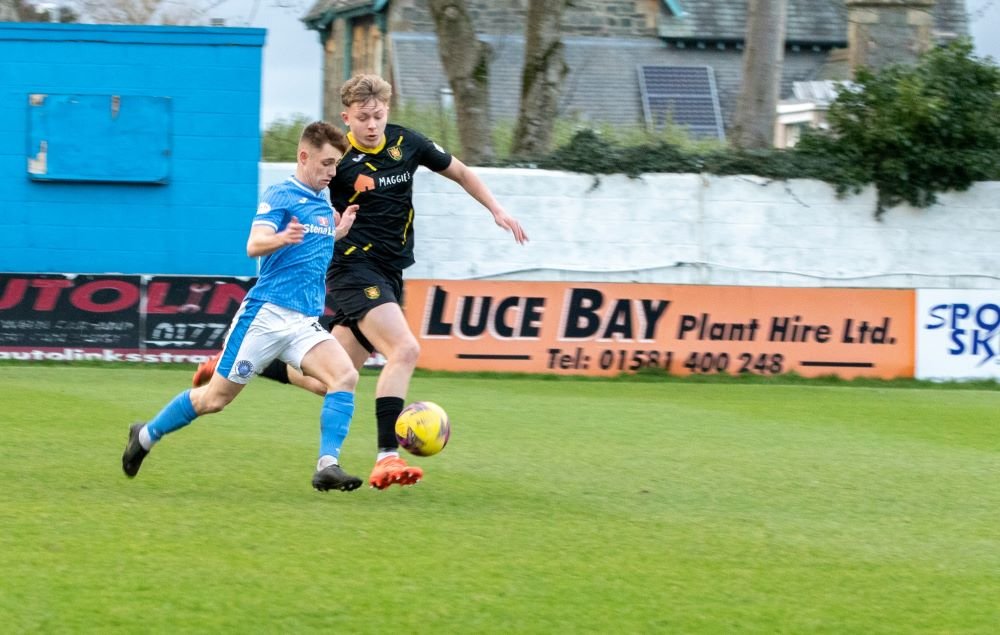 A Charlie Reilly double inspired Albion Rovers to a comfortable and impressive win at Stair Park.
The club's top scorer went down under a Kyle Girvan challenge just before half time and then scored the spot kick. Joe Bevan doubled the advantage three minutes after the restart before Reilly turned provider in setting up Callum Wilson. Reilly had opened the scoring and he rounded it off when Wilson returned the favour.
Stranraer: O'Connor, Ellis, Girvan, Ross, Robertson (Eze 68), Gallagher (Brady 62), Forrest (McIntosh 62), Watt (Duffy 62), Hilton, C Malcolm, Walker.
Not used: Downie.
Albion Rovers: Leighfield, Fernie, Sonkur, E Wilson, Graham, B Malcolm, Fleming (Roberts 80), C Wilson (Duncan 80), Leslie (Kidd 80), Reilly (McCall 86), Bevan (Dolan 86).
Not used: Smith.
Last five meetings
Stranraer 0 Albion Rovers 4 (Reilly x2 (Pen x1), Bevan and C Wilson) at Stair Park on January 14, 2023
Albion Rovers 1 Stranraer 0 (C Wilson) at Cliftonhill Stadium on November 19, 2022
Stranraer 2 Albion Rovers 1 (Robertson and Kouider-Aissa; Reilly) at Stair Park on October 1, 2022
Albion Rovers 0 Stranraer 5 (Yates, Muir, Sonkur, Ross and Woods) at Cliftonhill Stadium on April 9, 2022
Stranraer 0 Albion Rovers 0 at Stair Park on February 26, 2022
Last five games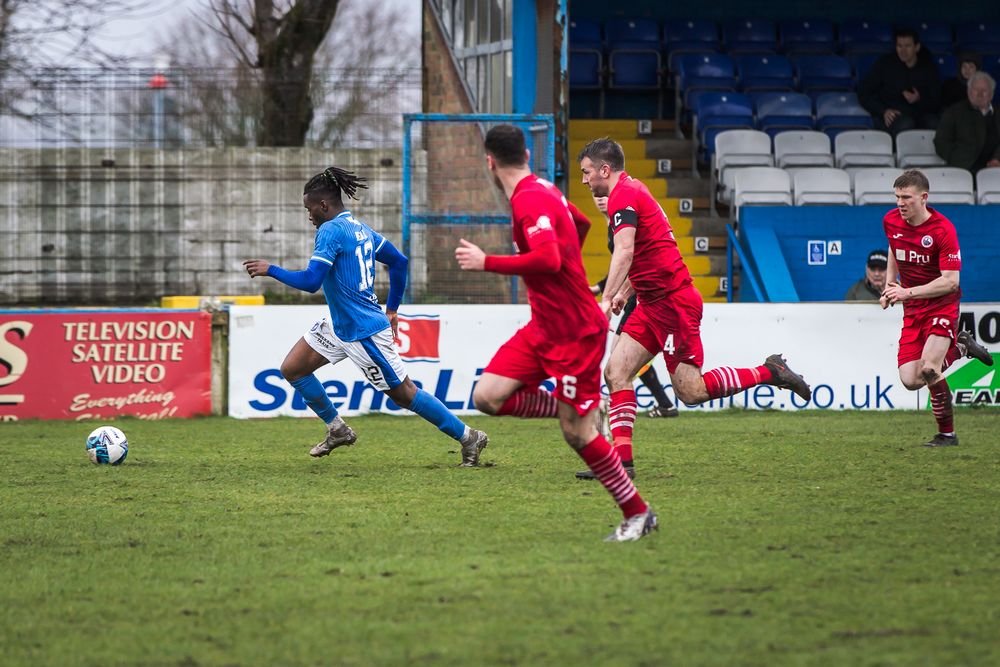 Stranraer
DRAW v Stirling Albion (H): 1-1 (Robertson)
LOSS v Dumbarton (H): 0-2
WIN v East Fife (H): 2-0 (Grant and Hilton)
WIN v Elgin City (A): 0-1 (Robertson)
LOSS v Bonnyrigg Rose (H): 0-1
Albion Rovers
WIN v Dumbarton (A): 1-5 (Bevan x2, Reilly x2 and C Wilson)
LOSS v Stirling Albion (A): 3-2 (Reilly x2)
LOSS v Annan Athletic (H): 0-2
WIN v Elgin City (H): 3-0 (Reilly x2 (Pen x1) and Sonkur)
LOSS v Stenhousemuir (A): 2-0
Last time out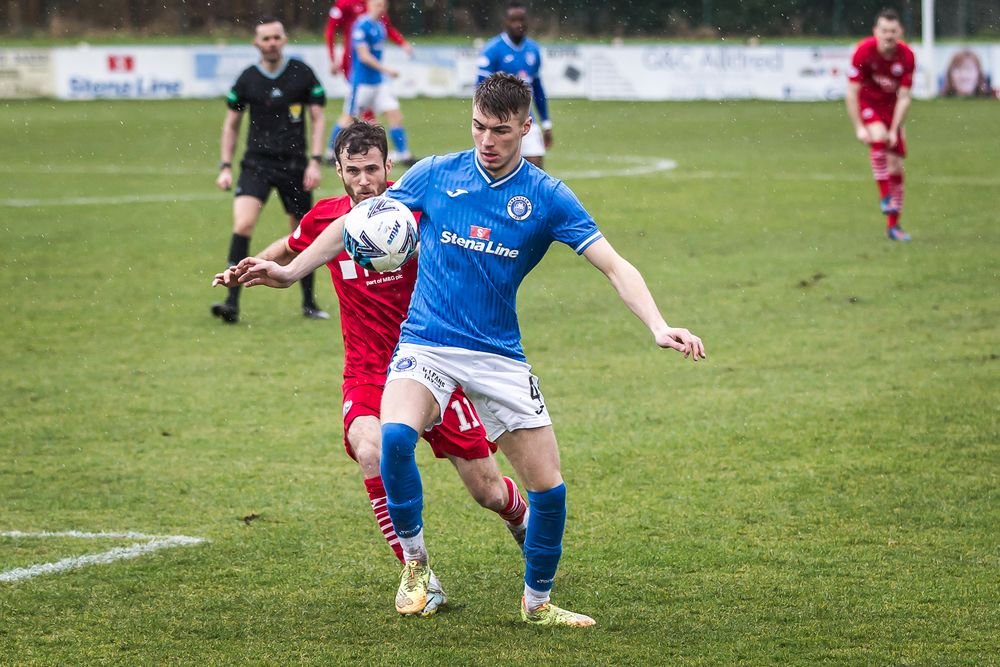 Stranraer
Lineup v Stirling Albion: Connelly, Girvan, Ross (Watt 87), Ecrepont, McIntosh, Robertson, Gallagher, Brown, Grant, Walker, Ngandu (Forrest 70).
Not used: Brady, Malcolm, Duffy and O'Connor.
Albion Rovers
Lineup v Dumbarton: Leighfield, Fernie, Sonkur, Fagan (Graham 65), McCall (McCullock 76), Fleming, Wilson, Leslie, Roberts (Mutale 83), Reilly, Bevan.
Not used: Duncan, Kidd, Paton, Dolan and Smith.
Five facts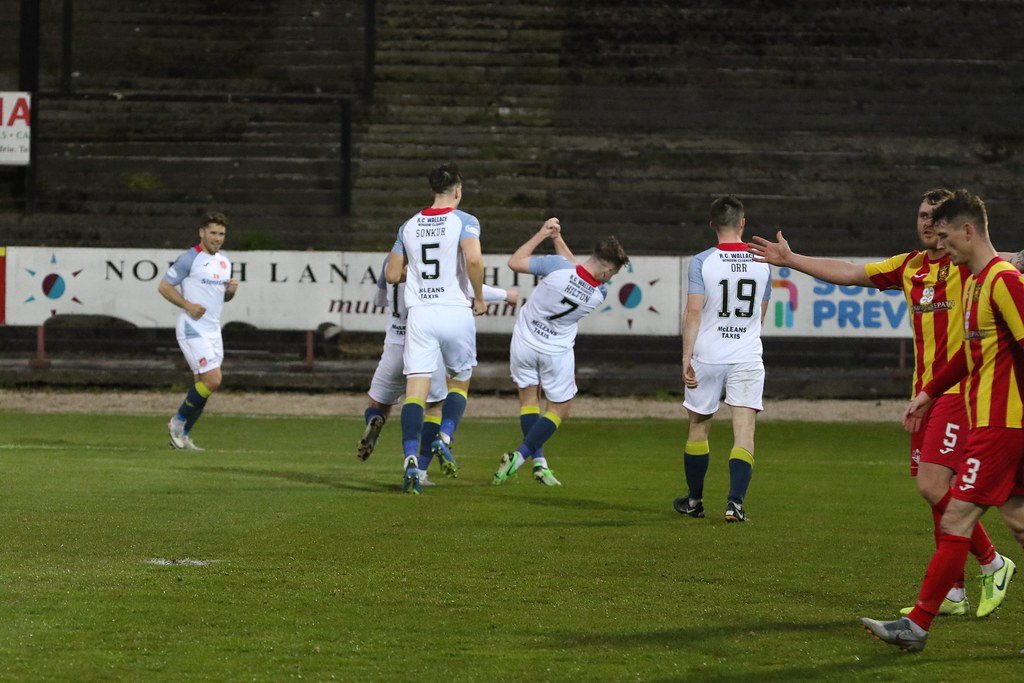 1. Albion Rovers were 5-1 winners at Dumbarton at the weekend. That was the first time the Coatbridge side had scored five away from home since April 2021 and a trip to Elgin City. On that occasion, they were 5-2 winners, with Matty Aitken and Kyle Doherty both scoring doubles and the other goal given as a Tom McHale own goal.
2. Three days later marked Stranraer's last midweek trip to Cliftonhill. On that occasion, they came away with three points thanks to goals at the end of either half. James Hilton scored two minutes before the interval and former Rovers frontman Joao Victoria doubled the advantage with six minutes left.
3. Current Blue Finn Ecrepont came off the bench in both of the above games and former Stranraer man Ryan Stevenson was also involved.
4. Another to have lined up for both clubs is Barney Duffy. The former goalkeeper played more than 235 times for the Blues before a brief spell at Cliftonhill. He played just twice for Albion Rovers, against Alloa Athletic and East Stirlingshire.
5. Stranraer were 5-0 winners at Cliftonhill last season and they scored the same number of goals against the same opposition back in 2003. That came at Stair Park when Stephen Swift scored a double alongside strikes for Murray Henderson, Michael Moore and David Graham. The Stranraer team was: McCondichie, Wingate, Wright, Swift, Henderson, Sharp, Jenkins, Aitken, Finlayson, Graham, Moore (Kerr 81). Not used: Cruickshank, Grant, Turnbull and McCaulay.