Sean McIntosh is hoping he is just about on the home straight when it comes to the road to recovery.
The full back is yet to play a single minute this season due a groin injury, which has kept him as a spectator.
He is unlikely to be involved tomorrow (Saturday) for the trip to Forfar but hopes it is just a matter of time before he is back in the squad.
McIntosh said: "It is frustrating, really frustrating, but it is something out of my control.
"It is something that was lingering a little at the end of the season.
"I was playing through it and then I thought in pre-season it might make a bit of a difference.
"Then, we started pre-season and it was the same.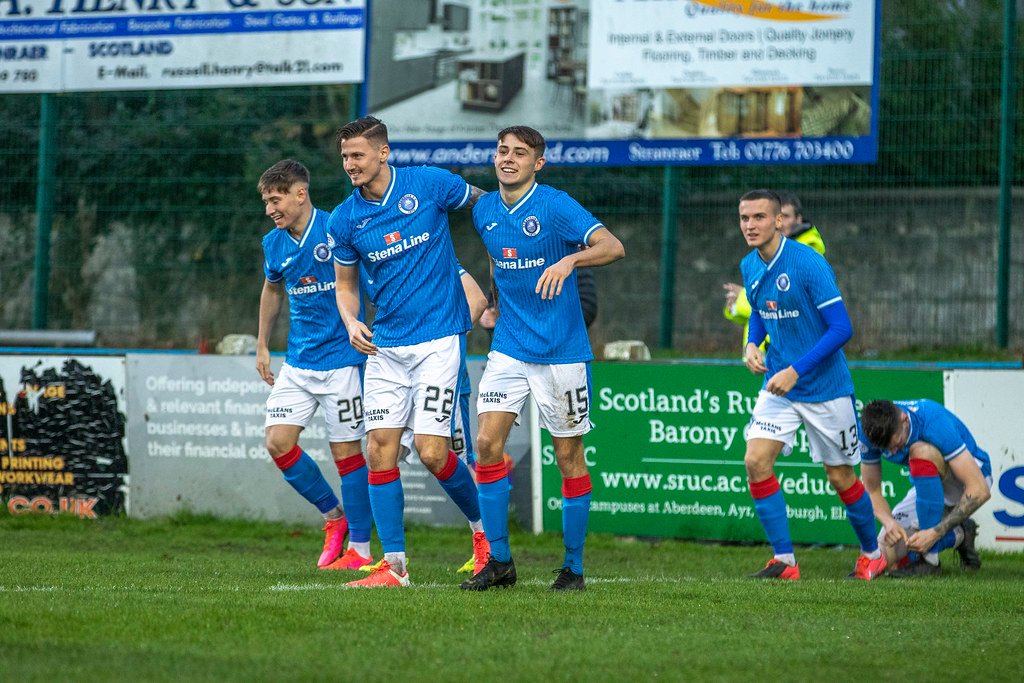 "We came to the point where myself and the gaffer decided it was best to get it sorted."
The personal trainer was confident he was "not far away" and hoped to be back involved by the end of the month.
That would be a boost to the Stranraer squad, which got off to the best possible start last weekend when they defeated Annan Athletic 1-0.
A Paul Woods penalty was the difference between the two sides on the opening day of the league campaign.
McIntosh was joined in the stand by Dean Hawkshaw and Grant Gallagher and, like the fans, was impressed with the efforts of those in blue.
He said: "I think we could have scored a number of goals more than we did but I thought the boys were really good.
"We defended really well and limited them to minimal chances and it was a great collective performance.
"I could not pick anybody out that was better than others.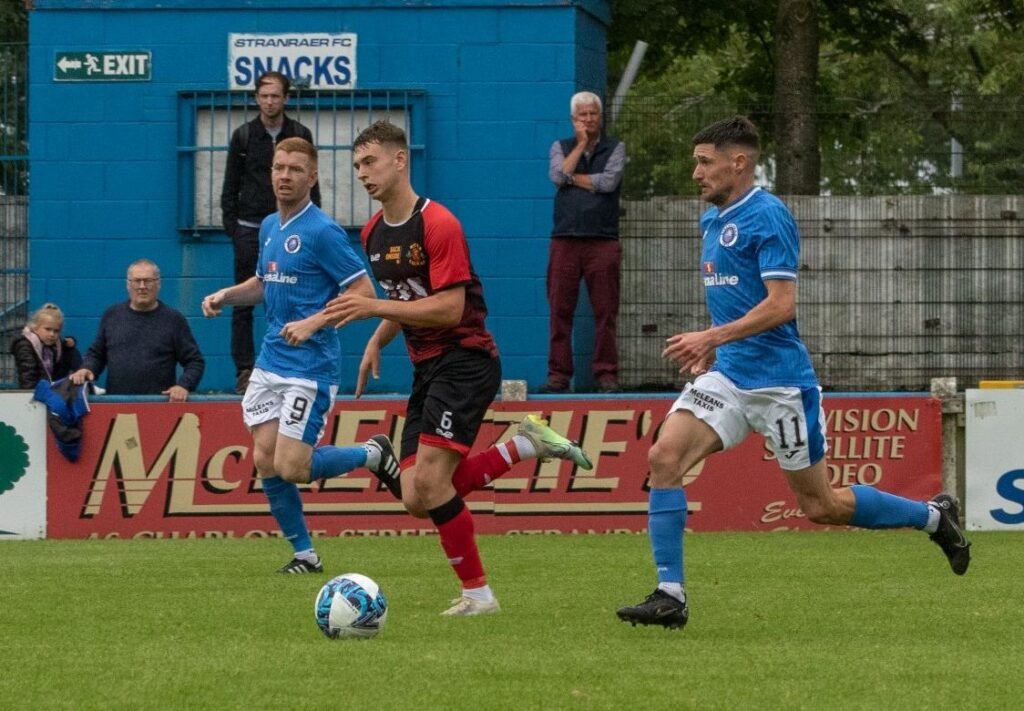 "As a unit, we were really at it and that is what we need going forward."
The second round of fixtures means a return to Station Park, where the Blues drew 2-2 in the Premier Sports Cup last month.
Forfar lost out to SPFL newcomers Bonnyrigg Rose last weekend and will be looking to gain three points from their first home game.
McIntosh stressed that, despite the good result, nobody was getting carried away in the Stranraer dressing room.
He said: "The gaffer touched on that at training on Tuesday.
"He was just saying not to get ahead of ourselves, not that we would do.
"It is so important we use the first result as a positive and kick on now."
Last meeting
Forfar Athletic 2-2 Stranraer [later awarded 3-0]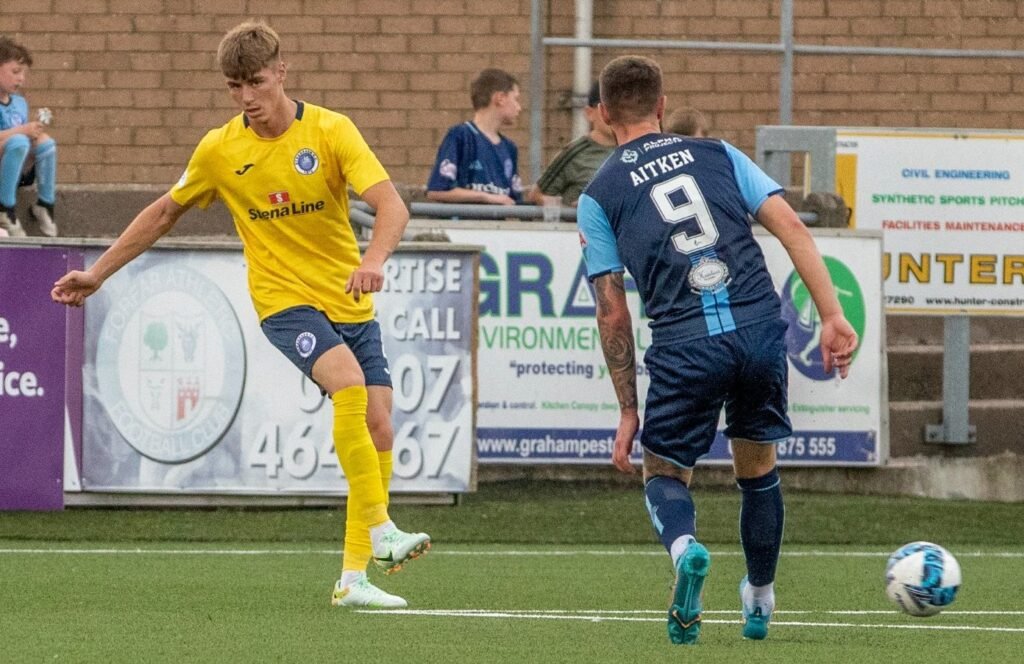 Fans only need to cast their minds back two weeks for the last meeting between Forfar Athletic and Stranraer.
On that occasion, it was the hosts who took the lead when Sam Ellis could only glance the ball into his own net.
James Hilton levelled the scores three minutes into the second half with a stunning strike before Josh Jack put Forfar in front for the second time.
Scott McLean levelled from the penalty spot before Forfar missed a penalty of their own.
It came down to a penalty shoot-out and the Station Park side came out on top. Unfortunately, Stranraer had played an ineligible player and the game was awarded 3-0 to Forfar.
Forfar Athletic: McCallum, Nditi, Hussain, Abed, Brindley, Hutton, Slater (Moore 44), Hanratty (Thomson 58), Jack, Aitken (Armour 67), McCluskey.
Not used: Irvine, Harkins and Sanderson.
Stranraer: Scullion, Robertson, Ellis, Girvan, Ross, Watt, Hilton, Gallagher, Walker (Dunn 81), Woods (McLean 81), Forrest.
Not used: Brady, Duffy and O'Connor.
Last five meetings
Forfar Athletic 2 Stranraer 2 (Own goal and Jack; Hilton and McLean (Pen)) Forfar Athletic win 5-3 on penalties [later awarded 3-0] on July 19, 2022
Stranraer 0 Forfar Athletic 2 (Slater and McCluskey) at Stair Park on April 2, 2022
Forfar Athletic 3 Stranraer 2 (Shepherd (Pen x2) and G Anderson; Walker and Muir) at Station Park on January 8, 2022
Stranraer 2 Forfar Athletic 3 (Muir and Walker; Aitken (Pen), Thomson and Ness) at Stair Park on October 30, 2021
Forfar Athletic 1 Stranraer 1 (Slater; Duffy) at Station Park on August 28, 2021
Last five games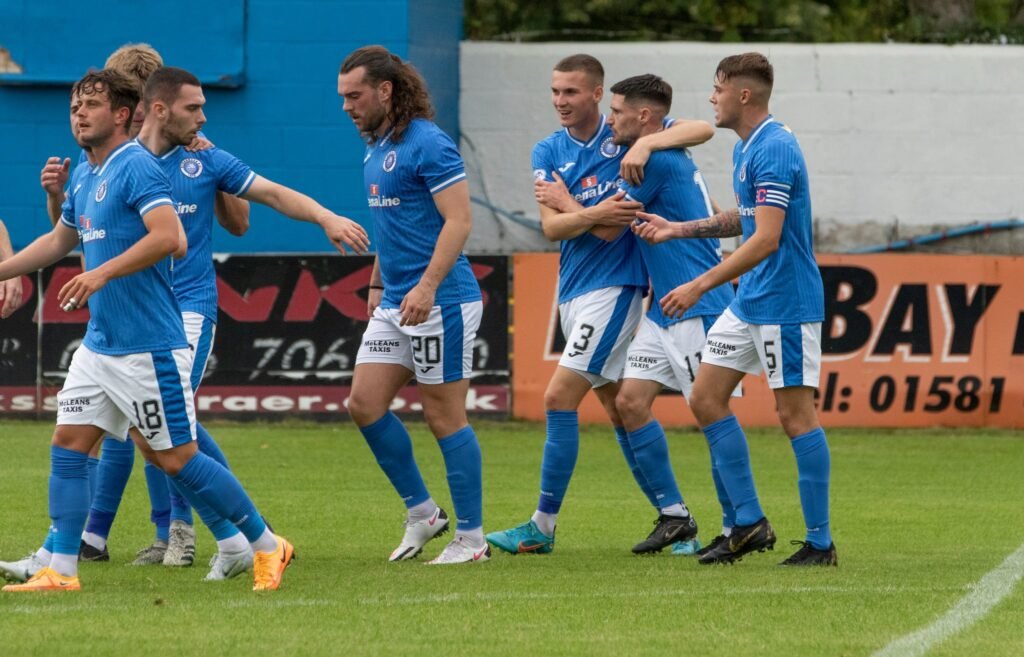 Stranraer
WIN v Annan Athletic (H): 1-0 (Woods (Pen))
DRAW v Forfar Athletic (A): 2-2 (Hilton and McLean (Pen)) Forfar Athletic win 5-3 on penalties [later awarded 3-0]
LOSS v Dundee (H): 0-3
LOSS v Hamilton Academical (A): 5-2 (Woods (Pen x2))
LOSS v Queen's Park (H): 2-5 (Robertson and McLean)
Forfar Athletic
LOSS v Bonnyrigg Rose (A): 2-0
LOSS v Dundee (A): 5-1 (McCluskey)
DRAW v Stranraer (H): 2-2 (Own goal and Jack) Forfar Athletic win 5-3 on penalties [later awarded 3-0]
LOSS v Hamilton Academical (H): 0-3
LOSS v Queen's Park (A): 4-1 (McCluskey)
Last time out
Stranraer v Annan Athletic: Scullion, Ellis, Girvan, Ross, Watt, Brady, Hilton (Walker 88), Woods, Forrest, McLean, Malcolm.
Not used: Dunn, Robertson and O'Connor.
Bonnyrigg Rose v Forfar Athletic: McCallum, Nditi, Munro, Abed, Brindley, Hutton, Slater, Moore (Hanratty 64), Jack, McCluskey, Armour (Aitken 64).
Not used: Hussain, Irvine, Harkins, Flanagan and Sanderson.
Five facts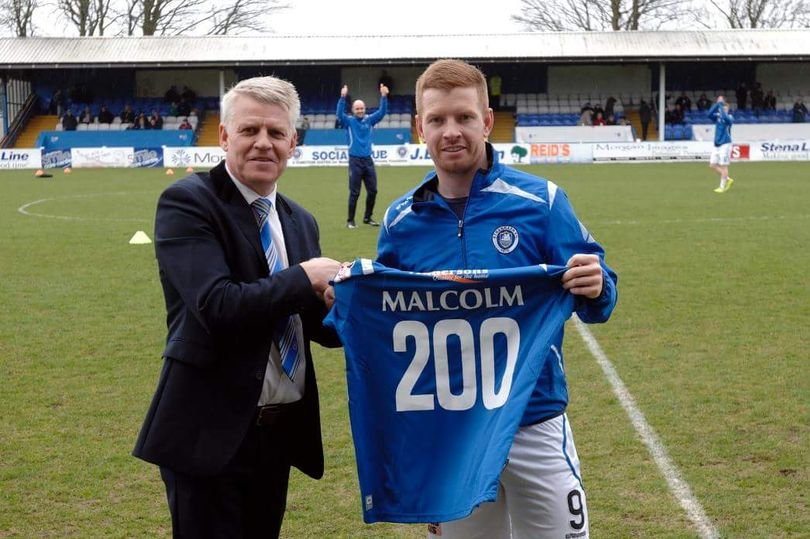 1. Stranraer's victory over Annan Athletic last weekend was the first opening day victory for the club since August 2017. Jamie Hamill was the goalscorer on the day as Stranraer defeated East Fife 1-0.
2. It would be fair to say Stranraer have not got the best of records at Station Park. The Blues have won just five times at the Angus side since the turn of the millennium. Among those were two victories in the 2004/05 season. John Fraser scored the only goal in September's trip north and Allan Jenkins and Murray Henderson scored two quickfire goals, with Barry Sellars pulling one back after the break.
3. The last time Stranraer played on August 6 should not bring pleasant memories for the Stair Park faithful. The Blues travelled to Livingston having relegated the West Lothian side just a few months earlier. However, it was the Almondvale club celebrating with Scott Pittman and Liam Buchanan scoring doubles and Daniel Mullen on target. A certain Craig Malcolm had scored for the Blues. The Stranraer team that day was: Belford, Robertson, Dick, McKeown, Bell, Agnew, Turner, Malcolm, McGuigan, Kemp (McCloskey 50), Nade (Morena 74). Not used: Barbour and Currie.
4. After only five games of the season, Sam Ellis is the only Stranraer player to have played all 540 minutes.
5. The re-signing of Craig Malcolm means the frontman is part of a very select group of players to have signed for the club on three occasions. Others include Andy Stirling, Neil McGowan, Kevin Gaughan and Michael Moore.