"We have got what we have deserved."
Tommy Muir pulled no punches when describing Stranraer's season so far.
The Blues lost 4-1 away to Annan Athletic last weekend, despite getting off to the best possible start when Dean Hawkshaw scored his first goal for the club.
The frontman said: "In this league, if you want to be up the top end and in the play-offs then that is not good enough.
"Even before the defeat to Annan, yes, we were unbeaten in three but it was one win and two draws, which in my honest opinion is not good enough either.
"You get a good win away to Elgin and then you've got two home games and we drew those.
"It is not good enough if you want to be in the play-offs.
"We are probably where we deserve to be based on our performances, which have not been good enough.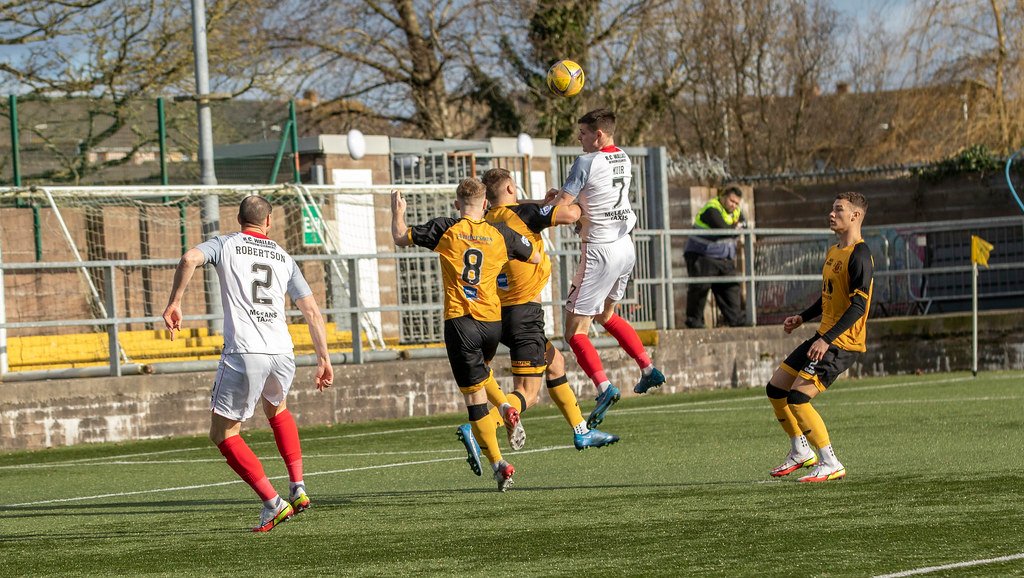 "We have played well in spells and had games where we have done well.
"We have had games where we have played well and not won but over the whole I don't think we've been good enough to be in the play-offs."
The defeat at Galabank leaves Stranraer nine points adrift of Edinburgh City, who sit in the last play-off spot.
It will take an impressive points haul over the remaining eight games to see the Blues catch and overtake their rivals.
The first chance to start that run comes tomorrow (Saturday) against a Cowdenbeath team who are battling to keep their place in League Two.
The Fife side trail Albion Rovers by seven points at the bottom of the standings and will need to put their own good run together if they are to stay up.
Muir warned that just because the Blue Brazil were sitting bottom did not mean it would be an easy game at Stair Park.
He said: "Every week is a cup final for Cowdenbeath.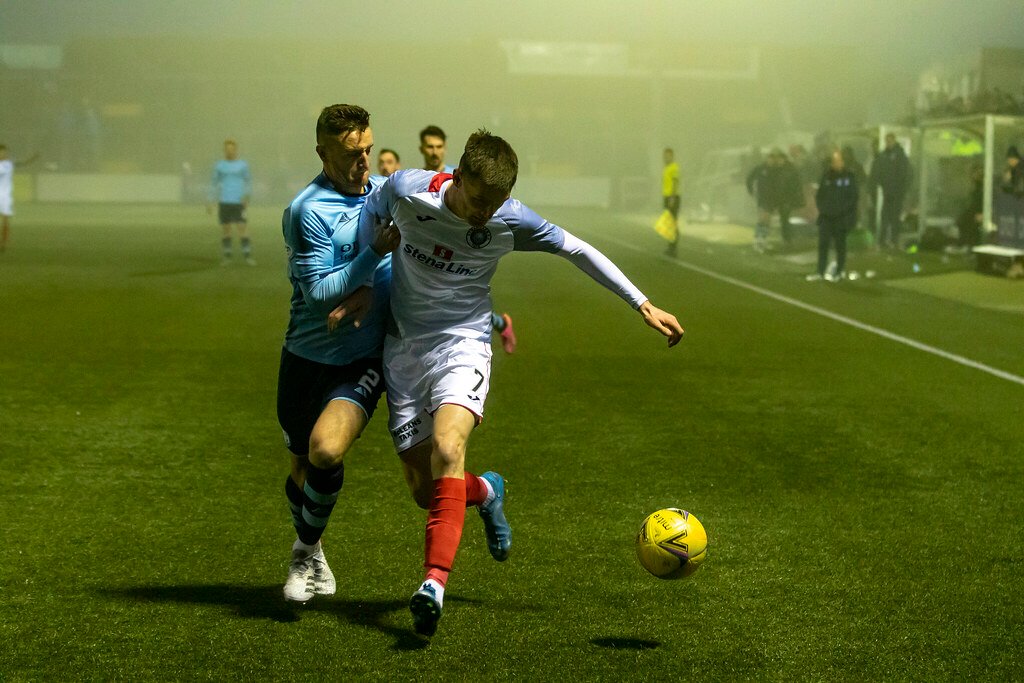 "I've played in the league for four seasons now and not once when I've played them has it been an easy game.
"I've never run over the top of them by three or four goals."
Muir, who has scored seven times in 15 starts for Stranraer this season, stressed the Blues would be out to start their good run and attempt to gatecrash the play-offs.
Three home games and four away trips remain after tomorrow's contest.
Twenty-four-year-old Muir said: "There would be no better time to put a run together than between now and the end of the season.
"It's obviously going to take some effort to get into the play-offs but as long as it is possible we will keep chipping away game by game and working as hard as we possibly can."
Last meeting
Cowdenbeath 0-1 Stranraer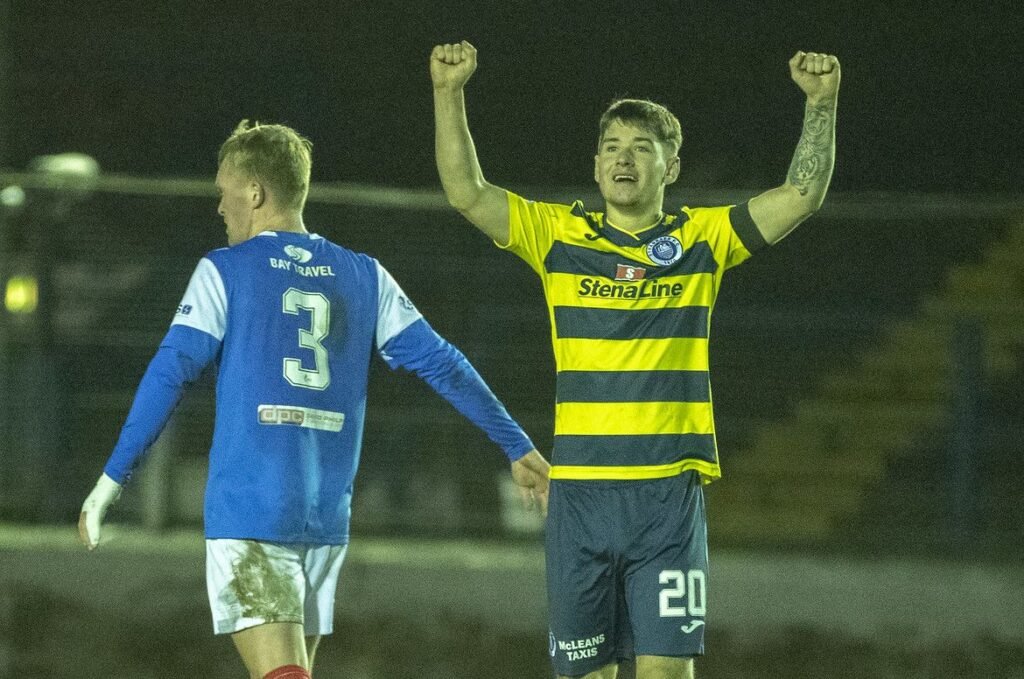 FOR the second week running, Matty Yates kept his cool from the penalty spot to ensure Stranraer picked up a result.
The frontman had scored in the last minute against Stirling Albion seven days earlier and was on target with five minutes left in Fife.
That was the only goal of the game, which also marked the return of James Hilton to the club.
Stranraer: Baker, Robertson, Sonkur, Ellis, Ross, McIntosh, Gallagher, Woods (M Mullen 65), Muir (Brady 89), Yates, Duffy (Trialist 65).
Not used: Burns, Hawkshaw, Smith, Watson, Walker and Scullion.
Cowdenbeath: Gill, Thomson, F Mullen, Glass, Barr, Denham, Miller, Morrison, Barr (Swan 71), R Buchanan (Carty 87), Coulson (L Buchanan 77).
Not used: Clarke, Hutton, Renton and McDowell.
Last five meetings
Cowdenbeath 0 Stranraer 1 (Yates (Pen)) at Central Park on January 22, 2022
Stranraer 2 Cowdenbeath 0 (Yates and Muir) at Stair Park on December 11, 2021
Cowdenbeath 1 Stranraer 2 (L Buchanan; Rennie and Gallagher) at Central Park on August 31, 2021
Cowdenbeath 1 Stranraer 1 (Morrison; Sonkur) at Central Park on March 21, 2021
Stranraer 2 Cowdenbeath 0 (Orr and Victoria) at Stair Park on November 7, 2020
Last five games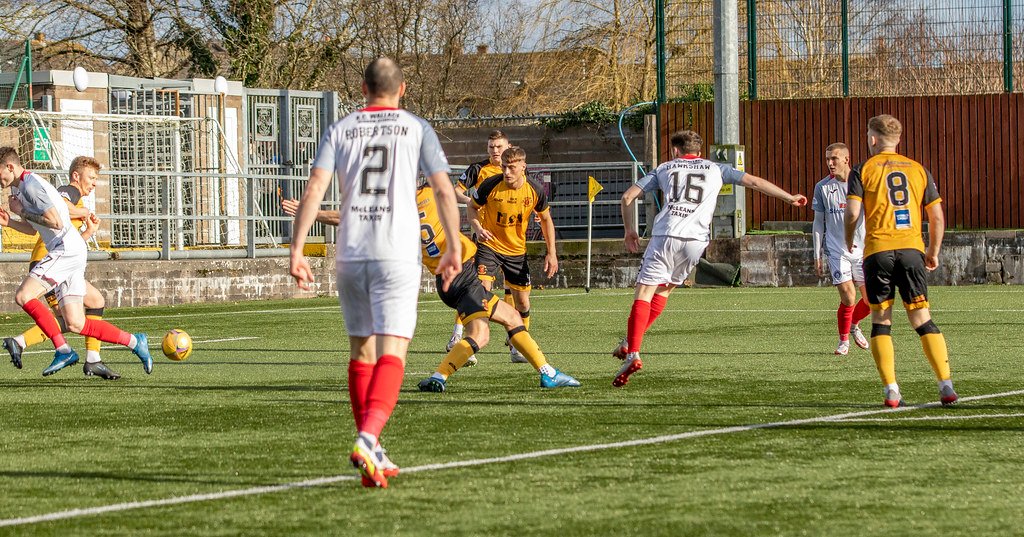 Stranraer
LOSS v Annan Athletic (A): 4-1 (Hawkshaw)
DRAW v Albion Rovers (H): 0-0
DRAW v Stenhousemuir (H): 1-1 (Duffy)
WIN v Elgin City (A): 1-2 (Yates (Pen) and Mullen)
LOSS v Edinburgh City (H): 0-2
Cowdenbeath
LOSS v Stirling Albion (A): 2-1 (L Buchanan)
LOSS v Kelty Hearts (H): 0-1
LOSS v Edinburgh City (A): 1-0
LOSS v Kelty Hearts (A): 1-0
WIN v Elgin City (H): 2-0 (Mullen (Pen) and Barrowman)
Last time out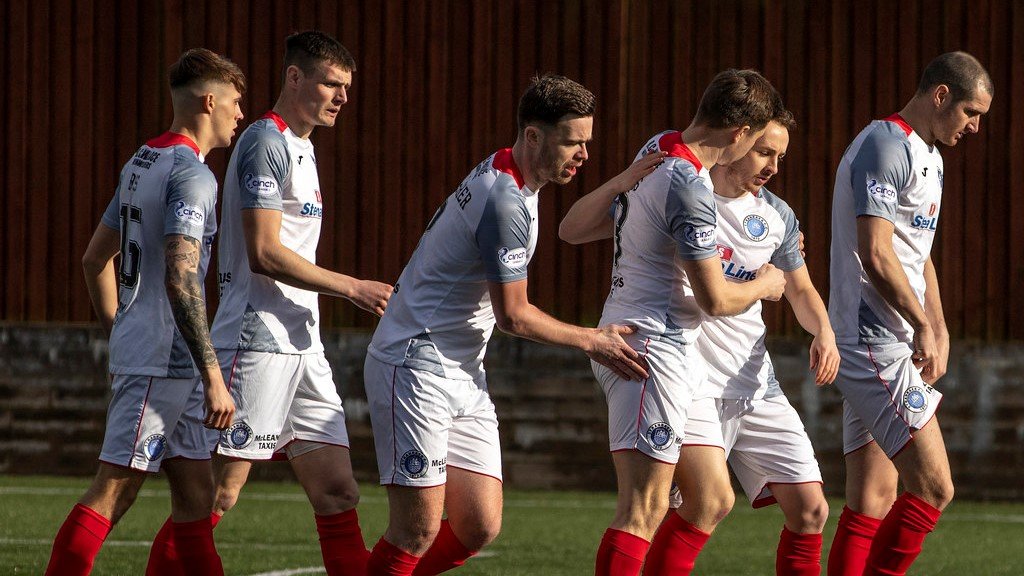 Stranraer
Lineup v Annan Athletic: Scullion, Robertson (Yates 61), Burns, Ellis, Ross, McIntosh, Brady (Smith 88), Gallagher, Hawkshaw (Woods 74), Hilton (Walker 60), Muir (Mullen 74).
Not used: Watson, Duffy and Downie.
Cowdenbeath
Lineup v Stirling Albion: Gill, Thomson, Mullen (Swan 78), Todd, C Barr, Denham, Ferguson, Morrison, B Barr (L Buchanan 73), R Buchanan (Carty 74), Ompreon (Coulson 46).
Not used: Dunn, Miller, Moore, Barrowman and McDowall.
Five facts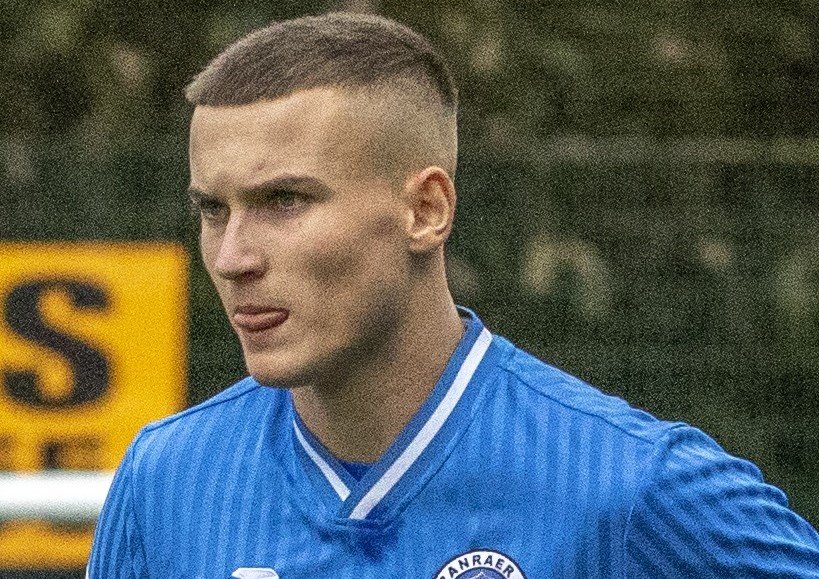 1. Stranraer have won all three of the meetings with Cowdenbeath this season. The last time they managed to win four out of four was the 2003/04 season.
2. Cowdenbeath's last victory at Stair Park came in October 2015 (highlights). They won 3-0 with Bradley Donaldson scoring before the break before Kyle Miller and Robbie Buchanan found the net in the second half.
3. On-loan defender Sam Ellis celebrates his 19th birthday on Friday. The teenager has made 19 appearances for Stranraer and made his debut against Edinburgh City in September last year.
4. Friday also marks exactly 19 years since a midweek thriller at Stair Park between Stranraer and Cowdenbeath. Chris Webster had put Cowdenbeath in front within two minutes but Ian Harty levelled from the penalty spot. Graeme Brown put the Fife side back in front but the scores were levelled by Allan Jenkins. John Elliott scored two minutes into the second half to give Cowdenbeath the lead for the third time before Andy Kane and Harty gave Stranraer the lead for the first time. Elliott then scored an equaliser for Cowdenbeath to ensure the game finished 4-4. The Stranraer team that day was: Hillcoat, Wingate, Wright, Farrell, Jenkins, Aitken, Finlayson (Scott 66), Harty, Kane, Moore (Gaughan 80), Kerr (Hodge 73). Not used: Curran and McCulloch.
5. Since Cowdenbeath last visited Stair Park they have lost seven of the 11 games. However, just one of those has been by more than a single goal.
How to watch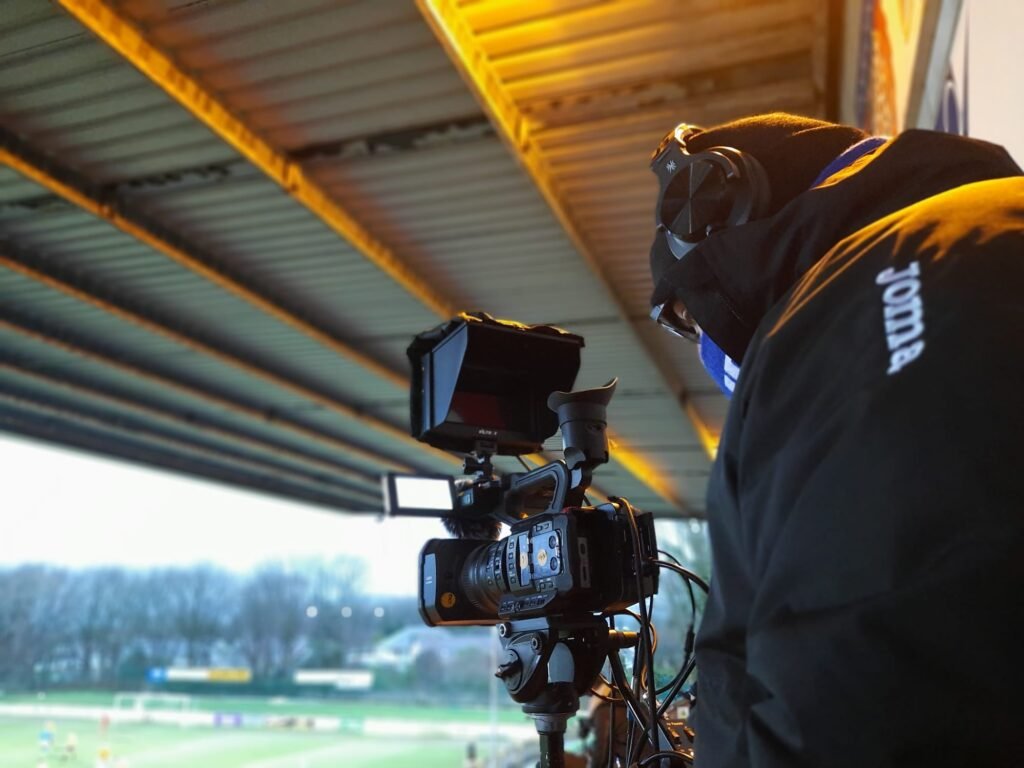 We are pleased to confirm that Saturday's contest will be broadcast via our Stranraer FC LIVE streaming service priced at £10.
Coverage features commentary from Brian Martin and Ged Molyneux, with 1080p HD picture quality, broadcast graphics, instant replays and no Pixellot in sight.
Standard admission prices apply at the gate.