Ahead of the new season, we caught up with club broadcasters and longtime Blues supporters Laurence Nelson and Brian Martin.
The voices of Laurence and Brian are very familiar to Stranraer fans, having helmed the club's live coverage and highlights since 2020 – with plenty of memorable moments along the way.
The dynamic duo are of course joined by radio veteran Mike McLean to discuss all things Stranraer for the weekly It's No Easy podcast.
Q. How long have you followed the club and can you remember the first game you attended?
Laurence: It annoys me that I cannot pinpoint my first game. It would have been around 1970 though.
To give today's younger fans a laugh, I can tell you that my parents wouldn't allow me to go to first team games before that because of the size of the crowds (always in four figures).
The first game I remember was the Celtic League Cup tie in September 1972. A midweek game played at 5.30pm because the club had no floodlights.
We had qualified from a group featuring Partick Thistle, Morton and Cowdenbeath, having won 5-1 at Cappielow. The Celtic team stayed at The George (changed days indeed) the night before the match and I can remember droves of us kids autograph hunting!
In the match itself, Billy Collings had us ahead after only four minutes and, of course, I was convinced that we were going to win. It ended up 1-2.
At Celtic Park, in the second leg, we would also take the lead and level the tie – but we lost that one 5-2. Not bad against a team that had been in two European Cup finals in the then recent past.
Brian: I have watched the Blues for about 60 years. The first game was against Queen of the South in a packed cowshed. I was that wee, my dad sent me down to the front so I could get a better view!
What do you enjoy about Stranraer FC LIVE?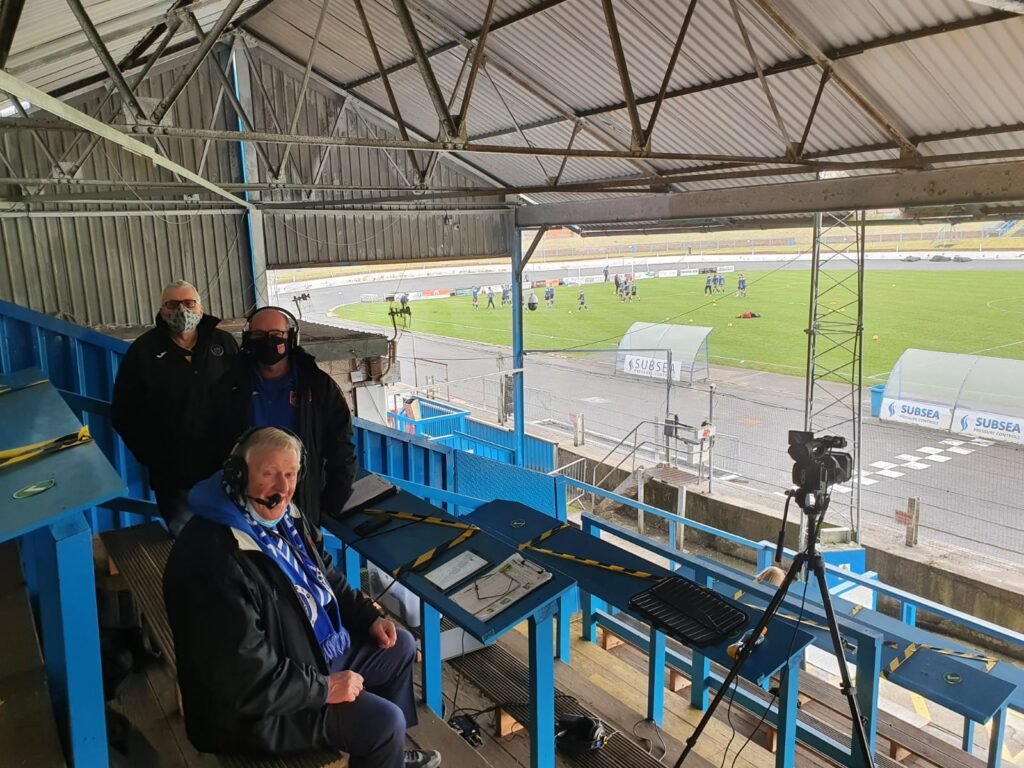 Laurence: I enjoy the fact that we are helping to promote and publicise the club.
In 2020/21, we also allowed people to see matches, when they were not allowed to attend. Before this month past, very few people had actually seen Tam Orr in a Stranraer shirt – apart from on a screen.
Stranraer FC LIVE gets a fair number of plaudits – much of that must go down to the guys behind the camera – those you don't hear on commentary. Simon Sullivan, Colin Ferguson, Craig Murphy, and, above all, George Frank, who did so much to get our streams up and running.
As for the commentary – we are not Sky Sports, and we will come across as biased. But I like to try and think we are always honest enough to acknowledge when an opponent has deserved to beat us. And, if we grumble about our own players, well that's simply because we want Stranraer to win.
Brian: I love doing the Stranraer FC LIVE commentary, manager interviews, etc. The live stream is exciting and gives you a bit of a buzz.
What is your favourite game that you have commentated on?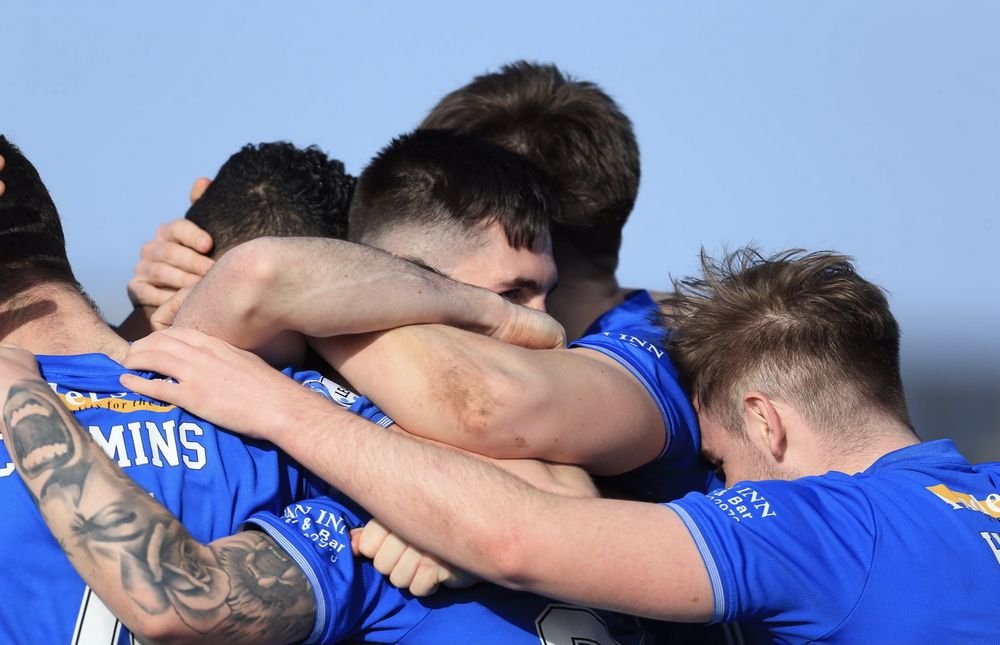 Laurence: That's a hard one – probably the Scottish Cup tie up at Brora in 2021. Brora had beaten Hearts in the previous round, and, let's be honest, the Premiership-centric media all expected (and hoped) that they would beat us too.
There were no Blues fans actually in the ground, so it was down to Mike McLean and me, with Colin on camera, and the late Shaun Niven making sure that we were ok. In that respect, Brora Rangers were magnificent – a hugely hospitable, welcoming and friendly club.
In the game, Brora took an early lead, and it took us until the 89th minute to equalise. We had pummelled them before that, but had been called offside time after time. It was relief when we equalised. There was only going to be one winner in extra time and we delivered with a 3-1 win.
The most memorable quote of the day was from Mike [McLean]. When we levelled, he intoned 'and that noise you can hear is the sound of the national newspaper reporters hurriedly scrapping their stories'.
Brian: Favourite game is a happy and sad time. The cup tie at Stark's Park against Kelty Hearts on a frozen January night stands out. I was on co-comms with the sadly missed Shaun Niven and the game had everything.
The Fifers were quickly 2-0 up and at half time we were looking down and out. But things changed in the second half. Tam Orr scored early, big Robbo levelled it and wee Dubliner Ruari Paton won it on 94 minutes with a penalty.
I asked Shaun what it was worth to the club and he quickly replied £20,000 and I gave him a hug – don't think he was into hugs!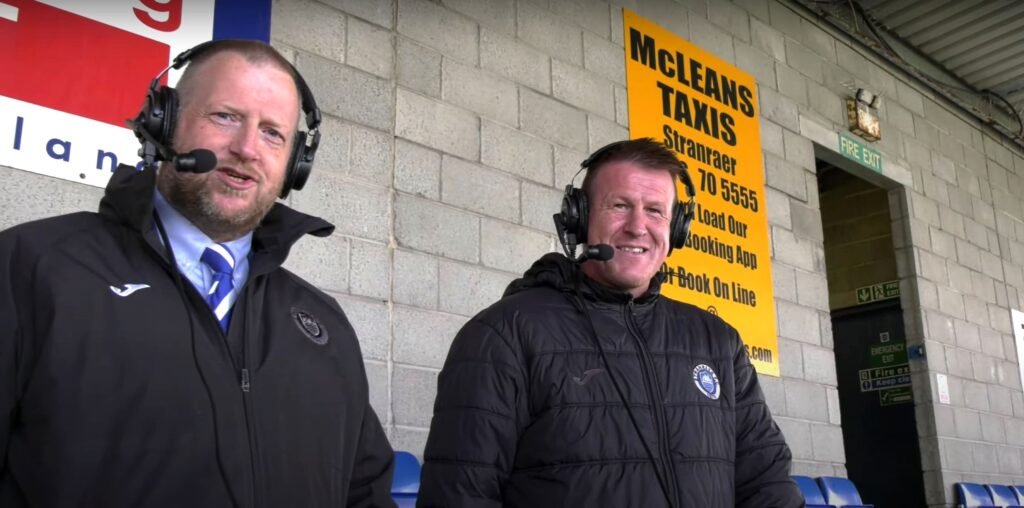 A couple of things from that game, COVID-19 was raging but Kelty turned up with about 30 committee members and when we turned it around the look on their faces was a picture.
Also, that night, anybody who knows me will know I love chocolate. I said to Shaun at half time that I could do with some chocolate. Quick as a flash, the big man was into his rucksack, which he always had for various stuff, and he produced a bar of chocolate. I could have hugged him again!
I still miss him on match days and I reckon the main stand should be called The Shaun Niven Stand, where he will never be forgotten.
Where do you think the team has improved since Scott Agnew came to the club?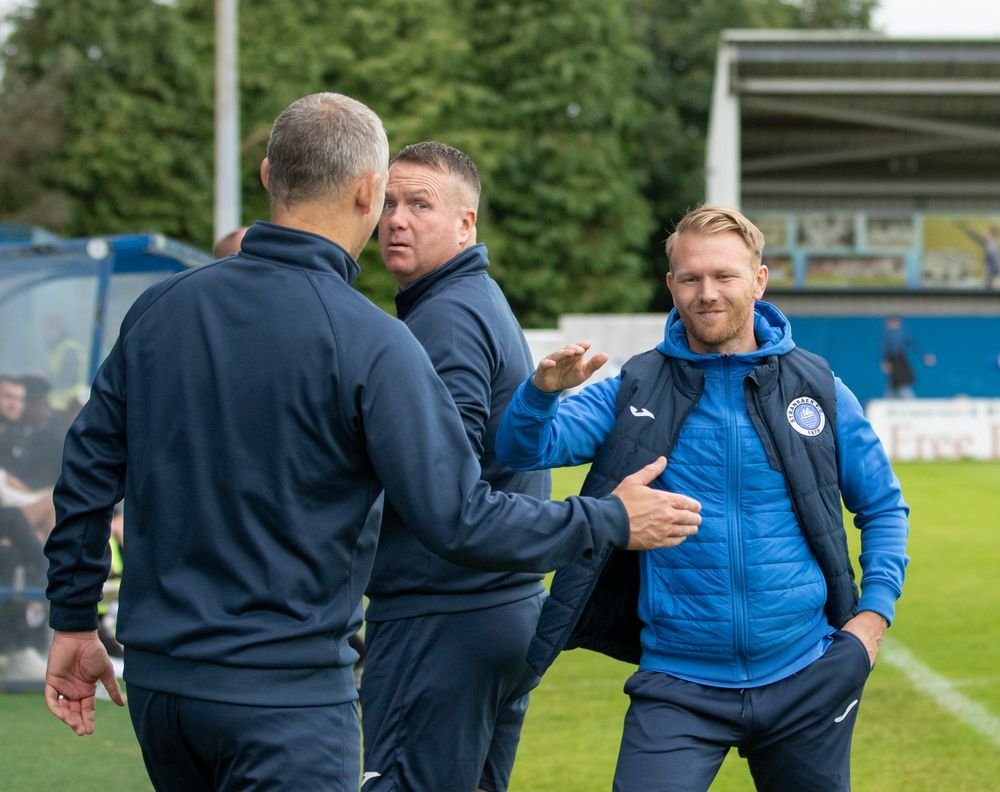 Laurence: Two things strike me – first is that he has completely lifted the mood and expectations in the Stranraer camp. Also, he has attracted three players with (forward) after their name. Why that didn't happen last season remains a bit of a mystery!
Brian: I think Scott has signed really well and with three strikers think he really has strengthened us up top. Armour and Orr have done it in League Two and I am really looking forward to seeing Deryn Lang.
What are your hopes or expectations for the season?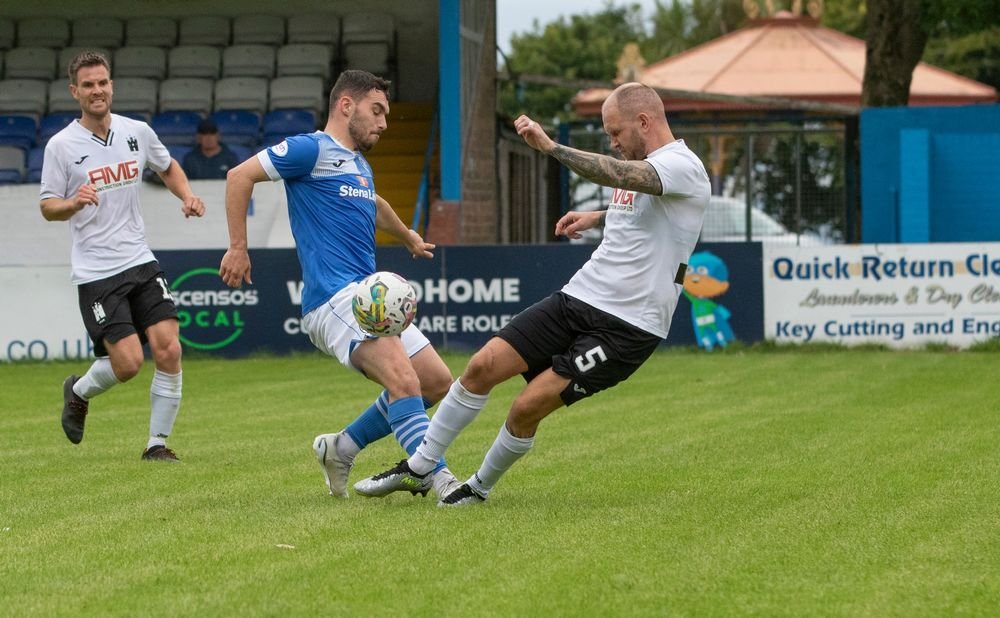 Laurence: For the last two seasons I have fearlessly predicted that we would finish sixth or seventh. We managed to meet my prediction last season, but it was all a bit too close for comfort!
In League Two, you now only need one bad season and you're gone. I start every season wanting us to win the league, but realism has to be there too. Last season, I wanted us to improve on the season before – by around February, it was clear that this wasn't going to happen. Improvement, and clear signs that we are improving, are what I am looking for!
Brian: At this time of the year, it is always very exciting with all your hopes and expectations for the new season. I honestly think we will be there or thereabouts and it reminds me a wee bit of the promotion year in 2003/04. A good nucleus from last season and some good signings.
I think Forrest and Fleming could be really good together and Kyle really does remind me of a young Grant Gallagher. As for Dylan, if he stays clear of injuries, he will be the League Two best midfielder. I honestly rate him that highly.
Is there a Stranraer game you wish you could have commentated on?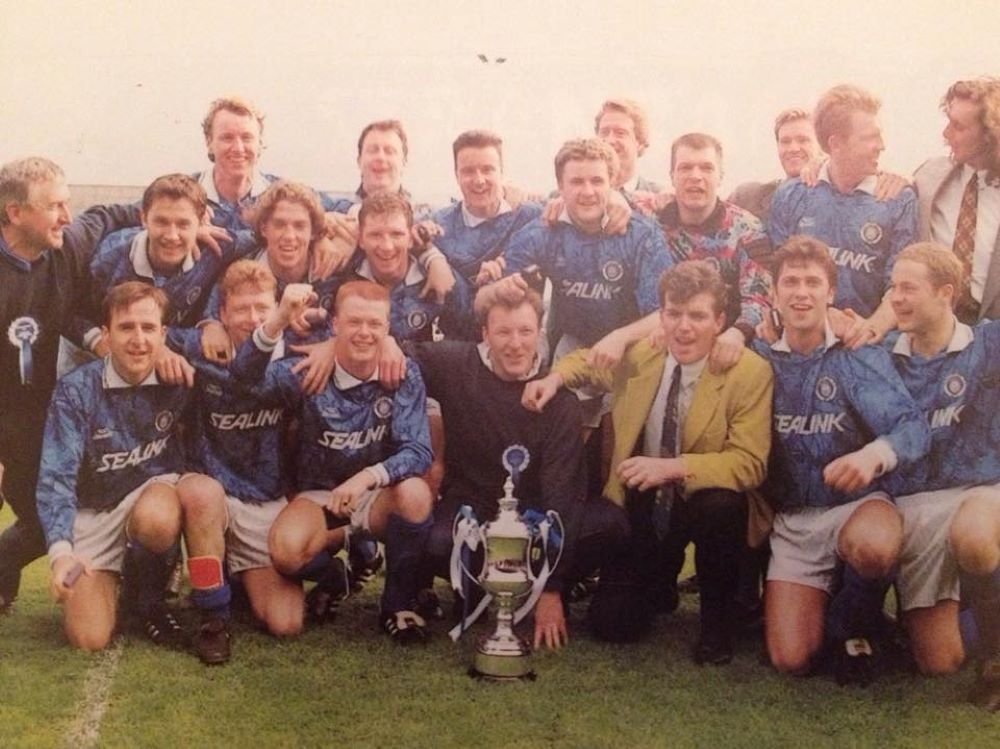 Laurence: That would have to be the game at East Stirlingshire in April 1994, when, under Sanny McAnespie, we won our first-ever league title. A 3-2 win, with Lex Grant scoring, and two sublime free-kicks from the ubiquitous Graham Duncan. It was a day that, like a lot of Stranraer fans, I was starting to think I would never see. The only thing is, had Brian Martin and I been commentating on that one, I think we might just have been in tears at full time!
Brian: The easy one is the Challenge Cup Final in 1996 but the Boxing Day game against Hamilton Accies when Mickey Moore scored a hat-trick and we won 5-4 is always etched in the memory.
Photos: Bill McCandlish, Stranraer FC History