Darryl Duffy has challenged Stranraer to end the season on a high and improve their home form.
The Blues wrap up 2021/22 by hosting Elgin City knowing that win, lose or draw they will not move up or down the League Two table.
A sixth place finish is guaranteed but Duffy was keen for three points and to send fans, players and everyone involved with the club into the close season happy.
He said: "Our home record has not been great this year.
"That starts with your very next home game when it comes to improving that.
"It is something we have looked at as well and it is something we are not very happy with.
"That starts on Saturday, trying to put that right and build that into next season as well.
"You really want your home form to be the foundation for your season and then picking up extra points away from home.
"We seem to have been slightly the opposite this year – our away form has been a lot better than our home form.
"That starts on Saturday, we start rectifying that on Saturday, and you always want to win your last game of the season.
"You don't want to go into your summer holidays, your break, on a defeat.
"You want to go and win the game and have a little spring in your step into your holidays."
Following the game with the Borough Briggs side, the Blues will round off the season with the annual player of the year awards.
A last day victory would make that night all the more enjoyable with a number of prizes being handed out.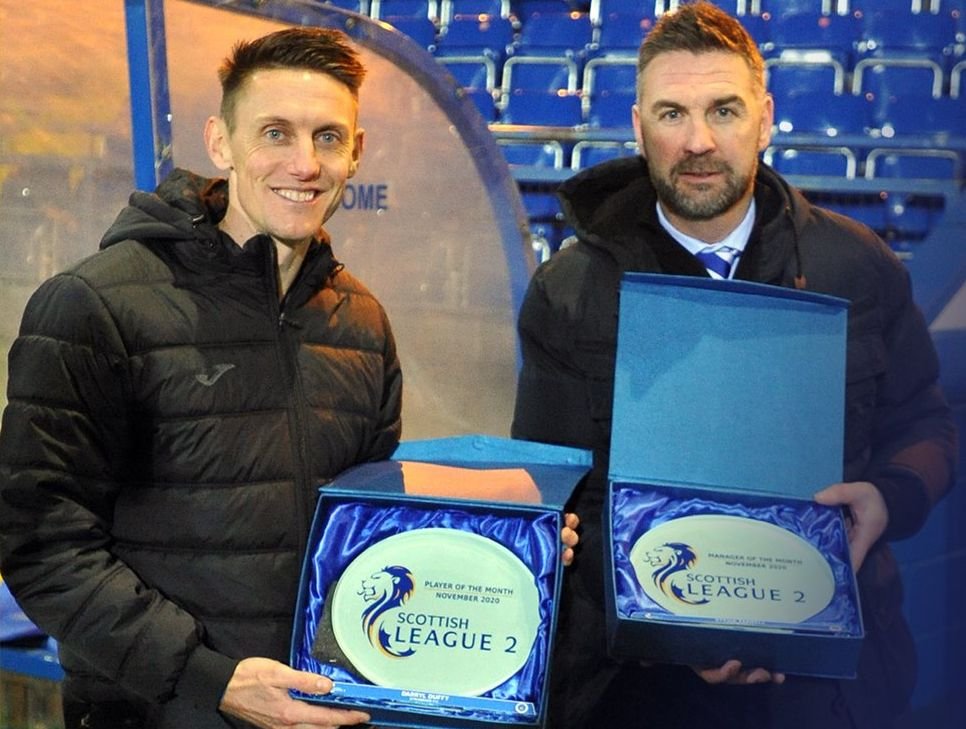 While the players might be then thinking about the close season and the time off, the work will truly get under way for player/manager Jamie Hamill, player/assistant manager Duffy and player/first team coach Scott Robertson.
Changes on and off the park are planned, ranging from the inevitable signings to improvements in the dressing rooms.
Duffy said: "We are going to try to make the changing rooms a bit more comfortable.
"We are going to change the sides of the dugout so it is on the opposite side of the stand, we will warm up on the opposite side of the pitch and be closer to our fans in the warm-up.
"We are also going to try to improve the pitch as much as we can as well to try to get it flatter and get some sort of water supply onto it as well so we can get the grass watered and play good football and move the ball quicker over the surface.
"This has all been planned well in advance."
Duffy turned 38 earlier this month and had thoroughly enjoyed the season and the challenges that it had brought.
At the beginning of the campaign, he spoke about his desire to focus on coaching and step away from playing.
Injuries and various other issues saw the striker pull on the boots again and he would score three goals in six starts.
He intends to register as a player for the upcoming campaign but stressed his appearances would be limited once again.
Inevitably, there will be changes in player personnel over the summer, with the entire squad out of contract.
Discussions with members of the squad, including those currently out on loan, will start on Monday.
While some players will leave, the management trio are already working hard on identifying replacements.
Duffy said: "It's probably the busiest time of the year because you are trying to recruit players, speak to players and go and meet them.
"I'm quite sure the gaffer will be driving all over the country over the off-season trying to meet players.
"That's part and parcel really and you need to do it.
"It's not something we are not looking forward to; it's quite exciting.
"It's exciting times going to meet players, speaking to them and getting a feel for them."
Last meeting
Elgin City 1-2 Stranraer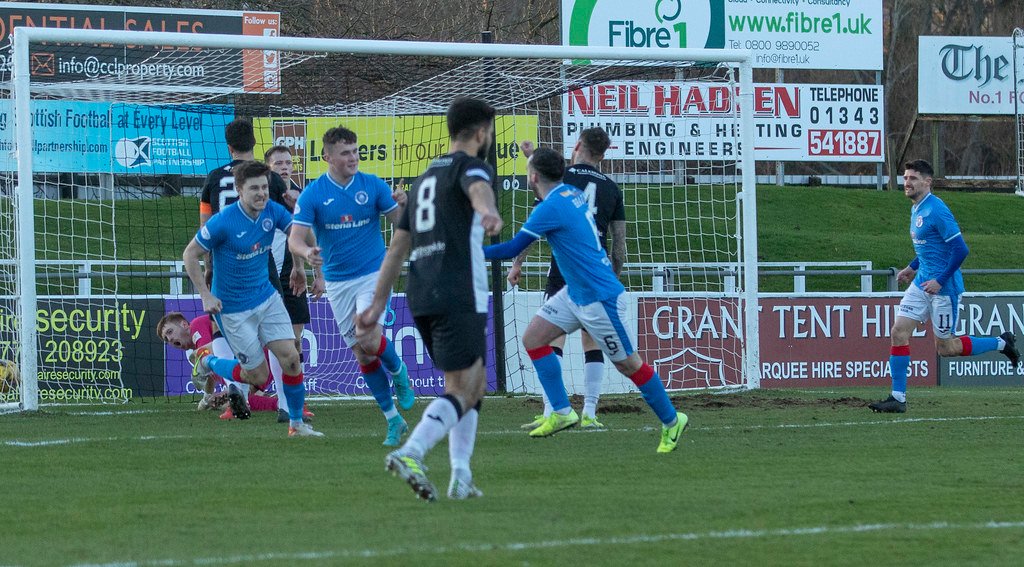 The Blues made the long journey north in search of three points and were given the perfect start when Matty Yates scored from the penalty spot.
That was the only goal of the game until 15 minutes from the end. Substitute Michael Mullen had only been on the park six minutes when he fired home his first goal for the club from close range.
However, there would be no clean sheet as Daryl McHardy scored with just 60 seconds of normal time left to play.
Seven minutes of stoppage time were played but the Blues held on for three points.
Elgin City: McHale, Mailer (Sopel 87), Towler, McHardy, MacEwan, R Dingwall, Omar (Peters 79), Allan (Cameron 71), T Dingwall (Machado 79), Draper, Hester.
Not used: Cooper, El-Zubaidi, Hanratty, O'Keefe and Hoban.
Stranraer: Scullion, Robertson (Woods 73), Burns, Ellis, Ross, McIntosh, Brady, Gallagher, Hawkshaw (Watson 69), Yates (Walker 77), Duffy (Mullen 69).
Not used: Smith
Last five meetings
Elgin City 1 Stranraer 2 (McHardy; Yates (Pen) and Mullen) at Borough Briggs on February 12, 2022
Stranraer 1 Elgin City 0 (Ross) at Stair Park on November 20, 2021
Elgin City 1 Stranraer 1 (McHardy; Gallagher) at Borough Briggs on July 31, 2021
Stranraer 1 Elgin City 4 (Elliott; Sopel, Hester x2 and Cameron) at Stair Park on April 27, 2021
Elgin City 2 Stranraer 1 (R Dingwall and Hester; Yates (Pen)) at Borough Briggs on April 6, 2021
Last five games
Stranraer
WIN v Stenhousemuir (A): 1-3 (Ross and Hilton x2)
LOSS v Kelty Hearts (H): 0-3
WIN v Albion Rovers (A): 0-5 (Yates, Muir, Sonkur, Ross and Woods)
LOSS v Forfar Athletic (H): 0-2
LOSS v Stirling Albion (A): 1-0
Elgin City
LOSS v Cowdenbeath (H): 1-4 (Hester)
WIN v Stirling Albion (A): 0-2 (MacEwan and Cooper)
LOSS v Stenhousemuir (H): 0-2
DRAW v Albion Rovers (A): 0-0
WIN v Edinburgh City (H): 2-0 (Peters and Hester)
Last time out
Stranraer v Stenhousemuir: Scullion, Robertson (Woods 69), Burns, Sonkur, Ross, McIntosh (Ellis 80), Brady, Gallagher, Hilton, Walker (Muir 70), Yates (Watson 83).
Not used: Mullen, Smith and Baker.
Elgin City v Cowdenbeath: Hoban, Cooper, MacEwan, Draper, O'Connor, Mailer (Machado 67), Dingwall, Cameron, Hester (Hamilton 83), Omar, Sopel (Peters 67).
Not used: McHardy, Spark, Mackay, Payne, Henderson and McHale.
Five facts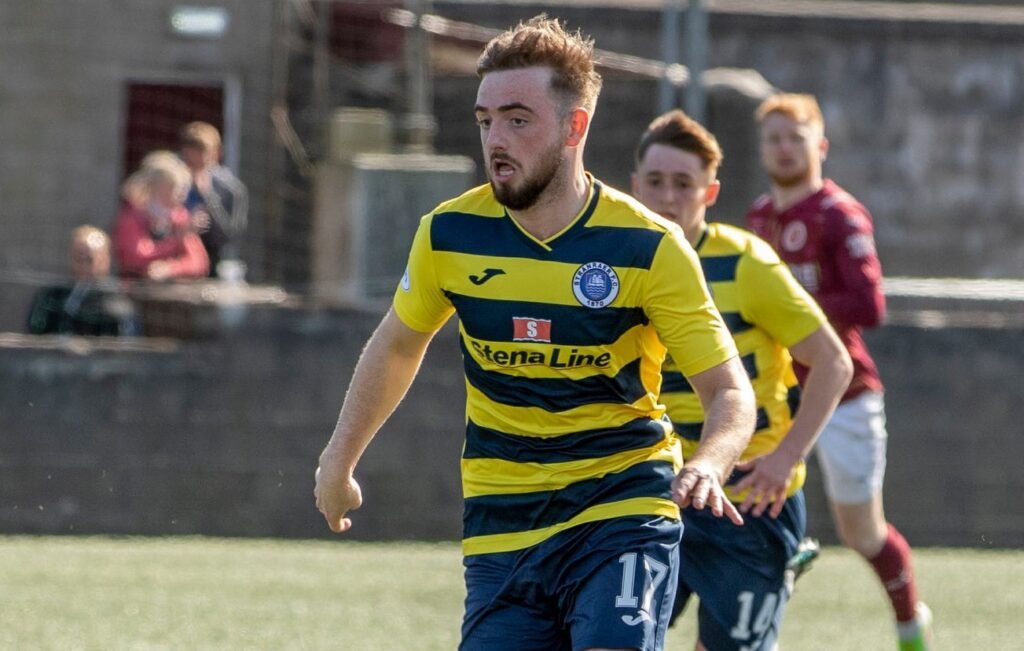 1. Elgin won all three encounters between the two clubs last season and scored 10 goals, conceding three. This season, they are yet to beat Stranraer, with the Blues winning two and the opening contest finishing 1-1.
2. The two 4-1 wins at Stair Park last season were Elgin's biggest wins at the Wigtownshire ground. Stranraer's biggest win over their visitors came in January 2004. The Blues led 1-0 at the break thanks to Kevin Finlayson's goal but would go on to win 6-0. Michael Moore scored four, including two penalties, and Finlayson added another.
3. The first-ever league meeting between the two sides took place in September 2003 and was a seven-goal thriller at Stair Park. Michael Moore and Lee Sharp had Stranraer 2-0 up before Alex Bone scored from the penalty spot. Stephen Swift made it 3-1 at the break and Allan Jenkins seemingly had the game wrapped up. However, goals from Chris Ogboke and Willie Martin in the final 10 minutes made for an exciting finish. The Stranraer team that day was: McCondichie, Wingate, Wright, Swift, Henderson (Cruickshank 86), Sharp, Jenkins, Aitken, Finlayson, Graham (Turnbull 75), Moore (Grant 70). Not used: Kerr and Meechan.
4. Since joining the SPFL, Elgin City have won 11 of their last day league games. They have lost six and drawn four. Over the same timeframe, Stranraer have the exact same record, including last year's 2-1 win over Edinburgh City, thanks to goals from Andy Stirling and Tom Orr.
5. James Hilton's double at Ochilview last weekend was the first time a Stranraer player has scored more than one goal away from home since January 2020. Cameron Elliott, now with East Kilbride, scored twice away to Clyde in a 3-3 draw.
How to watch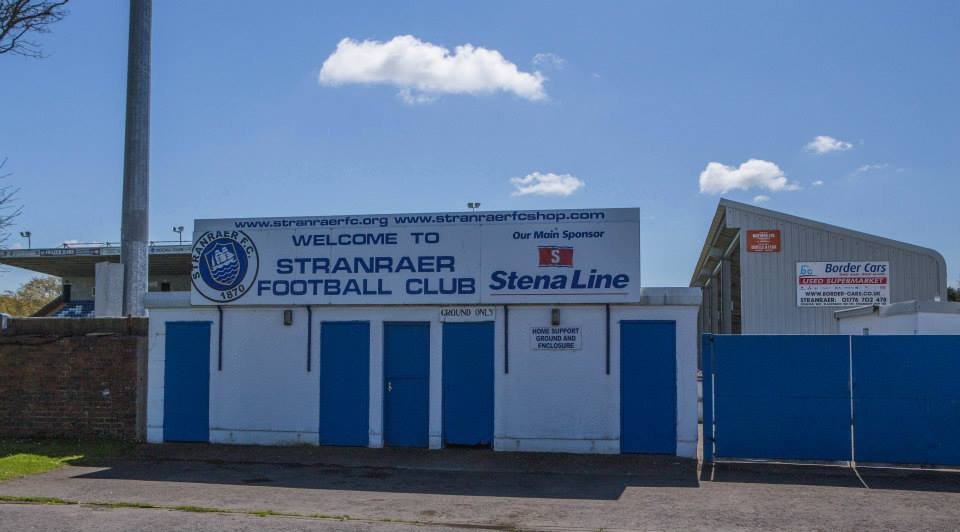 You can pay at the gate on arrival at Stair Park, and regular admission prices apply.
This looks like it will also be the final game broadcast via Stranraer FC LIVE, as broadcast rights will again prevent clubs from offering coverage on Saturday afternoons as of next season.
If you can't make it to Stair Park, we invite you to join us from the comfort of your home.