Club captain Grant Gallagher has paid tribute to Stranraer chairman Shaun Niven, who sadly died this week.
Heartfelt messages of condolence have come in to the club from throughout Scotland and beyond.
Gallagher said: "It was actually Scott Robertson that phoned me in the morning to let me know about the news.
"Genuinely, when he was phoning me I just thought it was another call, just a generic thing, leading up to the game.
"When he told me the news I was just shocked, to be honest with you.
"I could not even find any words or what to say.
"Just the fact it was so unexpected and there was nothing I could really say to describe the situation at the time."
Gallagher is now in his eighth season with the Blues having initially joined after leaving Celtic in 2010.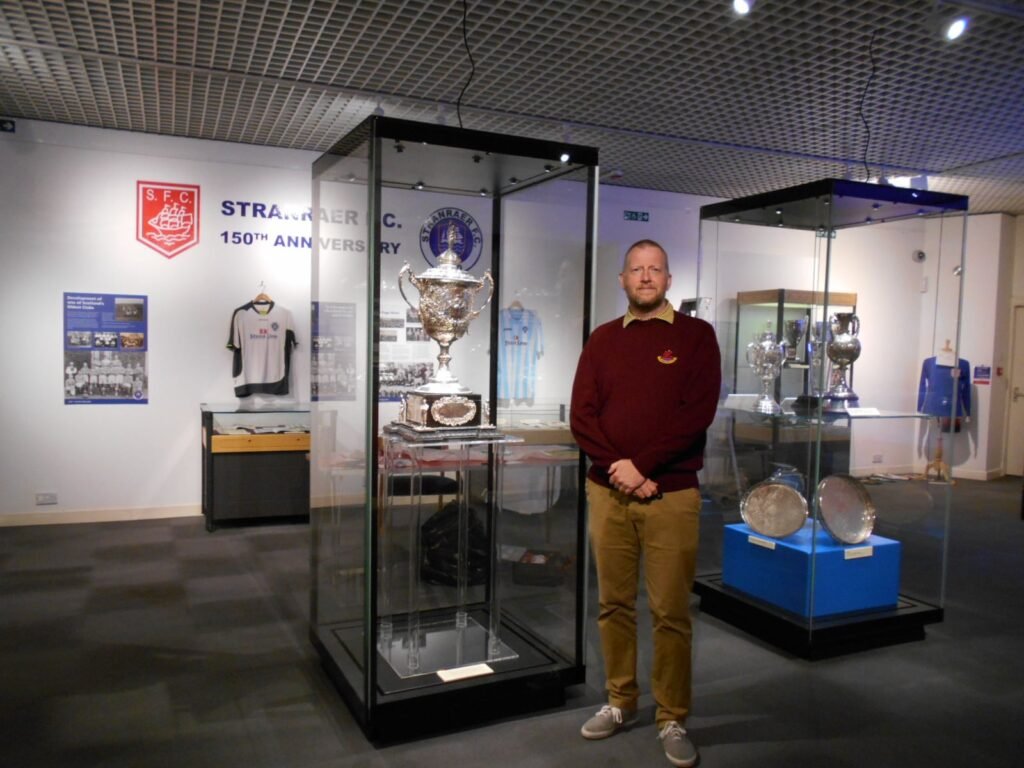 Shaun had been on hand for each of the contracts he had signed.
He said: "Shaun was probably the first to welcome me to the club because it was him you dealt with when you go to sign.
"He welcomes you to the club and he was always there to do that.
"I think that was one thing he took pride in – meeting all the players and signing them.
"It was always good dealing with Shaun at times like that.
"We had a wee conversation before training as a group this week.
"Obviously, for everybody, it does not matter how long you have known Shaun, it was devastating news.
"He will be a massive loss to the club."
Gallagher's appearance against Stirling Albion last weekend took him to 250 games for the club.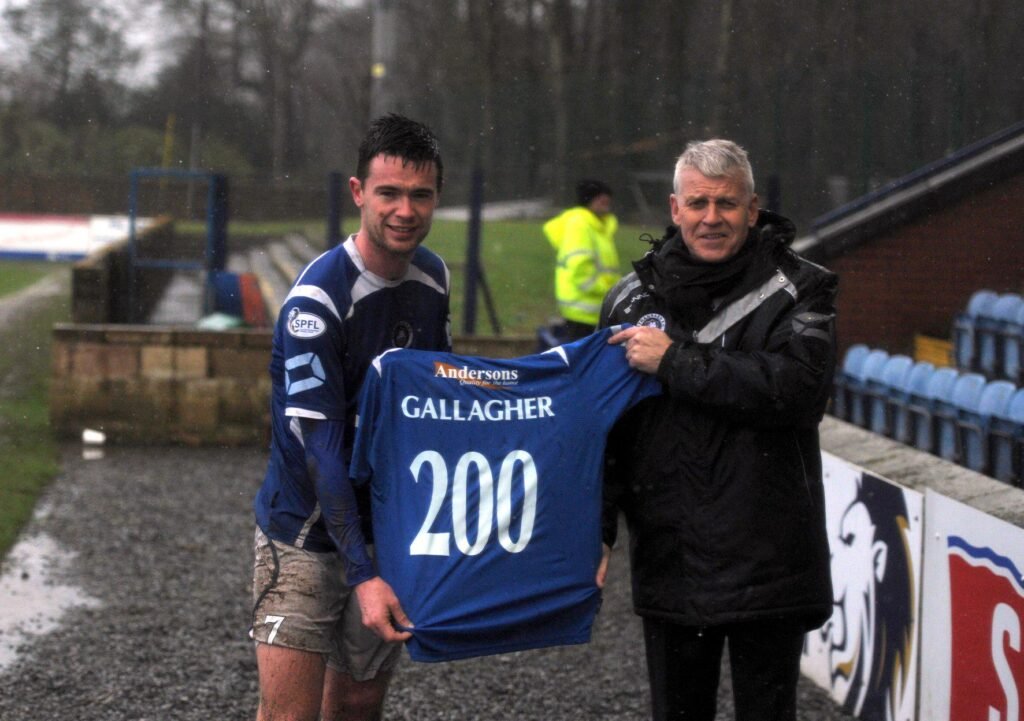 He told the club website about his time with the Blues: "Things have changed, a lot, in that time.
"I never knew it would go as far as this but I have certainly enjoyed it.
"The club means quite a lot to me, to be fair.
"Obviously, since I left Celtic, I did go on trial at a few other clubs and things did not really come to anything.
"Then I signed for Stranraer back then and things just seemed to click for me.
"The people at the club I get on really well with, the squads have always been really close knit, and just everybody behind the club I have always got time for and speak to.
"Whether that's the bus driver Stewart, the board members or Adam who drives the kit – it's just a close knit club and I have always really enjoyed that.
"It makes you feel as if you are from there."
Gallagher and his team-mates head to Cowdenbeath looking to end a five game winless run, which stretches back to December 11.
The last three points came in the previous meeting with the Fife side when Matty Yates and Tommy Muir scored at Stair Park.
It is also the only League Two game this weekend, with Scottish Cup clashes taking the attention of other clubs.
The former Dumbarton and Airdrie man said: "They are trying to get off the bottom of the table.
"It will be a tough game but we are the only ones playing so it is a chance to get points up on everybody."
Last meeting
Stranraer 2-0 Cowdenbeath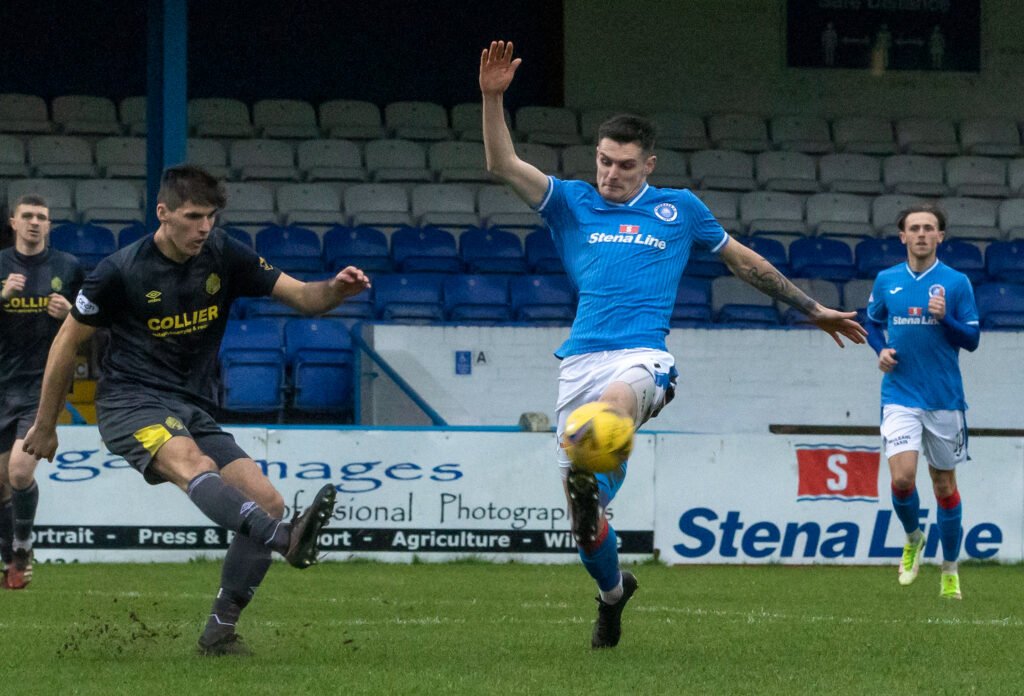 First half goals from Matty Yates and Tommy Muir helped Stranraer to all three points against Cowdenbeath.
Scott Robertson won a loose ball in midfield before Broque Watson played it out to Yates outside the box. The frontman entered the 18-yard box before firing across the goalkeeper and into the bottom corner of the net.
Muir proved a nuisance to the visiting defence and got his reward when his shot spun beyond Cammy Gill and in via the post.
Cowdenbeath were improved after the break but could not find a way back into the contest.
Stranraer: Scullion, Robertson, Burns, Ellis, Ross, McIntosh, Brady (Woods 71), Hawkshaw (Smith 71), Muir, B Watson (Walker 81), Yates (Rennie 82).
Not used: Langan, Moore, Irving and Ngoy.
Cowdenbeath: Gill, Thomson, Mullen, O'Conner, C Barr, Todd, Miller, Hutton (R Buchanan 46), B Barr (Coulson 64), Morrison, L Buchanan (Swan 81).
Not used: L Watson, Clarke, Mahady and McGurn.
Last five meetings
Stranraer 2 Cowdenbeath 0 (Yates and Muir) at Stair Park on December 11, 2021
Cowdenbeath 1 Stranraer 2 (L Buchanan; Rennie and Gallagher) at Central Park on August 31, 2021
Cowdenbeath 1 Stranraer 1 (Morrison; Sonkur) at Central Park on March 27, 2021
Stranraer 2 Cowdenbeath 0 (Orr and Victoria) at Stair Park on November 7, 2020
Stranraer 1 Cowdenbeath 0 (McGuigan) at Stair Park on April 30, 2016
Last five games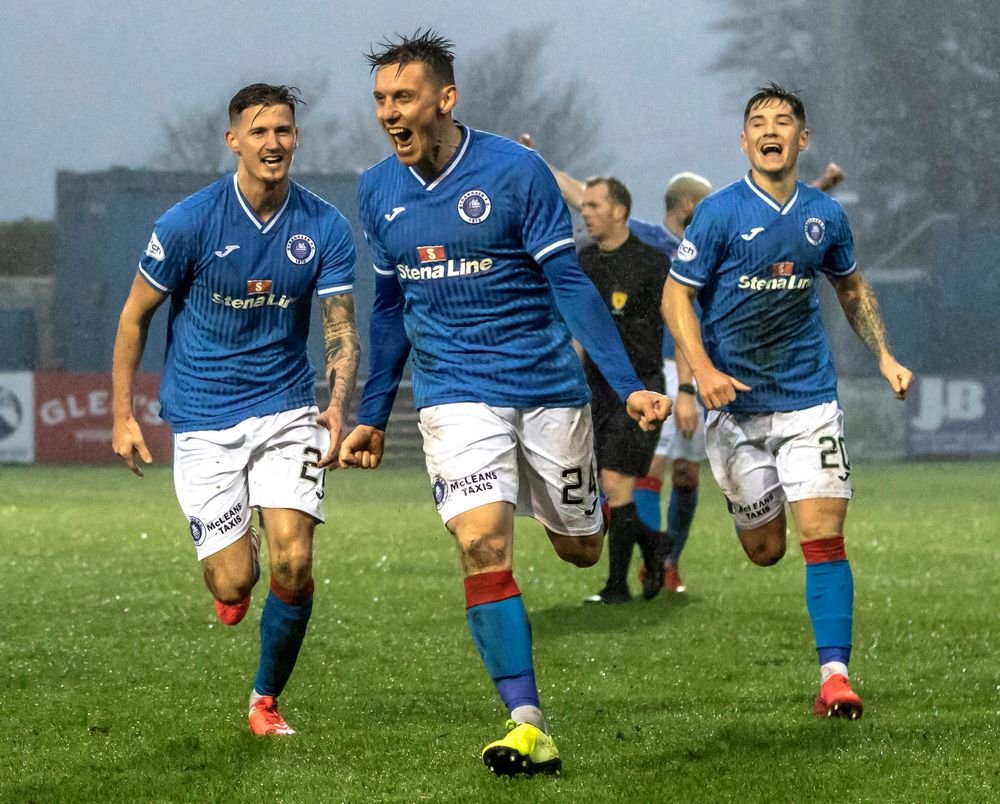 Stranraer
DRAW v Stirling Albion (H): 3-3 (Muir, Duffy and Yates (Pen))
LOSS v Forfar Athletic (A): 3-2 (Walker and Muir)
DRAW v Annan Athletic (H): 1-1 (Watson)
LOSS v Albion Rovers (A): 3-2 (Woods and Muir)
LOSS v Kelty Hearts (H): 0-4
Cowdenbeath
WIN v Stenhousemuir (A): 0-2 (R Buchanan and Barr)
LOSS v Annan Athletic (H): 1-3 (L Buchanan)
LOSS v Edinburgh City (H): 1-2 (L Buchanan)
DRAW v Albion Rovers (H): 0-0
LOSS v Stranraer (A): 2-0
Last time out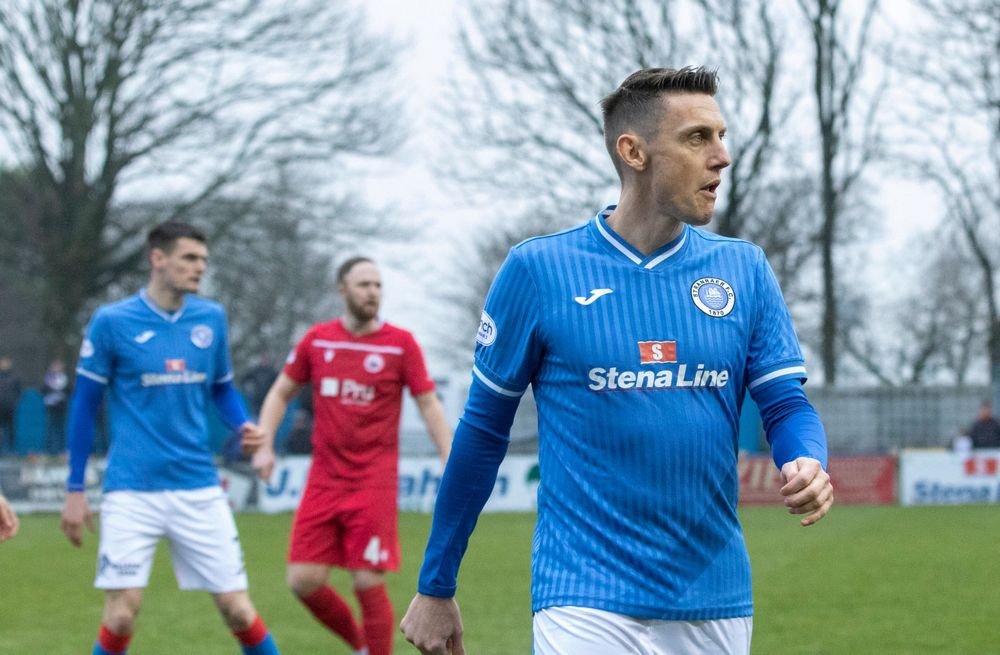 Stranraer v Stirling Albion: Baker, Robertson, Sonkur, Ellis, Ross, McIntosh, Gallagher, Woods (Brady 85), Muir (Watson 69), Walker (Yates 46), Duffy (Hawkshaw 69).
Not used: Burns, Smith and Scullion.
Cowdenbeath v Stenhousemuir: Gill, Thomson, Mullen, Todd, Denham, Glass, Miller, Morrison, Barr (L Buchanan 84), R Buchanan, Coulson (Swan 89).
Not used: Clarke, Pollock, Hutton and McGurn.
Five facts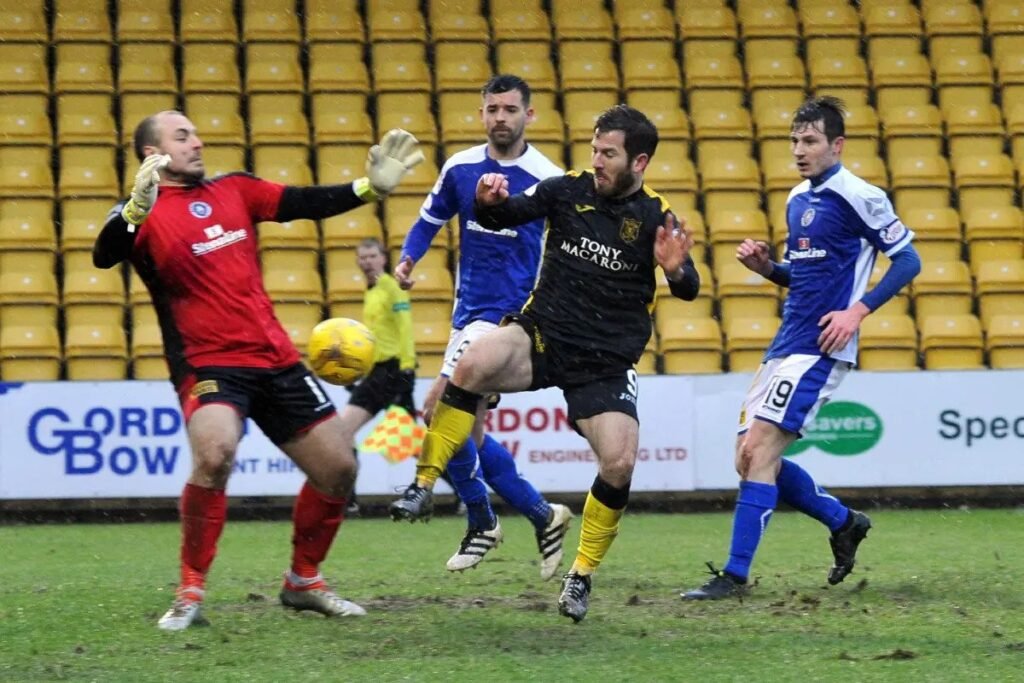 1. There have been goals in the last eight meetings between Stranraer and Cowdenbeath. The last 0-0 draw took place in April 2007. On that occasion, the Stranraer team was: Ferguson, Dillon, Sharp, McKinstry, Snowdon, Hamilton, Gibson, Ramsay, McAlpine (Mullen 67), McGrillen, Moore. Not used: Janczyk, Walker, Lyle and Black.
2. The last time Stranraer and Cowdenbeath managed to play each other four times in a season was 2015/16. Then, Stranraer won both encounters at Central Park, triumphing 2-1 and 2-0.
3. Stranraer have won both contests with Cowdenbeath this campaign. You need to go back to 2003/04 for the last time either club managed to win all four encounters. A Michael Moore penalty at Central Park in October 2003 was enough for the first victory before an own goal and Stephen Swift strike made it two wins from two. Jon Crawford and Dexi Wingate then scored in a 2-1 win in Fife before Allan Jenkins scored a late winner at Stair Park in April 2004.
4. Current Cowdenbeath striker Liam Buchanan scored a hat-trick the last time the Blue Brazil beat Stranraer at Central Park. That came back in 2006 when the Fife side ran out 4-2 winners.
5. Buchanan has scored against Stranraer for four clubs – Cowdenbeath, East Fife, Livingston and Raith Rovers. He has 10 goals for this season so far.