It has been quite the learning curve for Kyle Girvan.
His first three games in SPFL football have come against a trio of full-time Championship sides, who will all fancy their chances of challenging for promotion.
Now, with Stranraer's own league campaign getting under way tomorrow against Annan Athletic, Girvan is looking to learn from mistakes in the opening games and build on the positives.
He said: "We know how we want to play and we are playing at home as well.
"That is a bonus for us and they will not like coming to us.
"We have just got to take the positives from the games before now and we need to go for it.
"We want to get three points in the first game of the season.
"If we get the three points that takes us into the league with a great confidence behind the whole team.
"It gives us a great lift after the previous results in the Premier Sports Cup."
The first league game of Jamie Hamill's second season in charge comes at Stair Park.
It took Stranraer until the fourth attempt to pick up three points at home in the league last term, with defeats to Annan, Stirling and Edinburgh City.
Twenty-year-old Girvan was convinced improving home form could help the team to move up the table.
Equally, he wanted to send the home support out of Stair Park with smiles on their faces.
He said: "Home form is a huge factor.
"You want to please the fans, you are on the pitch for them at the end of the day.
"To get three points for them would mean a lot – that is who you are doing it for."
Girvan began his career with St Mirren where he played alongside Stranraer left back Sam Ellis.
After leaving Paisley, the central defender spent two years with Kilbirnie Ladeside but it was a performance in Cumbernauld that caught the eye of manager Hamill.
The summer signing said: "I was at the PFA Scotland trials for a week and that was held at Broadwood Stadium.
"We trained for a full week and then had a game on the Saturday.
"Obviously, the gaffer, Jamie, was there watching me and I got the phone call the next day.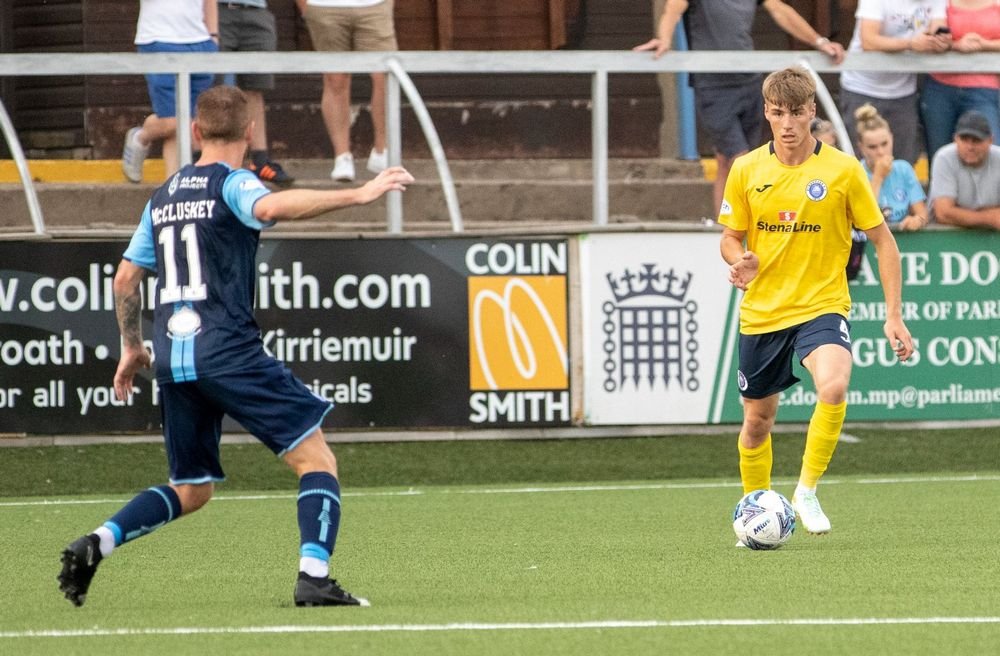 "I was happy to do it.
"After that day, all you could really do was wait, it was a waiting game.
"I was delighted and as soon as he phoned I wanted to be in and I wanted to be part of the squad."
Girvan has featured in all four games so far this campaign.
Stranraer are yet to enjoy the taste of victory but the defender felt there were positives coming into the campaign.
He said: "I am looking forward to all of the different games of course.
"In the Premier Sports Cup, the results were not great but it was a good experience for all of us.
"Hopefully, we will do better this season.
"The team looks good so far."
Last meeting
Annan Athletic 4-1 Stranraer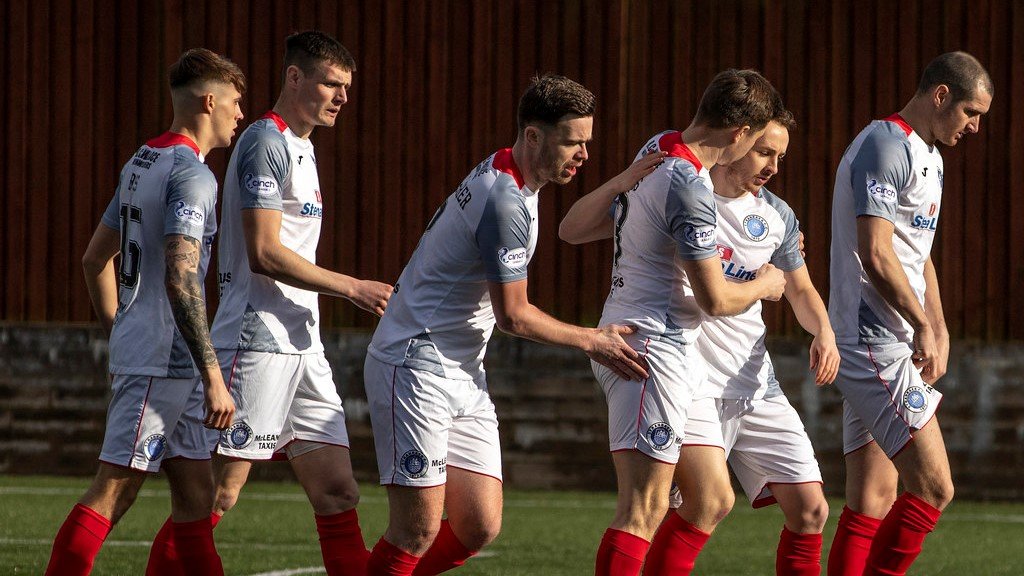 A first ever Stranraer goal from Dean Hawkshaw in the first minute gave the Blues the perfect start at Galabank.
Unfortunately, the game was well and truly in the home side's favour by the time referee Chris Fordyce blew for half time.
A long ball over the top was controlled and fired home by one time Stranraer trialist Tony Wallace to level the scores. Charlie Barnes put the home side in front when he was lurking at the back post to head home a free-kick and Michael Garrity made it 3-1 with a great finish after a swift counter attack.
The final goal of the game came just before 90 minutes were up when Cameron Clark's deflected free kick outfoxed Luke Scullion.
Annan Athletic: G Fleming, Barnes, Clark, Douglas, Hooper, Moxon, Wallace (K Fleming 86), Docherty (Hunter 72), Garrity (Anderson 86), Johnston, A Smith (McCartney 64).
Not used: Steele, Swinglehurst, Lowdon and Adamson.
Stranraer: Scullion, Robertson (Yates 61), Burns, Ellis, Ross, McIntosh, Brady (R Smith 88), Gallagher, Hawkshaw (Woods 74), Hilton (Walker 60), Muir (Mullen 74).
Not used: Watson, Duffy and Downie.
Last five meetings
Annan Athletic 4 Stranraer 1 (Wallace, Barnes, Garrity and Clark; Hawkshaw) at Galabank on March 5, 2022
Stranraer 1 Annan Athletic 1 (Watson; Goss) at Stair Park on January 2, 2022
Annan Athletic 2 Stranraer 2 (A Smith and Moxon; R Smith and Woods) at Galabank on November 6, 2021
Stranraer 0 Annan Athletic 3 (Johnston, Smith and Moxon) at Stair Park on August 7, 2021
Stranraer 2 Annan Athletic 0 (Orr and Paton (Pen)) at Stair Park on January 2, 2021
Last five games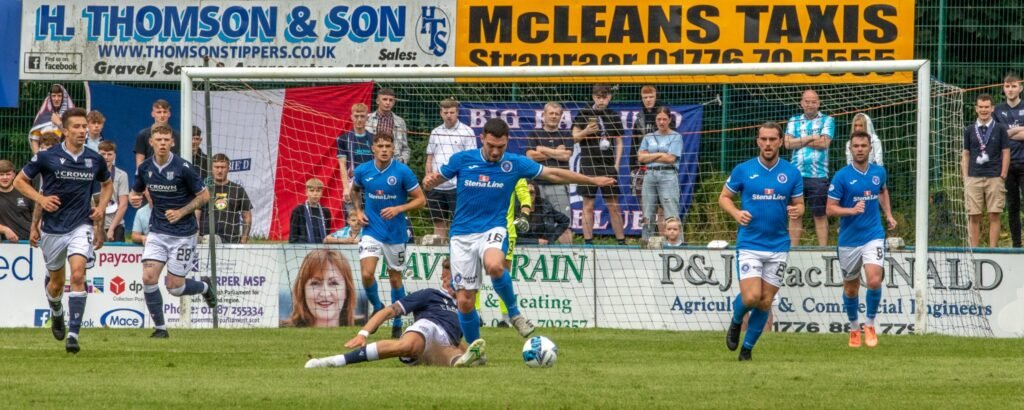 Stranraer
DRAW v Forfar Athletic (A): 2-2 (Hilton and McLean (Pen)) Forfar Athletic win 5-3 on penalties [later awarded 3-0]
LOSS v Dundee (H): 0-3
LOSS v Hamilton Academical (A): 5-2 (Woods (Pen x2))
LOSS v Queen's Park (H): 2-5 (Robertson and McLean)
WIN v Elgin City (H): 2-0 (Yates and Ellis (Pen))
Annan Athletic
DRAW v Ayr United (H): 1-1 (Wallace (Pen)) Annan Athletic win 5-4 on penalties
WIN v Elgin City (H): 4-0 (Smith x2 (Pen x1) and Goss x2)
DRAW v St Johnstone (A): 0-0 Annan Athletic win 5-4 on penalties
WIN v Queen of the South (A): 2-3 (Own goal, Johnston and Hunter)
WIN v Edinburgh City (H): 2-1 (Wallace (Pen) and Goss)
Last time out
Stranraer v Forfar Athletic: Scullion, Robertson, Ellis, Girvan, Ross, Hilton, Gallagher, Walker (McLean 81), Woods (Dunn 81), Forrest, Watt.
Not used: Brady, Duffy and O'Connor.
Annan Athletic v Ayr United: Fleming, Barnes, Lowdon (Williamson 89), Hooper, Swinglehurst, Hunter, Wallace, Docherty, Johnston (Luissint 82), Goss (Muir 63), Smith (Galloway 63).
Not used: Steele and Mitchell.
Five facts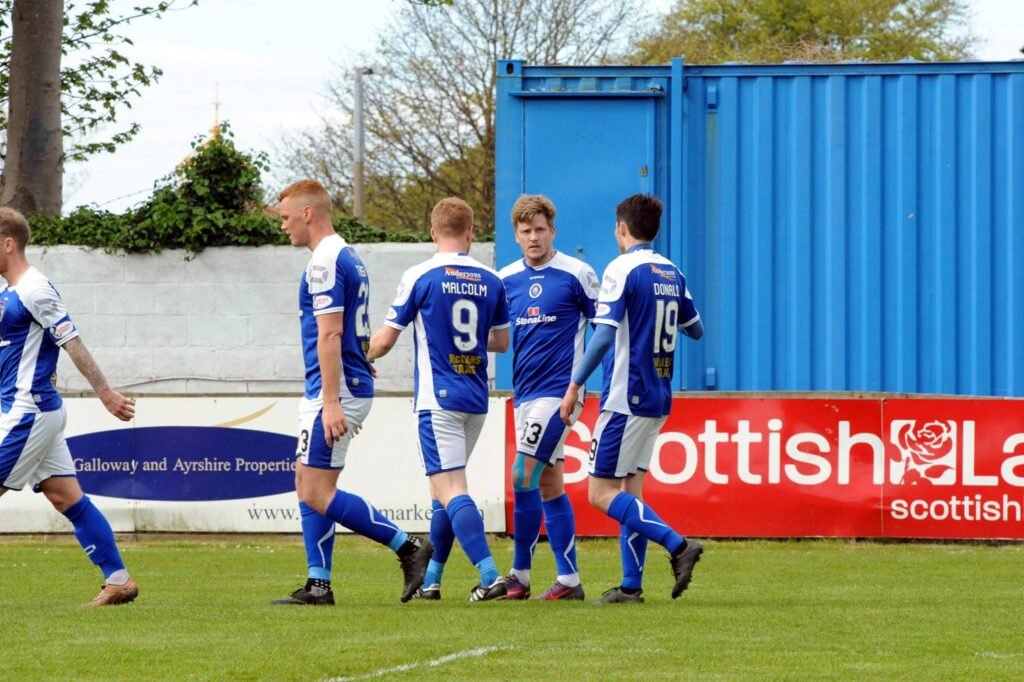 1. Last season's eight points from a possible 12 was Annan Athletic's best return against Stranraer in league meetings. The Blues can better that though and took maximum points in the 2011/12 campaign. They won 4-2 at Stair Park in September and matched that scoreline on the last day of 2011. In between those home games, they were 3-0 winners at Galabank and they wrapped up the season with a 3-1 win in the east of Dumfries and Galloway.
2. 'New' signing Craig Malcolm signed off from his second spell with Stranraer with a goal against East Fife. He opened the scoring at Stair Park before Jason Kerr levelled for the visitors. Loan signing Amadou Kassaraté netted with six minutes left to wrap up the 2016/17 season.
3. Jamie Hamill has played 127 games for Stranraer since joining the club from Queen of the South. The last of those games came on January 2, 2022 when Stranraer drew with Annan Athletic.
4. The first-ever league meeting between the two sides was in August 2009. Stuart McColm, who would go on to play for Annan Athletic, scored the opening goal and Michael Moore doubled the advantage after the break. The Stranraer team that day was: David Mitchell, Wright, Noble, Agostini, Henderson, McInnes (Jones 82), Nicoll, Danny Mitchell (Aitken 46), McColm (Jack 71), Moore, McGeouch. Not used: Montgomerie and Reid.
5. Annan Athletic have scored 30 league goals against Stranraer since 2009 but no Galabankie has ever scored a brace or a hat-trick. Kenny Mackay scored a double in the Scottish League Challenge Cup in 2013. In contrast, three Stranraer players – Chris Aitken, Stuart McColm, Sean Winter – have scored doubles for the Blues.
How to watch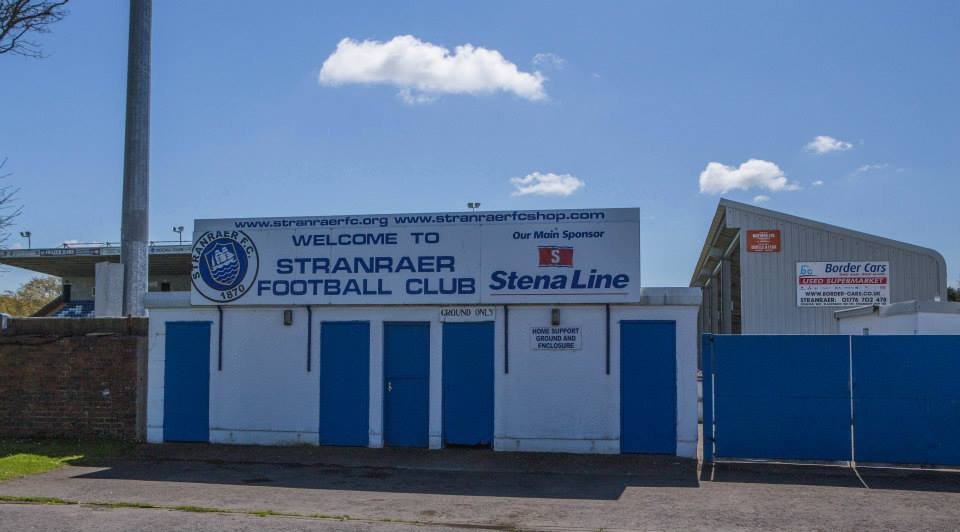 Entry for home league games this season is on a 'pay at the gate' basis.
Pricing is as follows:
Adult – £15
Concession – £10
12 to 16 Years Old – £5
Under 12 – FREE
Please note: SPFL clubs are currently unable to stream league games live in the UK and Ireland due to the return of broadcasting restrictions. As a result, we will be unable to bring you any live league coverage from Stair Park this season.