Double promotion winning Neil Watt kindly provided this update in October 2021 looking back on his time at Stair Park.
From time to time I dip into the club website, Stranraer is in my DNA, after two (three if you include my "mentoring" spell with Stephen [Aitken]) happy spells it's hard not to look back, but also to look forward and see how things are at Stair Park.
I noticed you have a section on awards and I was very pleased to see I warranted a mention. I also felt compelled to give a bit more information to complete the picture for the website.
I remain very proud and honoured to have represented the club on various occasions, even more so to have helped the club to success, and along the way, picked up some awards. As every manager will say, these awards represent the hard work and effort which goes way beyond any manager. This is never truer than at Stair Park where so many people were instrumental. They all know who they are… coaching staff, players, backroom staff, club officials, supporters, bus drivers, sponsors… the list goes on.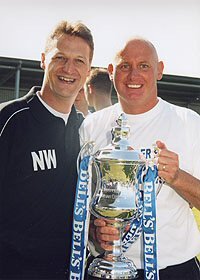 I thought the following images would help update the website… and they might find a place in the club's history books somewhere.
Between 2003/06 the club received eight Manager of the Month awards, across three divisions, and two Manager of the Year Awards for the Third Division and the Second Division. League sponsor Bells did a great job over those years and boosted the profile of the leagues with these awards, culminating in an end of season lunch and presentation at Gleneagles Hotel, the presentations being made by secretary Peter Donald and honorary member and great supporter of the lower leagues Lord MacFarlane.
Beyond these awards I have three others which hold a special place with me.
First of all, when Yvonne and I married on 10 April 1987 the club presented me with a pair of crystal glasses, with the date inscribed. A touch of class.
Secondly, and included below, is a crystal decanter presented to me by the Stranraer Football Supporters Club in 2006, again a touch of class.
And lastly, something that is very special to me, something very simple. After we dispatched Albion Rovers on the last day of the 2003/04 season to clinch promotion at the first time of asking, breaking many records along the way, there was mayhem on the pitch…supporters everywhere. In amongst all of that a Stranraer fan found his way to me holding his young son's hand….I recall he must have been around 5 or 6 years old, perhaps a little older. His dad told me that his son really enjoyed coming to watch Stranraer and had been so excited for the final day. His son had said during that week that he wanted to buy the manager something as a thank you. His son, using his pocket money, had picked out something that his dad said reminded him of me. He gave it to me on the pitch, and amongst the mayhem disappeared as quickly as he had appeared.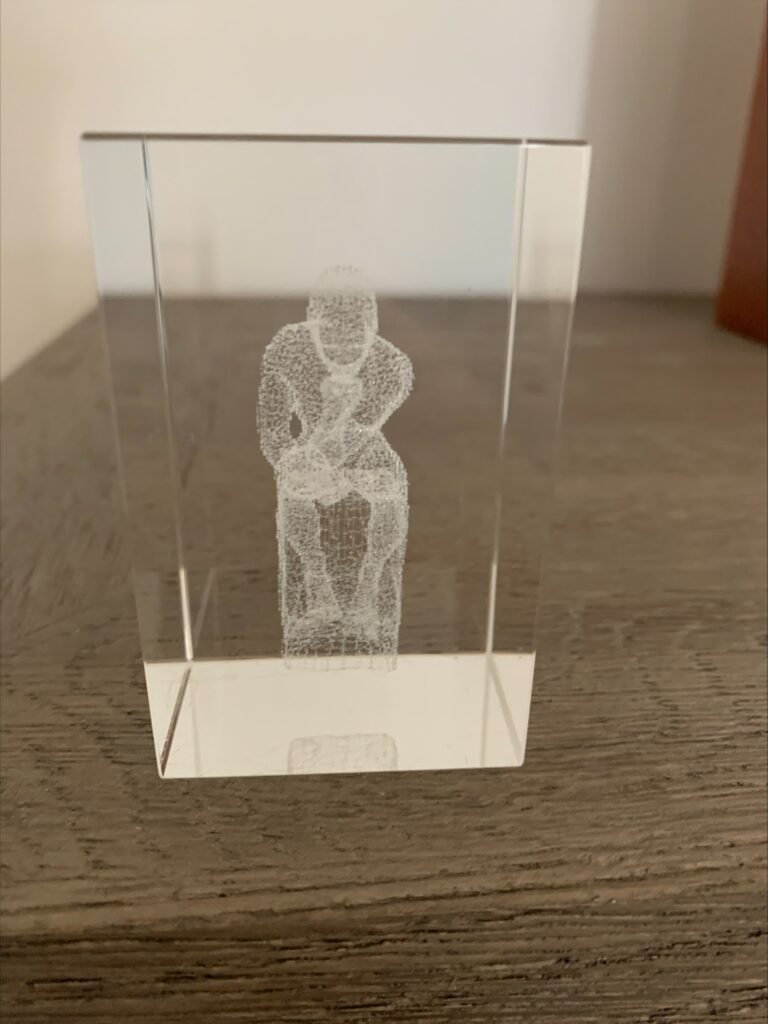 You will see above that it was a small encased glass figurine of 'The Thinker'. The pose of the Thinker is one of deep thought and contemplation… it reminds me of the hours and hours Stuart Millar and I used to spend agonising over team selection, training routines, potential signings, travel arrangements, diet, team spirit, committee meetings, reserve games, players' personal issues, staff management, physio treatment… this list, as any manager will tell you could go on and on and on… I wonder if perhaps one day I'll meet up with that young supporter, hopefully he still finds his way to Stair Park. 
I must get myself along to Stair Park this season, it's been a while. In the meantime, good luck for this and future seasons, and for the continued endeavours of all associated with one of the world's oldest institutions… Stranraer Football Club.
Kind regards,
Neil